Summary of the technology
Soler Bags Company has developed the necessary technological process to give the cork laminate textile the necessary rigidity to conform volumes. . Thus, for example, cointainers, reliefs, curved surfaces with angles of up to 90º and all types of preforms can be obtained.
This process provides enormous creative potentail in products designed with cork laminate. It also provides greater rigitity to the material, improving the strenght and durability of the product.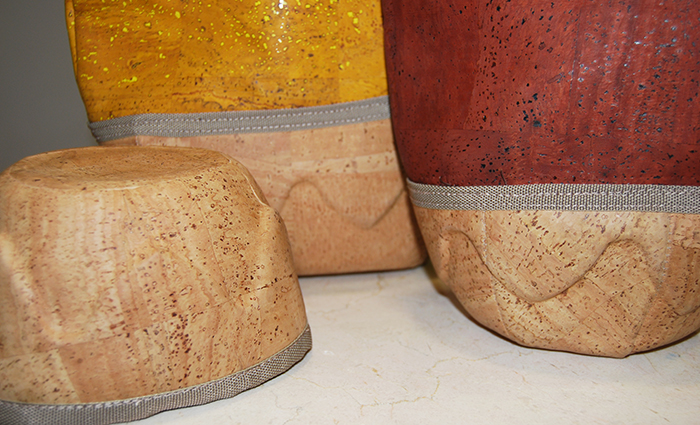 Intellectual property status
Patent already applied for : Manufacturing process
Patent application number : Secret know-how
Country; Spain
Current development status:Working prototypes
Desired business relationship
Joint ventures
Related keywords
Electronics, IT and Telecomms
Industrial manufacturing, Material and Transport Technologies
Industrial Technologies
Energy Technology
Physical Sciences and Exact Sciences
Biological Sciences
Agriculture and Marine Resources
Agrofood Industry
Measurements and Standards
Protecting Man and Environment
Social and Economics concerns
Communications
Computer related
Electronics Related Market
Genetic Engineering / Molecular Biology
Medical Health related
Energy Market
Consumer related
Industrial Products
Other
About SOLERBAGS Company
Small and Medium Enterprise from Spain
SOLERBAGS Company
Spanish textile manufacturer offers subcontracting, consulting service agreements to companies developing new fabrics or innovative textile products and production in industry 4.0.

Spanish company specialized in designing, manufacturing and exporting all type of bags, accessories and covers offers a range of consulting services. The company is offering its knowledge and experience to international partners in need of innovate fabrics consulting services, subcontracting or service agreement, product development and smart manufacturing industry 4.0.

Spanish company with more than 4 generations' experience in fabrics manufacturing offers consulting services to international companies in the process of developing new textiles and fabrics products in any field. The company is open and offers to any international partner for a subcontracting or service agreement. As manufacture, designer and having expertise in manufacturing, the company has the capacity to design, manufacture innovative textile articles in different fields.

The company offers smart thinking, customized products, close cooperation, creativity, design, know-how and high-tech standards, and 100% "Made in Spain" products. All of their products and production systems are environment-friendly (100% made in Green) and respecting social responsibility standards.

The company offers their services to companies needing innovation in textiles and fabric manufacturing solutions in any field and article. In particular, these solutions can be categorized into three stages of the development:

1.-Analysis and specifications of the innovative textile solution.
2.-Industrial experimentation with raw materials to identify the best solution.
3.-Fabric development and texting to ensure specifications are fulfilled (processes by experimental variation).
Advantages and Innovations -Flexibility: The Company has the knowledge and experience to design, manufacture and "Made in Spain" production. Textile know-how; over 30 years company´s expertise in dealing with several sectors; fashion, technical, industrial and protections fabrics, travel, sports, automotive, aerospace, naval, wearable textiles.
-High quality and innovative products.
-Environment-friendly production system (100% made in Green).
-High level of social responsibility standards.
-International market experience for more than 25 years.
-100% "Made in Spain" products. Own manufacturing facilities in Spain.
-Global manufacturing solutions, from designing to garment production.
-Partnership with textile research center.
Stage of Development Already on the market
Profile Origin Private (in-house) research

Keywords

Technology Keywords Non weaving related to Textiles Technology
Textile fibres
Woven technical textiles for industrial applications
Clothing, shoes and accessories (including jewellery)
Furnishing and Furniture
Office furniture and other professional furnishings
Textiles (synthetic and natural)
Other manufacturing (not elsewhere classified)

NACE Keywords Manufacture of luggage, handbags and the like, saddlery and harness
Food packinging, cosmetic packining, gift packinging

Partner Sought

Type and Role of Partner Sought Companies or commercial agents having relationship with textile and/or technical textile sectors.

- Specific area of activity of the partner: textile, fashion, special and technical covers for special purposes (aerospace industry, automotive industry, naval industry, robotic, technological centers, universities, etc.).

- The company is offering subcontracting or service agreement. The ideal partner will be a company in the process of developing new fabric or textile product needing innovative fabrics consulting services,technological, creative textile solutions and manufacturing industry 4.0.

Type of Partnership Considered Services agreement
Subcontracting
Client
Type and Size of Client Industry SME
Year Established 1880

Already Engaged in Trans-National Cooperation No
Languages Spoken English
Spanish
Client Country Spain
Company is a
Technology Offers on Innoget are directly posted and managed by its members as well as evaluation of requests for information. Innoget is the trusted open innovation and science network aimed at directly connect industry needs with professionals online.