Summary of the technology
The IPROTech is a proprietary platform of Iproteos, a biotech settled in Barcelona. The IPROTech technology combines in silico drug design, peptide chemistry and medicinal chemistry and allows the obtaining of peptidomimetics. These molecules are more specific and less toxic than traditional drugs and more permeable and less immunogenic than biologics; and are able to disrupt protein-protein interactions. We are looking for pharma and biotechs interested in exploiting the IPROTech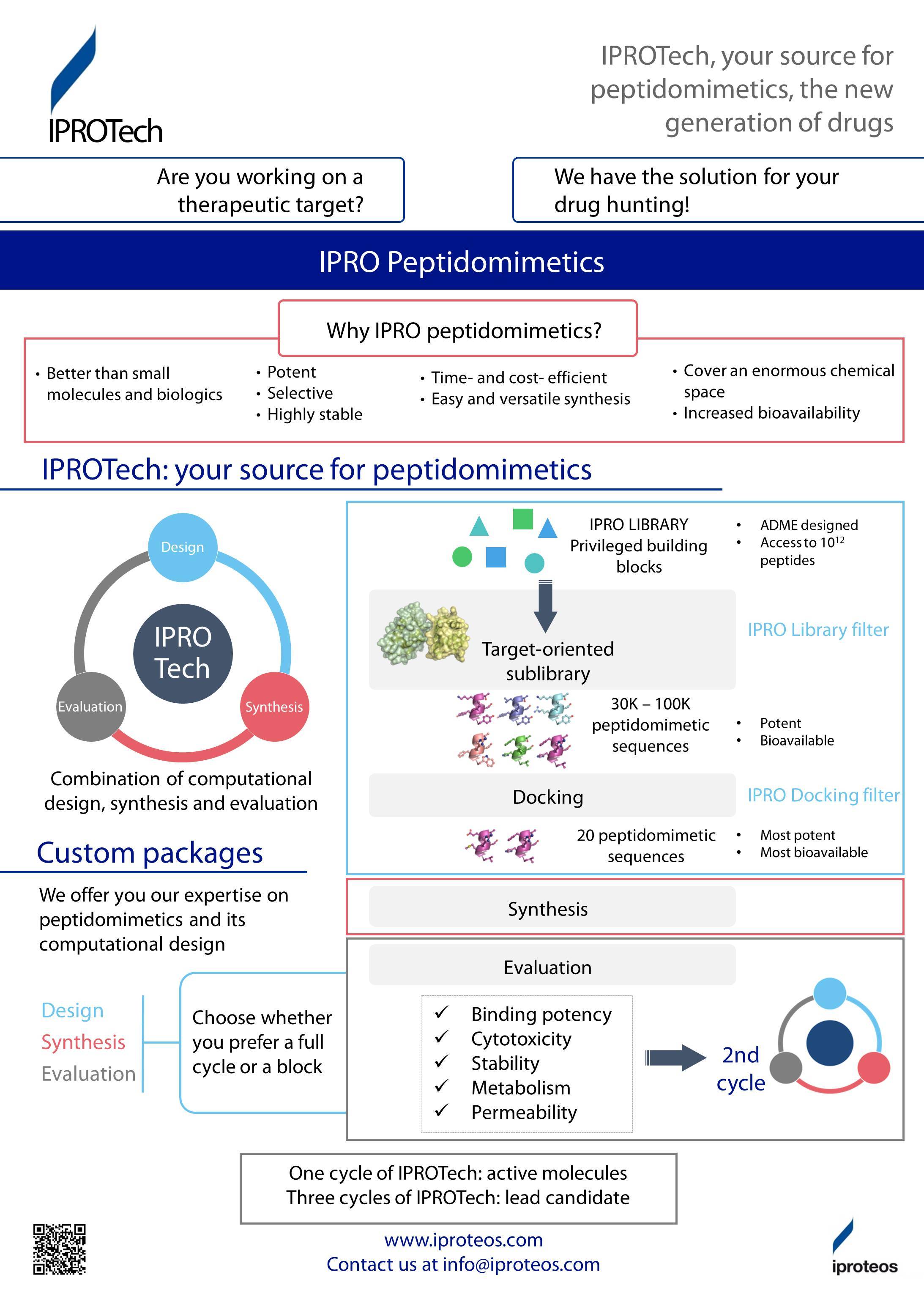 New and innovative aspects
The IPROTech is a platform for the discovery and development of new pharmacological peptidomimetics for the modulation and disruption of either protein-protein or protein-ligand complexes involved in disease progression. The IPROTech encompasses the state-of-the-art of various scientific fields, such as computational chemistry, modern organic synthesis, peptide chemistry, experimental validation of ADME and permeability properties and proof-of-concept animal model experiments. Thanks to IPROTech and the human expertise of the Iproteos Team, we are able to quickly and efficiently discover new peptidomimetic drugs for several targets. The main features of peptidomimetics synthesized under IPROTech are:
High specificity
High permeability to biological barriers, such as the gastrointestinal tract (GIT) and blood-brain barrier (BBB)
Optimized ADME properties
Reduced toxicity
Reduced (or absence) of immunogenicity
Main advantages of its use
The technology is aimed for the biotechnology and biomedical sector. Molecules obtained by the IPROTech can be applied into the therapeutic area mainly, but also in the research field, as peptidomimetics can validate pathways for example. We are seeking research groups, biotech companies and pharmaceutical companies interested in applying the IPROTech to their targets.
Specifications
We offer the application of the IPROTech. This platform is designed for the discovery of novel peptidomimetics, able to disrupt protein-protein interactions, in a fast and reliable manner. Besides, the entities designed at Iproteos have good bioavailability, can cross the blood-brain barrier and be internalized into cells (if needed). Basically, the IPROTech works in a cycle, where several rounds of in silico screening, synthesis and in vitro assay steps are done. An example of a two-cycle process would be:
In silico screening:with a collection of informatics techniques, the target hotspots are identified. Then, the target is compared against our 3M peptidomimetic libraries and a subset of molecules is selected.
Synthesis of selection 
In vitro assay 
In silico refinement: a customized de novo library is created based on in vitro hit scrore. In here, more potent, selective and stable peptidomimetics are obtained.
Synthesis of selected new peptidomimetics
In vitro assay Extra cycles can be added, depending on the client needs and the target nature.
The platform can also be applied in the design of peptidomimetics based on known biologics or small molecules that interact with a delimited protein area. Given the expertise of Iproteos team in the field of peptide derivatives, the IPROTech is very versatile.
Applications
Application for biotechnology and biomedical sector.
Application for the generation of therapeutic molecules.
Application for the in silico improvement of peptides.
Application for disruption of protein-protein or protein-ligand interaction.
Application for unveil the mechanism of certain pathways
Related keywords
Medicine, Human Health
Biology / Biotechnology
Medical Health related
About Iproteos S.L.
Small and Medium Enterprise from Not defined
Iproteos S.L.
The company focuses its activity on the R&D of new therapeutic strategies based on modulation of protein-ligand (PLI) and protein-protein interactions (PPIs) through peptidomimetics. The novel entities are obtained thanks to the IPROTech, an innovative platform.
We already have 3 candidates in our pipeline
Technology Offers on Innoget are directly posted and managed by its members as well as evaluation of requests for information. Innoget is the trusted open innovation and science network aimed at directly connect industry needs with professionals online.