Summary of the technology
Provisional filed Nov. 2015.

Project ID : 9-2015-4246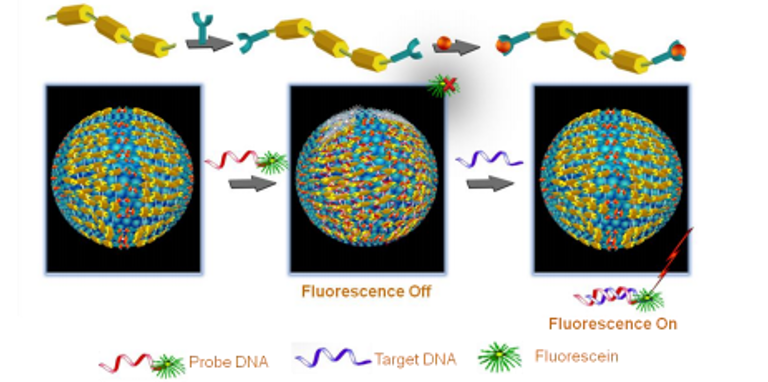 Description of the technology
Self-assembled peptide-based conjugates provide highly sensitive biosensors
| | |
| --- | --- |
| Categories | Nano-medicine / biotechnology, Diagnostics, Nanoprocesses, Diagnostics, Homeland Security, Research Tools |
| Development Stage | Proof of concept |
| Patent Status | Provisional patent filed |
Highlights
Self-assembled nanomaterials possess unique optical, electronic and catalytic properties which are particularly useful in the development of sensitive biosensors.

Novel sensitive and selective sensing platform can discriminate between one mismatch and can perform even in the presence of other interfering proteins.
Our Innovation
Self-assembled nanostructures generated by a a (modified) peptide-based compound provide a highly sensitive optical sensing platform for DNA detection.
DNA detection by a ligand peptide material conjugate (LM). Schematic representation of the experimental design for detecting target HIV DNA using LM as a sensing platform. In the first step, the fluorescein-labeled probe DNA interacts and adsorbs on the self-assembled aggregated spherical structures of LM; this triggers the florescence quenching. The presence of the target DNA induces fluorescence recovery owing to the conformational change of the dye-labeled SS DN) into a duplex form.
Key Features
Rapid, simple and cost-effective biosensors for proteins and nucleic acids.

Can detect diseases and pathogens

The system can selectively detect single stranded DNA fragments by fluorescent measurements as it can discriminate between even a single mismatch.

The system is stable and functions in the presence of polyanions such as polyacrylic acid.

Can perform even in the presence of other interfering proteins
Development Milestones
Perform in vitro studies using biological samples from infected animals and in vivo studies.
The Opportunity
May be used in lab-on-a-chip applications for molecular diagnostics, industrial and environmental monitoring and civil defence. The world biochip market was forecast to reach $14.4 billion by 2018.

Important for forensics. The DNA forensics industry provides DNA paternity testing, DNA forensic services, veterinary DNA testing, ancestry tracking and other services related to human genetics. DNA forensics is also used following world disasters such as tsunamis and terrorist attacks, which kill thousands of people, leaving many unidentified bodies. DNA testing is expected to increase at a compound annual growth rate (CAGR) of 11.6% to more than $2.3 billion by 2016.
Researcher Information
http://chem.ch.huji.ac.il/~mreches/