Summary of the technology
The field of the invention is related to compounds containing a triazole-dipyrromethene core which facilitate the anion transport through lipid membranes. These molecules are capable of mimicking the function of transmembrane proteins and thus replacing their function at cellular level. These compounds are particular useful for the treatment of diseases related to malfunction of natural anion transport mechanisms such as Cystic Fibrosis.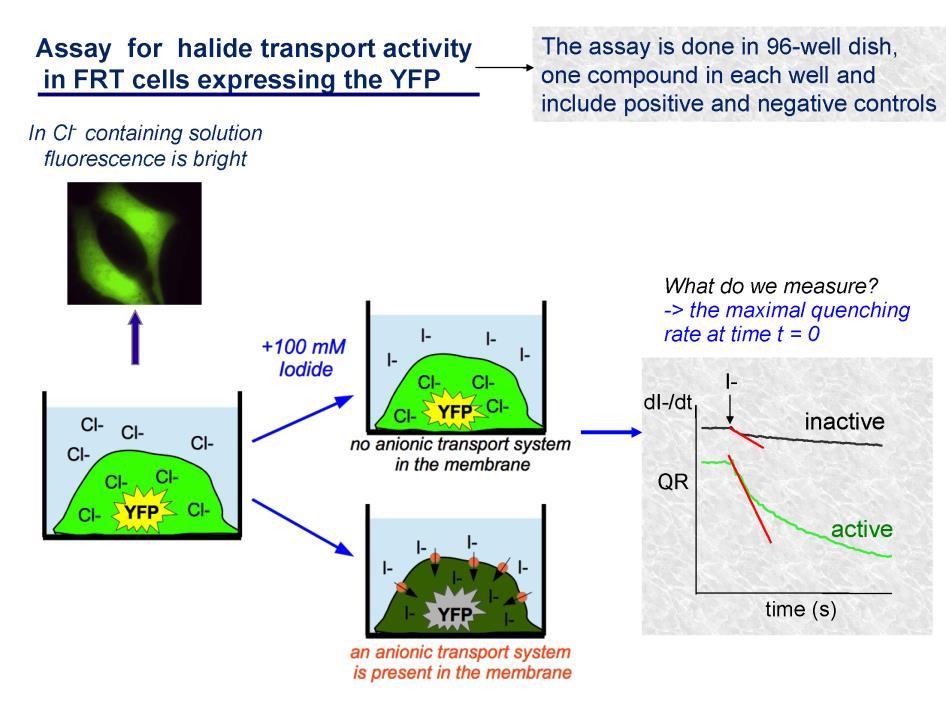 New and innovative aspects
There are very limited studies in the literature concerning the possibility of using synthetic transport systems to replace the missing transmembrane anion transport activity characteristic of Cystic Fibrosis. Most of them referred to the use of peptides which degradability limited the potential scope of this approach.
The current invention provides a significant contribution related to the characterization, design and synthesis of small molecules with anion transport capacity, and their biological activity.
Main advantages of its use
The current standard therapies for Cystic Fibrosis are based mainly in palliative treatments of the illness symptoms. Recently it has been approved for use a drug that acts on the root of this problem, enhancing the transport of ions through natural channels, but only applicable to patients suffering from certain genetic mutations of the CFTR transmembrane protein.
These small molecules facilitate the transmembrane transport of anions independently of the genetic mutation, therefore they are therapy applicable to all Cystic Fibrosis patients, regardless of the type of mutation they harbor.
Specifications
Compounds bearing triazole-dipyrromethane moieties are capable of facilitating transport of anions such as chloride and of bicarbonate in phospholipid vesicles models and cells.
Applications
Use of the compound for preparing a medicament for the treatment and / or prophylaxis of conditions arising from abnormalities in the anion transport at the cellular level such as Cystic Fibrosis.
Intellectual property status
Protected by patent P201531749
Current development status
Samples ready for testing
Desired business relationship
Trade Agreement, License Agreement, Technical cooperation: further development, Technical Cooperation: testing of new applications; Technical Cooperation: adaptation to specific needs.
Related keywords
Biological Sciences
Genetic Engineering / Molecular Biology
Medical Health related
cystic fibrosis
transmembrane transport
anion
small molecules
treatment
rare disease
About UNIVERSIDAD DE BURGOS
Technology Transfer Office from Spain
UNIVERSIDAD DE BURGOS
The aim of the The Technology Transfer Office (TTO) of the Univesidad de Burgos is to promote Innovation technology through the reseach results transfer and the conexions between the University and the new needs and requirements of the society - we are the link between the University and the Industry. Contact person: José Manuel López (jmllopez@ubu.es)

Technology Offers on Innoget are directly posted and managed by its members as well as evaluation of requests for information. Innoget is the trusted open innovation and science network aimed at directly connect industry needs with professionals online.