Summary of the technology
This technology represents a novel anodising process that has been designed for the coating of metal components in aerospace, automotive, electronics and outdoor architectural applications.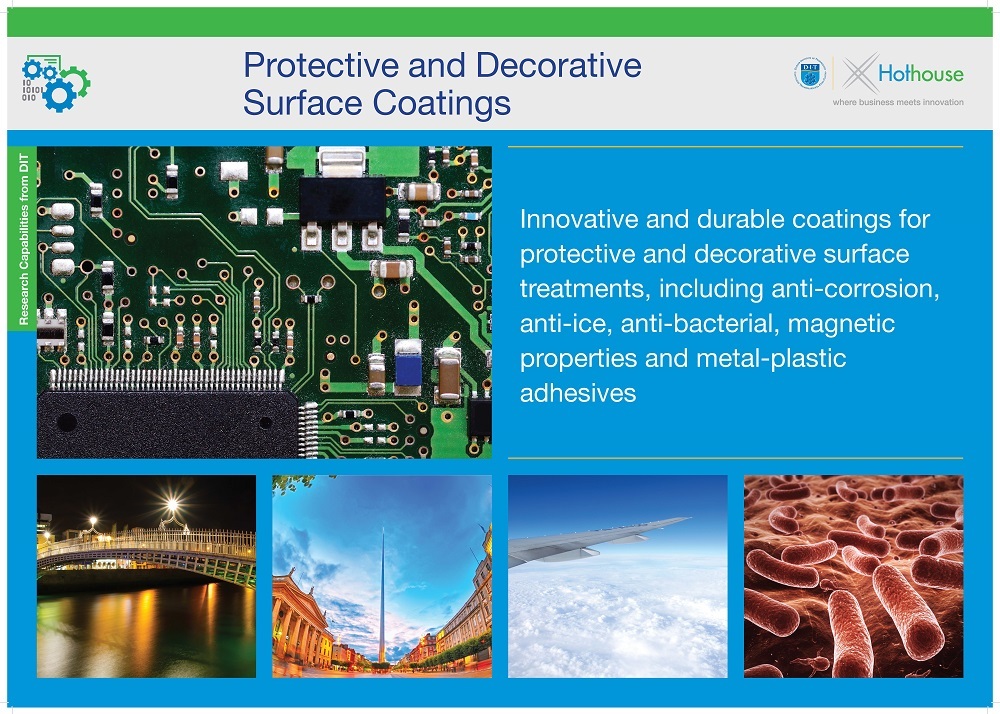 New and innovative aspects
This technology represents a novel anodising process that has been designed for the coating of metal components in aerospace, automotive, electronics and outdoor architectural applications. Anodising is an electrolytic passivation process that allows for better wear and corrosion resistance while providing improved adhesion properties for paints, primers and glues over bare metal surfaces. 
The current industry-benchmarked technique based on chromicacid is very effective, but due to the carcinogenic nature of these substances, the use of chromate in manufacturing is either being restricted or phased out entirely. As such, there exists a real need for a replacement to chromate, with the ideal solution offering corrosion resistance as well as improving the adhesive properties of the metal surface in a single anodising treatment. 
Main advantages of its use
This technology offers a number of advantages: 1. Performance that exceeds the well-known industry benchmark based on chromate technology.
2. Allows the incorporation of the anticorrosion and fatigue resistance properties as well as the adhesion and abrasion properties on the same surface.
3. Reduces the number of process steps currently used to prepare a metal surface – removing up to six chemical treatments from a typical anodising and electro-brightening cycle.
4. Dual layers approach allows significant flexibility and optimisation in the formation of layers for particular applications and end uses.
5. Additional protection can be easily provided by forming sol-gel alumina composites on the surface.
6. Addition of corrosion inhibitors provides a similar corrosion resistant mechanism to tartaric-sulphuric anodising.
7. Increases the mechanical resistance of the applied coating, primers, glues, etc.
8. Offers a more environmentally-friendly alternative to chromic acid anodising.
Specifications
When combined with hybrid sol-gel treatments, this patented anodising process offers superior performance to chromate. This process has been tested using aluminium alloys for the aerospace and automotive sectors. Laboratory results show superior performance to chromate-based technology and tartaric sulphuric anodising, while allowing for the incorporation of anti-corrosion and adhesion on the same metal surface.
Applications
The applications for this technology include:
• A replacement for traditional anodising and sealing processes based on chromate.
• Any application requiring the combination of corrosion resistance and adhesion to be achieved on the same metal surface.
• Providing corrosion resistance of aluminium components for outdoor use in the aerospace, automotive and architectural building sectors (scaffolding, exterior trim, window frames).
• Use in the electronics sector for metal-to-plastic bonding.
Intellectual property status
An initial patent application titled 'Method for forming a multi-layer anodic coating' was filed in 2013 - GB1322745.9. A PCT patent application was filed in late 2014.
Current development status
Further development work by a licensee will likely be required for validation testing on customer components, scale-up to industrial quantities and series production, with support available from CREST as required.
Desired business relationship
DIT is currently seeking expressions of interest from companies interested in licensing and developing products based on this technology.
Click here to download the Anti-Corrosion and Adhesion Anodic Coating Technology Information Sheet
Related keywords
Aerospace Technology
Coatings
Metals and Alloys
Non-ferrous Metals
Automotive engineering
Transport and Shipping Technologies
Materials, components and systems for construction
Construction methods and equipment
Building materials
Coatings and adhesives manufactures
Speciality metals (including processes for working with metals)
Machine tools, other metal working equipment (excluding numeric control)
Construction and Building Products
Manufacture of construction materials, components and systems
Construction companies
manufacturing competetiveness
Novel technologies and processes
processing technology
About DIT Hothouse
Technology Transfer Office from Ireland
DIT Hothouse
DIT Hothouse is the award-winning Innovation and Knowledge Transfer Office at Dublin Institute of Technology, responsible for the commercialisation of intellectual property arising from DIT research. DIT Hothouse is the hub of innovation and technology transfer activities in DIT, the place where business meets innovation. DIT Hothouse has a range of spinout technologies available to industry across Life Sciences, Food, ICT, Software, Industrial Technology, Manufacturing and Clean Technologies. Our team works with students, lecturers and research teams across DIT as well as with entrepreneurs, industry leaders and investors. Through the DIT Hothouse New Frontiers Startup Programme, we provide a startup incubator for innovative and promising startup companies.

Our Mission

The mission of DIT Hothouse is to:

Maximise the commercialisation of new technologies developed by the growing community of DIT researchers.
Partner with industry on research collaboration, research consultancy and contract research.
Support the launch of knowledge-intensive startups with the potential to generate significant economic benefits for Ireland through our startup support programmes and the DIT Hothouse Incubator.
Our Offering
At DIT Hothouse we assist:

Entrepreneurs to start and grow businesses.
Industry partners to find new technologies, research partners, and funding.
Investors to find high-potential opportunities.
DIT staff and students to commercialise their intellectual property (IP).
Technology transfer offices in the Institute of Technology Tallaght (ITTD), the Institute of Technology Blanchardstown (ITB), the Institute of Art, Design & Technology, Dún Laoghaire (IADT) and the National College of Ireland (NCI) and the Dublin Institute for Advanced Studies (DIAS) in their commercialisation activities.
Whichever category you belong to, DIT Hothouse can provide you with unparalleled expertise, skills and resources to help you achieve your goals.‌

Our Success


Since its establishment in 2007, DIT Hothouse has consistently outperformed all other Irish university technology transfer offices, completing up to 20% of the annual commercial technology transfer licences in Ireland. Through its Enterprise Ireland-funded Incubation Programmes, DIT Hothouse has helped create nearly 400 sustainable businesses that have attracted €195 million in equity investment and created approximately 1,700 quality jobs.
Technology Offers on Innoget are directly posted and managed by its members as well as evaluation of requests for information. Innoget is the trusted open innovation and science network aimed at directly connect industry needs with professionals online.