Summary of the technology
United Signals is a German specialist for paperless and easy to use client solutions. With products like digital onboarding, electronic contracts and client portals they support companies of all industries. Due to white label capabilities and the flexibility of the solution, the software can be used within short time to turn any forms or contracts into a digital version which can be signed contactless, even from home or mobile. It is multi-language and can easily be integrated into existing systems landscapes.

United Signals and it's paperless onboarding solution was selected by the Association of Independent Asset Managers (VuV) and its members in Germany with the aim of becoming a market standard. Further it`s used by many leading banks in Germany including DAB BNP Paribas, V-Bank, comdirect, ebase, Baader Bank and Augsburger Aktienbank.

YOUR PARTNER FOR DIGITISATION
TRANSFORM MANUAL PROCESSES INTO DIGITAL ONES
With our solutions, we support companies of all industries in the digital transformation of their business processes and models as well as their client offerings.
As a partner, you receive a solution tailored to your requirements with all necessary components from a single source.
DIGITAL ONBOARDING - FAST, EASY AND COMPLETELY PAPERLESS
Online onboarding allows you and your clients to process and conclude various contracts, such as policies, purchase agreements, admission forms or financial contracts - fully digital and paperless.
SAY GOODBYE TO PILES OF PAPER
Reduce your administrative effort and avoid multiple entries of the same data by integrating your contractual documents within a customized contract route.
You can access your documents digitally and flexibly at any time and from any location and via any of your devices.
CUSTOMER PORTALS THAT INSPIRE
Offer your clients access to transparent information, make your reports or analyses available paperless. Our solutions are individual, flexible and can be adapted to any end device – whether it is a desktop PC, tablet or smartphone.
ADVANTAGES FOR YOUR COMPANY
>

Error reduction through e.g. plausibility and completeness checks
> Minimization of process interruptions through intelligent processes
> Time and cost savings by reducing administrative efforts
> Faster and higher customer acquisition numbers and better retention effects
> Protection of sensitive data against unauthorized access
> Integration into your systems, such as CRM system
> Faster access to contracts from anywhere
> Risk minimization of lost data due to long-term archiving on storage media
> Reduction of legal disputes through legally compliant, transparent contract processing
> User-friendly, elegant and efficient interface
> Responsive design and individual solutions
Technology Owner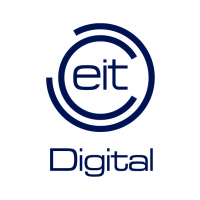 Related keywords
Digital Systems, Digital Representation
Information Processing, Information System, Workflow Management
Computer Software Technology
Information Technology/Informatics
E-Publishing, Digital Content
Information Filtering, Semantics, Statistics
Information processing & Systems, Workflow
Information and media, society
Computer Software Market
Systems software
Other system software
Applications software
Business and office
Integrated software
Software services
Other software services
Other software related
Business products and supplies
digital transformation
About EIT Digital
Public Agency from Germany
EIT Digital
EIT Digital is a leading European digital innovation and entrepreneurial education organisation driving Europe's digital transformation.

EIT Digital delivers breakthrough digital innovations to the market and breeds entrepreneurial talent for economic growth and improved quality of life in Europe. It does this by mobilising a pan-European ecosystem of almost 200 top European corporations, SMEs, startups, universities and research institutes.

As a Knowledge and Innovation Community of the European Institute of Innovation and Technology, EIT Digital is focused on entrepreneurship and is at the forefront of integrating education, research and business by bringing together students, researchers, engineers, business developers and entrepreneurs. This is done in our pan-European network of co-location centres in Berlin, Eindhoven, Helsinki, London, Paris, Stockholm, Trento, as well as in Budapest and Madrid. We also have a hub in Silicon Valley.

EIT Digital invests in strategic areas to accelerate the market uptake of research-based digital technologies focusing on Europe's strategic, societal challenges: Digital Industry, Digital Cities, Digital Wellbeing, Digital Infrastructure and Digital Finance.

EIT Digital breeds T-shaped entrepreneurial digital talent focused on innovation through a blended Education Strategy that includes a Master School, Doctoral School and Professional School.
Technology Offers on Innoget are directly posted and managed by its members as well as evaluation of requests for information. Innoget is the trusted open innovation and science network aimed at directly connect industry needs with professionals online.