Summary of the technology
Connecting the Internet of Things. Build your professional LoRaWAN® network with LORIOT and unleash the power of IoT technology to transform the world. Join the network now!

About
LORIOT is a global IoT company, founded in Switzerland in 2015, with the mission to enable long-range IoT solution deployments in every corner of the globe (and even space!).

The Internet of Things (IoT) is a gamechanger, and it is disrupting every industry sector. We provide a growing distributed LoRaWAN® infrastructure and an easy-to-use software platform that enables our users to build, operate and scale a secure IoT network.

Due to a unique positioning in the LoRa® ecosystem, as both software provider and network operator, our LoRaWAN® Network Server is one of the most powerful, complete and secure solutions in the market. It ensures our clients who are Telecos, Utilities Companies, System Integrators, Local/City Governments, Bluechip Companies and Multinational Organisations have the highest standards for their enterprise-grade deployments.

Our vision is a future where IoT is accessible to everyone, to transform lives, improve services and protect the health of our planet.
Internet of Things
The Internet of Things (IoT) is a growing ecosystem of physical devices and everyday objects embedded with sensors and software that connects them to a network to collect and exchange data between themselves as well as other Internet-enabled devices and systems.
LPWAN
A Low Power Wide Area Network is a set of wireless transmission technologies characterized by long range transmission, low battery consumption and operating in licensed or unlicensed radio frequencies.
LPWAN include both proprietary and open standard protocols.
LoRaWAN®
A wireless spread spectrum modulation technology, standardized by LoRa Alliance®, LoRaWAN® is designed for low power wide area networks. LoRaWAN® provides global interoperability and high scalability.
Technology
LoRaWAN® is the MAC (media access control) protocol and system architecture for a LoRa® network. It provides the global standard for the LoRa® communication technology and enables seamless interoperability of devices and networks without complex installation requirements.
Designed for Internet of Things (IoT) applications LoRa® fulfils vital technical requirements such as bi-directional communication, end-to-end security, mobility and localisation services. LoRa® usually operates within license-free sub-gigahertz radio bands, this enables anyone the freedom to build a LoRaWAN® network. LoRa® technology enables very long-transmissions while using exceptionally low power consumption.
LoRaWAN® is the network protocol on which LoRa® operates. The LoRaWAN® specification directly influences the battery lifetime of a device, network capacity, quality of service, security, and the variety of applications served by the network.
The LoRaWAN® protocol is an open standard developed and maintained by a non-profit association called the LoRa Alliance® of which LORIOT is a contributing member.
Loriot Network Server
The Network Server is at the core of an Internet of Things solution.
Secure, scalable, carrier-grade network connectivity for your valuable IoT data.
The LORIOT Network Server has built-in penetration tested security to safeguard your valuable IoT data.
Enterprise-grade network infrastructure enables the operation and management of IoT networks while providing proven reliability and scaling. Secure connectivity for thousands of gateways, millions of devices and the routing of critical data!
Technology Owner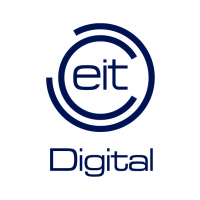 Related keywords
Electronics, IT and Telecomms
Internet Technologies/Communication (Wireless, Wi-Fi, Bluetooth)
Internet of Things
ICM - Internet Content Management
Telecommunications, Networking
Network Technology, Network Security
SatelliteTechnology/Systems/Positioning/Communication in GPS - Global Positioning System
Optical Networks and Systems
Satellite Navigation Systems
Communications
Local area networks (including voice/data PBX systems)
Network test, monitoring and support equipment
Satellite services/carriers/operators
Microwave and satellite components (including antennae and amplifiers)
Other satellite/microwave
Computer related
Communications/networking
About EIT Digital
Public Agency from Germany
EIT Digital
EIT Digital is a leading European digital innovation and entrepreneurial education organisation driving Europe's digital transformation.

EIT Digital delivers breakthrough digital innovations to the market and breeds entrepreneurial talent for economic growth and improved quality of life in Europe. It does this by mobilising a pan-European ecosystem of almost 200 top European corporations, SMEs, startups, universities and research institutes.

As a Knowledge and Innovation Community of the European Institute of Innovation and Technology, EIT Digital is focused on entrepreneurship and is at the forefront of integrating education, research and business by bringing together students, researchers, engineers, business developers and entrepreneurs. This is done in our pan-European network of co-location centres in Berlin, Eindhoven, Helsinki, London, Paris, Stockholm, Trento, as well as in Budapest and Madrid. We also have a hub in Silicon Valley.

EIT Digital invests in strategic areas to accelerate the market uptake of research-based digital technologies focusing on Europe's strategic, societal challenges: Digital Industry, Digital Cities, Digital Wellbeing, Digital Infrastructure and Digital Finance.

EIT Digital breeds T-shaped entrepreneurial digital talent focused on innovation through a blended Education Strategy that includes a Master School, Doctoral School and Professional School.
Technology Offers on Innoget are directly posted and managed by its members as well as evaluation of requests for information. Innoget is the trusted open innovation and science network aimed at directly connect industry needs with professionals online.