Summary of the technology
Eiratech Robotics offers good-to-person robotics solution for distrubution centres and warehouses - whereby a fleet of robots finds and brings items to fulfil online orders and to handle returns.

WHY EIRATECH?
ELIMINATES INEFFICIENCIES
Up to 70% of a pickers times is wasted walking and searching for goods.
By eliminating this together we can achieve a six-fold increase in the number of picks achieved per hour.
Reducing the number of times an item is handled through the pick/pack process enables a faster more accurate delivery to customers.
GROWS WITH YOU
With over 74% of leading Supply Chain operators expecting to adopt automation over the coming decade, staying ahead becomes more challenging.
Finding a solution without major capital expenditure that can be scaled at the same rate and time as your business will ensure you have no wasted capacity.
This technology is now accessible.
EASY TO INSTALL
With no need for any major infrastructure required the system can be installed quickly and efficiently with minimal impact to ongoing operations.
It can be moved to new locations within the building or to a new site with relative ease.
It readily integrates with your Warehouse Management Systems to start getting the benefits quickly.
YOUR SUCCESS METRICS
Improve customer satisfaction levels
Increase profitability per order
Accelerate order fulfilment at lower costs
Deliver on order commitments and status accuracy
WE IMPLEMENT CHANGES TO ENHANCE YOUR BUSINESS
We are a company that develops people friendly robotic systems. We use the latest technology to combine hardware and software in an innovative way to bring intelligent efficiency to the table.Our expertise is proven by successful projects in industries such as: warehousing, aerospace and automotive and we continue to think big.
We designed the Eiratech warehouse environment where automatically guided vehicles are operated via a wireless network. Traditional static warehouse solutions struggle to cope with the changing needs of the industry. Eiratech's solution has been developed to accommodate this.
OUR PHILOSOPHY
Customers shop online all over the world. They are only 3 clicks away from receiving their order. Market Leaders have raised expectations and standards forcing all businesses to reinvent their goods distribution models.We believe this is our time and our challenge. Eiratech is a team of highly qualified professionals from all over the world, brought together with a single vision, creating something exceptional.
Passion for technology and hunger for success are what hold us together.
Together we created Eirabot - a robot that can multiply the accuracy and efficiency of your business. Eirabot is a smart and self-sustained robot which will become the significant part of your success story and your competitive advantage.
Technology Owner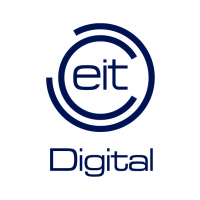 Related keywords
Electronics, IT and Telecomms
Automation, Robotics Control Systems
Industrial manufacturing, Material and Transport Technologies
Industrial Manufacture
Process control and logistics
Supply chain
Plant Design and Maintenance
Packaging / Handling
Transport Infrastructure
Electrical supply system
Network test, monitoring and support equipment
Robotics
Business products and supplies
warehouses
About EIT Digital
Public Agency from Germany
EIT Digital
EIT Digital is a leading European digital innovation and entrepreneurial education organisation driving Europe's digital transformation.

EIT Digital delivers breakthrough digital innovations to the market and breeds entrepreneurial talent for economic growth and improved quality of life in Europe. It does this by mobilising a pan-European ecosystem of almost 200 top European corporations, SMEs, startups, universities and research institutes.

As a Knowledge and Innovation Community of the European Institute of Innovation and Technology, EIT Digital is focused on entrepreneurship and is at the forefront of integrating education, research and business by bringing together students, researchers, engineers, business developers and entrepreneurs. This is done in our pan-European network of co-location centres in Berlin, Eindhoven, Helsinki, London, Paris, Stockholm, Trento, as well as in Budapest and Madrid. We also have a hub in Silicon Valley.

EIT Digital invests in strategic areas to accelerate the market uptake of research-based digital technologies focusing on Europe's strategic, societal challenges: Digital Industry, Digital Cities, Digital Wellbeing, Digital Infrastructure and Digital Finance.

EIT Digital breeds T-shaped entrepreneurial digital talent focused on innovation through a blended Education Strategy that includes a Master School, Doctoral School and Professional School.
Technology Offers on Innoget are directly posted and managed by its members as well as evaluation of requests for information. Innoget is the trusted open innovation and science network aimed at directly connect industry needs with professionals online.