Summary of the technology
UNWIRE AUTOMATION, BE BOLD. Turn your wired industrial applications into a wireless connected system to make them saver, faster, more flexible, efficient, durable, up and down scalable.

THE CHALLENGE OF CABLES
Machines must communicate effectively in order to perform complex tasks. So far, only wired networks have been reliable enough for this role, yet with the advent of the Internet of Things and Industry 4.0 wires and cables are beginning to reveal their limits:
Scalability: Difficult installation and configuration of new units
Flexibility:Limited adaptability to new scenarios
Engineering: Additional weight and space are required
Maintenance:Hardware wear and tear caused through a repetitive moment in harsh environments
EchoRing pushes industrial communications to new heights, enabling latency and reliability-critical applications to operate in a wide range of unexplored wireless scenarios.
TOO GOOD TO BE WIRELESS?
EchoRing is, in function, a wireless industrial cable. It's an ultra-reliable communications network that easily handles the performance requirements of heavy industry and aerospace while freeing them of the engineering and operational limits of wired systems. For this reason, EchoRing represents a foundational keystone of Industry 4.0.
EchoRing can be explained through two key concepts: determinism and cooperation.
REAL-TIME CONTROL THROUGH DETERMINISM – THE "RING" IN ECHORING
EchoRing ensures stable real-time performance through deterministic Token Ring technology
A station within a Token Ring network can only transmit data when it receives the token (a small control packet), thus preventing interruptions from other stations
A station holds the token for a pre-defined duration (THT: Token Holding Time) before passing it along to the next station
Since the individual THTs are known and controllable, the overall system latency is their sum total (TTRT: Total Token Rotation Time)
In case of a token loss, smart methods are in place allowing for immediate recovery
RELIABILITY THROUGH COOPERATION – THE "ECHO" IN ECHORING
Stations in an EchoRing network cooperate independently and interchangeably, rather than as sub-units directed by a controller
Signal reliability is ensured through a flexible "buddy" system – if an information packet fails to deliver on the first attempt, the buddy station of its sender immediately relays it instead (hence the "Echo" in EchoRing)
Buddy stations are assigned automatically, based ontoken calculations
The buddy station system is far more efficient than the standard retransmission process used by other wireless protocols
ECHORING IS THE BRAINCHILD OF DECADES OF COMBINED RESEARCH AND EXPERIENCE
VISION
R3 aims to unwire industry and engineering with EchoRing, a decentralized, "heavy wireless" network for 21st-century machine-to-machine applications.
Take a look at our Basics of EchoRing page for more info on how the technology works and how it may upgrade your application.
STORY
In 2007, Assistant Professor James Gross of RWTH Aachen – now Head of Research at R3 – foresaw the arrival of Industry 4.0 and, with it, the need for a robust, low-latency wireless network solution. A reliable alternative to cables and wires had to be developed if this latest industrial revolution was to reach its full potential.
In 2009, after some time mulling over the best approach to this challenge, James envisioned the concept of a software-based wireless radio protocol and persuaded RWTH master's student Christian Dombrowski to write his PhD on the subject. Preliminary R&D on a prototype began the same year, with the first successful software-defined radio (SDR) platform test conducted in 2012. The result of this initial concept and collaboration, seeing as you're now reading this, is obvious: EchoRing.
The vast potential of this new network solution (especially as Industry 4.0 began emerging onto the scene just as he predicted) convinced James to explore founding a startup around the technology. In early 2015 he reached out to his former TU Berlin classmate Dr. Mathias Bohge, at that time a management consultant, with a business proposal. Matias introduced James and Christian to fellow consultant Florian Bonanati, and in July 2015 after months of careful market research, the four founded R3: Reliable Realtime Radio Communications.
Today, R3 employs nearly 40 experts and counting and is the largest firm at Charlottenburg Innovation Centre (CHIC), one of Berlin's flagship technology accelerators. The company, its founders and EchoRing have rapidly accumulated numerous accolades, funding rounds and high-profile clients, trailblazing the market in ultra-reliable, real-time wireless network solutions.
Even as R3 expands and strives for ever-increasing heights, we remain committed to our original vision: unwiring the future with EchoRing.
Technology Owner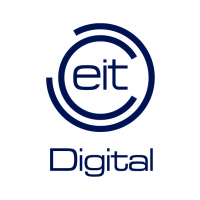 Related keywords
Electronics, IT and Telecomms
Data Processing / Data Interchange, Middleware
Internet Technologies/Communication (Wireless, Wi-Fi, Bluetooth)
Internet of Things
Environmental and Biometrics Sensors, Actuators
ICM - Internet Content Management
Telecommunications, Networking
Research Networking, GRID
Communications Protocols, Interoperability
Optical Networks and Systems
Optical Materials
Switches and wiring
Sensors & Wireless products
Measurements and Standards
Electronics Related Market
Fibre Optics
About EIT Digital
Public Agency from Germany
EIT Digital
EIT Digital is a leading European digital innovation and entrepreneurial education organisation driving Europe's digital transformation.

EIT Digital delivers breakthrough digital innovations to the market and breeds entrepreneurial talent for economic growth and improved quality of life in Europe. It does this by mobilising a pan-European ecosystem of almost 200 top European corporations, SMEs, startups, universities and research institutes.

As a Knowledge and Innovation Community of the European Institute of Innovation and Technology, EIT Digital is focused on entrepreneurship and is at the forefront of integrating education, research and business by bringing together students, researchers, engineers, business developers and entrepreneurs. This is done in our pan-European network of co-location centres in Berlin, Eindhoven, Helsinki, London, Paris, Stockholm, Trento, as well as in Budapest and Madrid. We also have a hub in Silicon Valley.

EIT Digital invests in strategic areas to accelerate the market uptake of research-based digital technologies focusing on Europe's strategic, societal challenges: Digital Industry, Digital Cities, Digital Wellbeing, Digital Infrastructure and Digital Finance.

EIT Digital breeds T-shaped entrepreneurial digital talent focused on innovation through a blended Education Strategy that includes a Master School, Doctoral School and Professional School.
Technology Offers on Innoget are directly posted and managed by its members as well as evaluation of requests for information. Innoget is the trusted open innovation and science network aimed at directly connect industry needs with professionals online.