Summary of the technology
Smart Workforce Management SW tool aiming at improving sales in physical stores and reducing employee´s costs through Artificial Intelligence (proprietary algorithms of machine learning and advanced mathematics).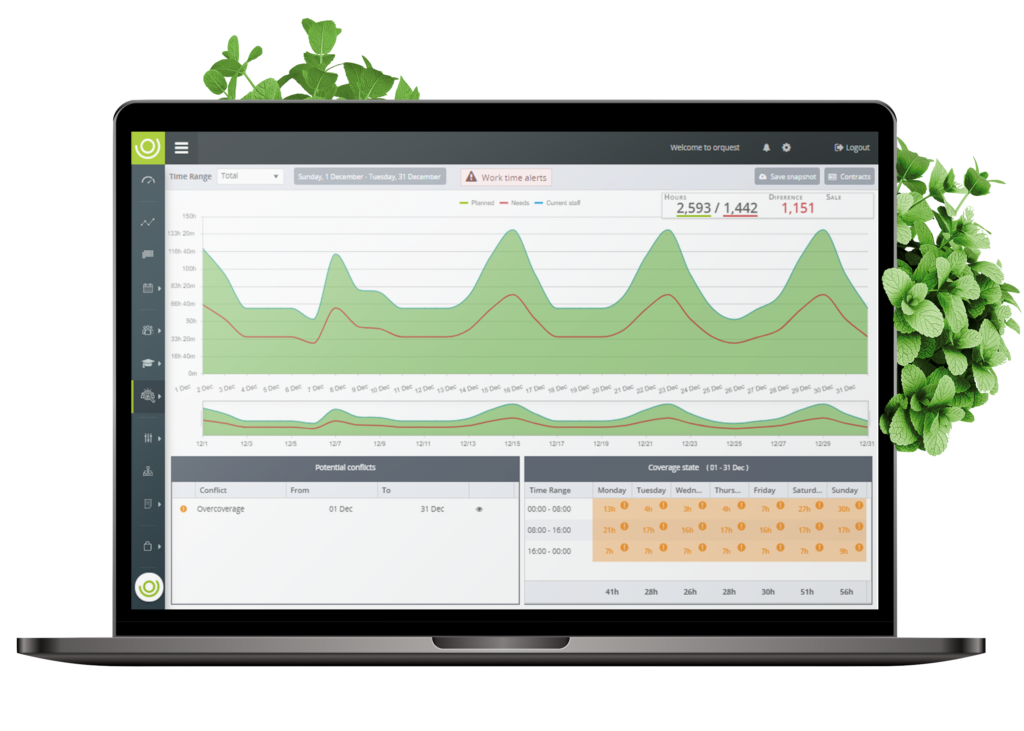 DO YOU NEED BETTER RESULTS?
Our Workforce Management Software can help you out. The best part ofORQUEST Workforce Management Software is hidden inside.
The use of Advanced data analysis and artificial intelligence to develop sophisticated algorithms inside the forecast, dimensioning and scheduling engines allow us to achieve unprecedented accuracy levels in staff planning and scheduling.
ORQUESTwill help you provide the best care for your customers, which will, in turn, maximise your sales. Having the right staff, at the right time, right when the customer needs it.
Discover the strengths of our Workforce Management Software​
Impact on Results
Prediction, dimensioning, staff scheduling and planning engines have been designed to take advantage of every opportunity to impact both sales and costs. All with unparalleled response times, allowing you to plan a team of 100 employees in less than 3 minutes.
Quick Implementation
Our user interfaces are designed to simplify a process as complex as staff scheduling and planning. This also allows us to deploy the solution in a large number of stores in less than 3 months.
Adaptability & Flexibility
The planning engines' innovative design allows us to adjust their functionality to the characteristics of each of our clients and their establishments.
An international solution
ORQUESTis present in 11 countriesand more than 1,200 establishments.By scheduling and planning for more than 38,400 employees, it helps achieve goals by increasing sales, improving Conversion Rates and Average Ticket, while optimising the time spent on staff planning.
About us​
We are a spin-off of decide, a company that has been engaged in the creation of smart staff scheduling and planning systems based on Artificial Intelligence and Advanced Data Analytics for more than 12 years.
ORQUEST has become the group's most strategic division. It has closed contracts with leaders in the sector, and the solution is deployed in more than 1,200 points of sale, across 11 countries, in 3 continents.
Our innovative approach, our design, and the advanced performance of the prediction, scheduling and planning engines have won us several awards worldwide.
Technology Owner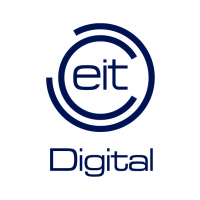 Related keywords
Electronics, IT and Telecomms
Artificial Intelligence (AI)
Computer Software Technology
Operation Planning and Scheduler System
ERP - Electronic Resources Planning
Computer related
Computer Software Market
Systems software
Integrated software
Artificial intelligence related software
Software services
Other software services
planning
workforce
staff planning
About EIT Digital
Public Agency from Germany
EIT Digital
EIT Digital is a leading European digital innovation and entrepreneurial education organisation driving Europe's digital transformation.

EIT Digital delivers breakthrough digital innovations to the market and breeds entrepreneurial talent for economic growth and improved quality of life in Europe. It does this by mobilising a pan-European ecosystem of almost 200 top European corporations, SMEs, startups, universities and research institutes.

As a Knowledge and Innovation Community of the European Institute of Innovation and Technology, EIT Digital is focused on entrepreneurship and is at the forefront of integrating education, research and business by bringing together students, researchers, engineers, business developers and entrepreneurs. This is done in our pan-European network of co-location centres in Berlin, Eindhoven, Helsinki, London, Paris, Stockholm, Trento, as well as in Budapest and Madrid. We also have a hub in Silicon Valley.

EIT Digital invests in strategic areas to accelerate the market uptake of research-based digital technologies focusing on Europe's strategic, societal challenges: Digital Industry, Digital Cities, Digital Wellbeing, Digital Infrastructure and Digital Finance.

EIT Digital breeds T-shaped entrepreneurial digital talent focused on innovation through a blended Education Strategy that includes a Master School, Doctoral School and Professional School.
Technology Offers on Innoget are directly posted and managed by its members as well as evaluation of requests for information. Innoget is the trusted open innovation and science network aimed at directly connect industry needs with professionals online.