Summary of the technology
Are you struggling with an expensive and a too disease-specific Mobile Health solution? Introducing OpenTeleHealth - a powerful turnkey solution that will grow your business and optimize your workflow today.
Empower your business with our mobile health solution
The patient will be encouraged to become more involved in their own care process by using telehealth.
OpenTeleHealth amplifies the staff/patient ratio to allow the clinical team to treat more patients along best practice evidence guidelines. A nurse can process an average of 50 patients per hour.
By using the telehealth platform you will expand the geographical reach of a clinical team from an (enterprise) facility into the community and patient's homes.
The platform allows GPs, nurses and hospital specialists to collaborate in the care delivery.
The architecture
The telehealth platform consists of:
– A web portal for the clinician, allowing healthcare professionals to design interactions, receive measurements and answers, as well as view and analyze patient health data. This will enable you to assure a correct intervention on the patient's behalf if necessary, but it will also allow you to initiate video consultations with the patient.
– A reference APP for the patient, which uses a unique clinical workflow to guide the patient through capturing measurements, and providing diagnostic answers, as well as describing symptoms. (Source code available for premium partners)
– A large variety of connected measurement devices.
– A central data repository with IHE-XDS, HL7-CDA, and REST interfaces.
– OpenTeleHealth supports secure data exchanges between relevant entities, and can provide operational management necessary to implement and use the solution.
– The platform provide open interfaces, allowing Apps to be build externally and integrated to OpenTeleHealth. It also allow EHR/EMR providers the ability to access data, and actively push users and patients into OpenTeleHealth with the purpose doing RPM, with master data residing locally in the EMR/EHR.
Remote patient monitoring
OpenTeleHealth is a universal cloud-based remote patient monitoring platform. Citizens can measure health data at home using an APP and a wide range of medical measurement devices. Doctors and nurses can access patient data from a web portal.
The telehealth platform is simple and scalable, and supports single or multiple long-term conditions at a low, affordable price, even with large populations.
The platform is effective in remote patient monitoring and support our clients in configuration and subsequent management of many different conditions. We have clients that have successfuly applied the platform to home monitoring of users with Diabetes, Chronic Obstructive Pulmonary Disease, Hypertension, Asthma, Pregnancy and Congestive Heart Failure (CHF).
Clinical protocols can be tailored to every need, and OpenTeleHealth provides patient context along with measured health vitals, using a unique clinical workflow concept. As a remote patient monitoring company OpenTeleHealth has recently been recognized as a huge success in Denmark, where it is now part of the Danish national standards in healthcare IT.
If you would like to know more about our remote patient monitoring company and solutions you are welcome to request a free demonstration of OpenTeleHealth.
Technology Owner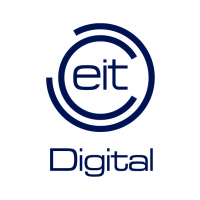 Related keywords
Electronics, IT and Telecomms
Computer Software Technology
Applications for Health
Medicine, Human Health
E-Health
Health information management
Remote diagnostics
Computer Software Market
Medical/health
Software services
Medical Health related
Diagnostic
Diagnostic services
Other diagnostic
Other Medical/Health Related
Other medical/health related (not elsewhere classified)
Covid-19
telehealth
About EIT Digital
Public Agency from Germany
EIT Digital
EIT Digital is a leading European digital innovation and entrepreneurial education organisation driving Europe's digital transformation.

EIT Digital delivers breakthrough digital innovations to the market and breeds entrepreneurial talent for economic growth and improved quality of life in Europe. It does this by mobilising a pan-European ecosystem of almost 200 top European corporations, SMEs, startups, universities and research institutes.

As a Knowledge and Innovation Community of the European Institute of Innovation and Technology, EIT Digital is focused on entrepreneurship and is at the forefront of integrating education, research and business by bringing together students, researchers, engineers, business developers and entrepreneurs. This is done in our pan-European network of co-location centres in Berlin, Eindhoven, Helsinki, London, Paris, Stockholm, Trento, as well as in Budapest and Madrid. We also have a hub in Silicon Valley.

EIT Digital invests in strategic areas to accelerate the market uptake of research-based digital technologies focusing on Europe's strategic, societal challenges: Digital Industry, Digital Cities, Digital Wellbeing, Digital Infrastructure and Digital Finance.

EIT Digital breeds T-shaped entrepreneurial digital talent focused on innovation through a blended Education Strategy that includes a Master School, Doctoral School and Professional School.
Technology Offers on Innoget are directly posted and managed by its members as well as evaluation of requests for information. Innoget is the trusted open innovation and science network aimed at directly connect industry needs with professionals online.