Summary of the technology
Fully screen printable mesoporous indium tin oxide-based perovskite solar cells. Can also be used for solar windows.
Project ID : 9-2019-6734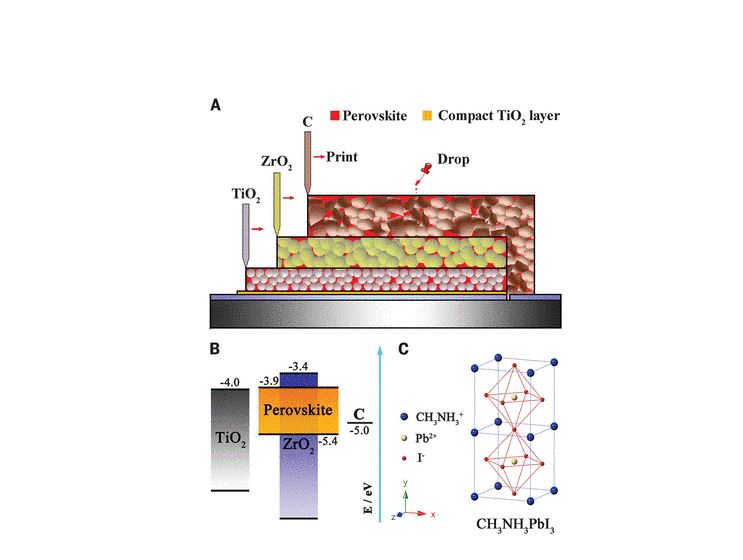 Description of the technology
Category
Chemistry & Materials
Keywords
Perovskite, solar cells, printing, wet deposition, nanotechnology
Application
Next generation solar cells are based on a family of thin film materials. Specifically, perovskite solar cells have demonstrated meteoric improvements in cell power conversion efficiencies, while simultaneously being easy to fabricate. These developments combine with the intensifying interest in renewables and carbon-neutral energy sources to push perovskite solar cells as a prime candidate for widespread adoption.
Our Innovation
The research group developed a technique to screen-print a multilayer architecture of perovskite solar cells.
The cells can be fabricated on rigid or flexible substrates.
The architecture can be adapted to high through-put methods for large area and large scale fabrication.
The architecture is agnostic to specific perovskite formulations and therefore eliminates concerns of short-term obsolescence.
Large-area demonstrator cells are obtainable with low capital investment.
Technology
Schema of screen-printable solar cell. Three different functional oxide layers are screen-printed and the perovskite formulation crystallizes within the interstitial cavities (Figure adapted from sciencemag.org)
Opportunity
There are multiple applications where existing silicon-based solar cells are unsuitable, whereas thin film perovskite cells can meet this latent demand. These uses span building-incorporated photovoltaics (BIPV) and off-grid uses. Estimates are that the BIPV market will reach $23B USD by 2024. In addition there is an early opportunity to construct tandem solar cells, which combines standard silicon PV with a perovskite thin film top layer that harvests energy outside the silicon absorption spectrum.
This specific technology dramatically reduces the required capital to obtain a large-scale proof of concept.
Project manager
Matt Zarek
SCOUTING, IDEATION, AND TECHNOLOGY EVALUATION
Project researchers
Lioz Etgar
HUJI, Faculty of Science
The Institute of Chemistry
Related keywords
Materials Technology
Chemistry
Surface treatment (painting, galvano, polishing, CVD, PVD)
Energy Technology
Solar / Thermal Energy Technology
Coatings
Chemicals and Materials
Solar / Thermal Energy Market
Coatings and adhesives manufactures
Chemistry & Materials
Processes
perovskite
About Yissum - Research Development Company of the Hebrew University
Technology Transfer Office from Israel
Yissum - Research Development Company of the Hebrew University
Yissum Research Development Company of the Hebrew University of Jerusalem Ltd. Founded in 1964 to protect and commercialize the Hebrew University's intellectual property. Ranked among the top technology transfer companies, Yissum has registered over 8,900 patents covering 2,500 inventions; has licensed out 800 technologies and has spun-off 90 companies. Products that are based on Hebrew University technologies and were commercialized by Yissum generate today over $2 Billion in annual sales.
Technology Offers on Innoget are directly posted and managed by its members as well as evaluation of requests for information. Innoget is the trusted open innovation and science network aimed at directly connect industry needs with professionals online.