Summary of the technology
Efficient Chemical Preparation of Highly Stable and Fully Active Human Seleno-Insulin Analogue
Project ID : 6-2018-4657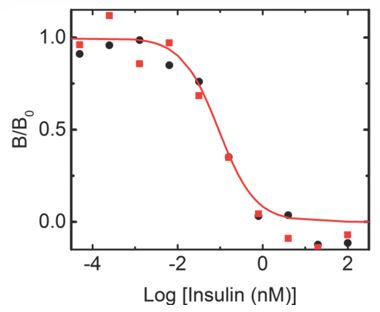 Description of the technology
| | |
| --- | --- |
| Keywords | Selenocysteine, peptides, stability, activity, insulin |
| Current development stage | TRL3 - hypothesis testing and intial POC demonstrated in limited # of in-vitro models |
Application
Insulin is the most important and widely used of drugs for patients with diabetes mellitus. The chemical synthesis of insulin analogs is very attractive as it allows incorporation of unnatural moieties, which would have further effect (higher) on insulin activity and stability. Efficient preparation of insulin analogs is still time consuming and limited with low yields. Here we found a better way to prepare fully active highly stable human insulin analogs based on the reactivity of selenocysteine in enhancing protein folding.
Our Innovation
Our synthesis approach requires incorporation of selenocysteine residues in the insulin hormone, which allows efficient preparation insulin based on the recombination method between chain A and chain B.
The new human insulin analog is far more stable than human insulin under all tested conditions, yet it is fully active.
crystal structure by X-ray diffraction was solved.
An isolated yield of ~30%, which is higher than previous preparation and in shorter time.
Does not require orthogonal protecting groups as usually required.
Technology
Chemical synthesis of insulin and analogs is a long-standing goal in insulin research. We use our expertise in peptide and protein chemistry and selenium chemistry to solve this long standing challenge. By simple substitutions in the peptide sequence of insulin, we were able to increase the yield of combination between chain A and chain B, to give fully active and highly stable insulin analog.
Figure 1 Activity of Seleno-insulin
Opportunity
Long lasting insulin analogs will be an important drug in the market for patients with diabetes mellitus. Many pharmaceutical companies would consider new insulin analogs with properties similar to what we discovered. Lantus (glargine), sold by Sanofi-Aventis's biotechnology with sales reaching 2.45 Billion EUR per year, yet the patent was expired 2015, and now it is sold by other companies including Eli Lilly under the brand name Basaglar.