Summary of the technology
This is targeted as a spinout but also could be an R&O.
Project ID : 43-2018-4622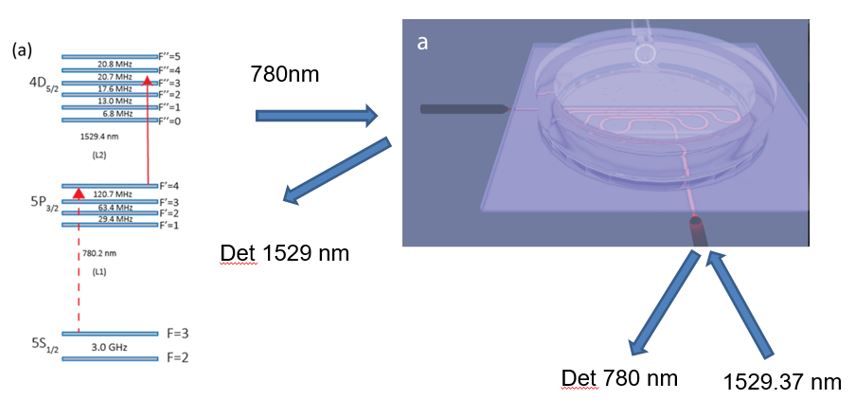 Description of the technology
Categories
Nanotechnology, Micro & Opto Electronics
Keywords
Atomic clock, frequency, wavelength, gas vapor, automotive, security, trading, exploration
Current development stage
TRL3 - experimental proof of concept;
Seeking for seed investment
The Application
Precise measurement of time is essential for many aspects of modern technology. The ubiquitous need for a stable frequency or wavelength reference has major implications for applications related to navigation, communication, positioning, exploration and security. The typical quartz oscillators are susceptible to environmental factors and suffer from signal drift and so are unacceptable for time-critical applications. Atomic clocks address this by sampling the oscillation of atoms yet there are few miniaturized clocks which offer low power consumption, low cost, small footprint and high enough accuracy.
Our Technology
We propose a CMOS-compatible chip-scale atomic clock based on the use of integrated optics fully integrated with a vapor cell. This design incorporates optical waveguides, a hot vapor cell, photo-detector and electronics on the same small form-factor chip.
Figure 1 Ladder Transition –Telecom OperationResonant Two Photon Absorption At 1529 Nm
Our Innovation
Our chip-scale atomic clock has a very small form factor, has low power consumption and can be integrated on a chip with other functionalities.
The Opportunity
The need for atomic-level precision time-keeping for consumer products is clear, particularly in areas where mission-critical satellite-independent frequency referencing is essential. Featured applications include vehicle communication in level 5 autonomous driving, UAVs, and defense communication. While these likely will be the early use cases, affordable chip-scale CMOS-compatible atomic clocks will open up a massive opportunity for consumer products.
Project manager
Matt Zarek
SCOUTING, IDEATION, AND TECHNOLOGY EVALUATION
Project researchers
Uriel Levy
HUJI, Faculty of Science
Applied Physics Department
Related keywords
Electronics, Microelectronics
Information Processing, Information System, Workflow Management
IT and Telematics Applications
Multimedia
Nanotechnologies related to electronics & microelectronics
Micro and Nanotechnology related to Electronics and Microelectronics
Computers
Computer Graphics Related
Specialised Turnkey Systems
Scanning Related
Peripherals
Computer Services
Computer Software Market
Other Computer Related
Some other electronics related
semiconductors
Micro & Opto Electronics
About Yissum - Research Development Company of the Hebrew University
Technology Transfer Office from Israel
Yissum - Research Development Company of the Hebrew University
Yissum Research Development Company of the Hebrew University of Jerusalem Ltd. Founded in 1964 to protect and commercialize the Hebrew University's intellectual property. Ranked among the top technology transfer companies, Yissum has registered over 8,900 patents covering 2,500 inventions; has licensed out 800 technologies and has spun-off 90 companies. Products that are based on Hebrew University technologies and were commercialized by Yissum generate today over $2 Billion in annual sales.
Technology Offers on Innoget are directly posted and managed by its members as well as evaluation of requests for information. Innoget is the trusted open innovation and science network aimed at directly connect industry needs with professionals online.