Summary of the technology
DIT Hothouse is seeking a suitable commercial partner to take this technology to market. The establishment of a start-up software business or a licensing agreement with a clean room services company are two possible routes to market. Industry partners will have the added benefit of a highly experienced DIT project team to help deliver the final product. StrataVision has featured strongly in national (Enterprise Ireland) and international (Hong Kong PU) enterprise awards.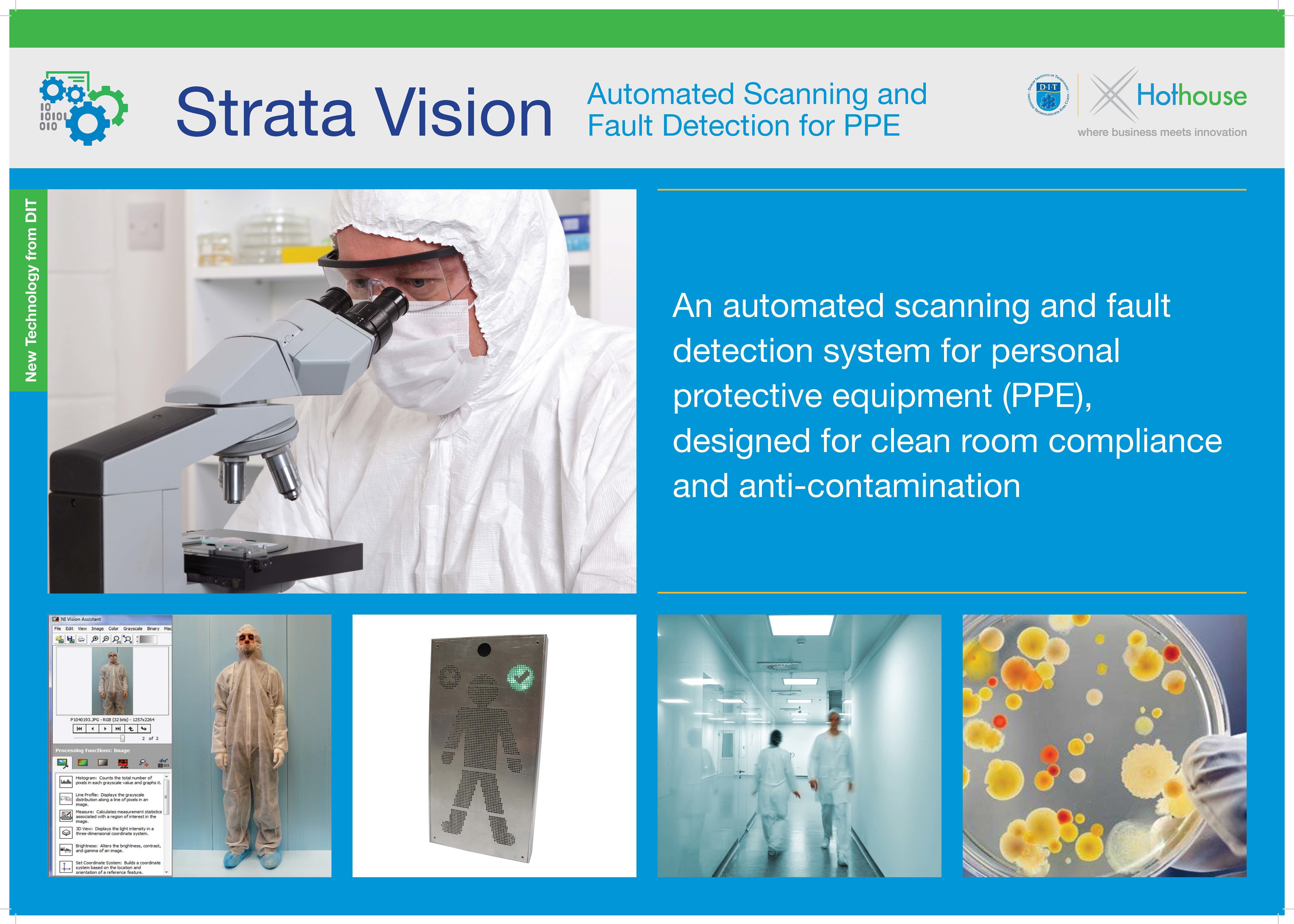 Description of the technology
Researchers from Dublin Institute of Technology have developed a novel automated scanning and fault detection system for personal protective equipment (PPE), designed specifically for clean room compliance and anti-contamination. The Strata Vision system aids in the gowning process through the use of a novel software device and camera mounted next to a full size mirror. When the worker checks their PPE in the mirror, the system automatically scans for faults in the PPE (i.e. failure to wear gloves or masks, non-compliance with cosmetic protocols, or high temperature indicating illness) An image is collected and processed by novel image recognition software, which generates a "pass" or "fail" classification and presents this to the user. The system also displays an indicator of the affected area (e.g. hands). The system continues to scan the user and display a "fail" result until their PPE is adjusted sufficiently to achieve a "pass" result. Each result can be logged by the system and stored for review later by the employer or employee. Predetermined areas are set up to measure the presence of colour. Certain colours are permitted such as gown and background colours. Colours not permitted (i.e. skin tones) are highlighted by the software, and the software processes this information and transfers it to the display unit, illustrating the relevant area.
Specifications
Prototype image recognition software has been adapted for the system, developed, tested and executed in order to validate the proof of concept. The system has been tested for various configurations of protective gear amongst a cross section of potential users in the Irish Pharmaceutical, Medical devices, Food and Semi-conductor industries. A PCT patent application on 'A method and apparatus for protective clothing compliance' was filed in 2013 – PCT/EP2013/061334. This patent covers the system, processes and detection methods while the software and related source code is DIT confidential know-how.
Main advantages of its use
Anti-Contamination: Strata Vision significantly reduces the risk of product contamination through faulty PPE which can lead to costly problems such as production run scrapping and recall of faulty products on the market.
Improved Accuracy and Reliability: Currently no technical solution exists to aid workers in the gowning process, meaning personnel must rely on manual subjective processes which are prone to human error. Strata Vision solves this problem.
Regulatory Compliance: Strata Vision ensures employee adherence to the strict PPE guidelines associated with certain industries (e.g. in medical devices).
Applications
Strata Vision has applications amongst companies in a range of industry sectors, particularly those with a strong dependence on high value manufacturing where clean rooms are an essential part of the production process.The technology was developed in consideration of clean room environments within the pharmaceutical, medical device, semiconductor and food sectors but other application areas may apply.
Additional information (attached documents)
Additional information (attached documents)
Related keywords
Cleaning Technology
Safety
Food quality and safety
Semiconductors Technology
Applications for Health
Quality Management System
Work Hygiene and Safety Management
Other Medical/Health Related
Analytical and Scientific Instrumentation
Semiconductors Market
PPE
Personal Protective Equipment
Scanning
Fault Detection
Anti-Contamination
Cleanroom
About DIT Hothouse
Technology Transfer Office from Ireland
DIT Hothouse
DIT Hothouse is the award-winning Innovation and Knowledge Transfer Office at Dublin Institute of Technology, responsible for the commercialisation of intellectual property arising from DIT research. DIT Hothouse is the hub of innovation and technology transfer activities in DIT, the place where business meets innovation. DIT Hothouse has a range of spinout technologies available to industry across Life Sciences, Food, ICT, Software, Industrial Technology, Manufacturing and Clean Technologies. Our team works with students, lecturers and research teams across DIT as well as with entrepreneurs, industry leaders and investors. Through the DIT Hothouse New Frontiers Startup Programme, we provide a startup incubator for innovative and promising startup companies.

Our Mission

The mission of DIT Hothouse is to:

Maximise the commercialisation of new technologies developed by the growing community of DIT researchers.
Partner with industry on research collaboration, research consultancy and contract research.
Support the launch of knowledge-intensive startups with the potential to generate significant economic benefits for Ireland through our startup support programmes and the DIT Hothouse Incubator.
Our Offering
At DIT Hothouse we assist:

Entrepreneurs to start and grow businesses.
Industry partners to find new technologies, research partners, and funding.
Investors to find high-potential opportunities.
DIT staff and students to commercialise their intellectual property (IP).
Technology transfer offices in the Institute of Technology Tallaght (ITTD), the Institute of Technology Blanchardstown (ITB), the Institute of Art, Design & Technology, Dún Laoghaire (IADT) and the National College of Ireland (NCI) and the Dublin Institute for Advanced Studies (DIAS) in their commercialisation activities.
Whichever category you belong to, DIT Hothouse can provide you with unparalleled expertise, skills and resources to help you achieve your goals.‌

Our Success


Since its establishment in 2007, DIT Hothouse has consistently outperformed all other Irish university technology transfer offices, completing up to 20% of the annual commercial technology transfer licences in Ireland. Through its Enterprise Ireland-funded Incubation Programmes, DIT Hothouse has helped create nearly 400 sustainable businesses that have attracted €195 million in equity investment and created approximately 1,700 quality jobs.
Technology Offers on Innoget are directly posted and managed by its members as well as evaluation of requests for information. Innoget is the trusted open innovation and science network aimed at directly connect industry needs with professionals online.