Summary of the technology
Edge-Avoiding Wavelets and their Applications
Project ID : 10-2009-2271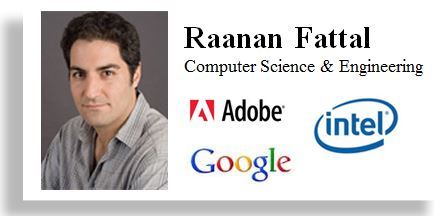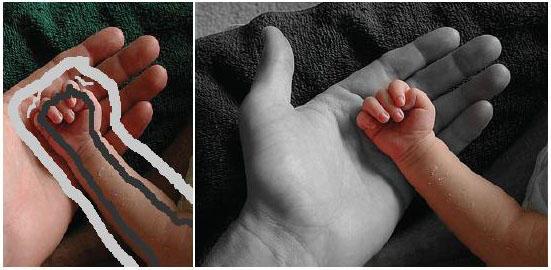 Description of the technology
A New family of second-generation wavelets constructed using robust data-prediction lifting scheme
| | |
| --- | --- |
| Categories | Imaging / Computer Graphics, Image Processing, Photography |
| Development Stage | Project completed |
| Patent Status | US patent Granted: 8,295,632 |
| Market / Commercial Status | Photographic and video image processing / Licensed to Adobe Systems (non exclusive license) |
Highlights
Almost every application for manipulating and improving photographic images, such as noise reduction and detail enhancement, relies on scale separation.

Linear translation-invariant (LTI) filtering is the classic and efficient method for achieving scale separation; however the method generates visual artefacts such as halos.

Edge-preserving smoothing filters avoid these artefacts but are computationally expensive, they are time-consuming and often increase memory requirements.

The new wavelets accelerate the computation of the edge-preserving smoothing as well as various other popular applications (such as image colorization) at no memory cost.
Our Innovation
New family of second-generation wavelets constructed using robust data-prediction lifting schemes. The new wavelets make it possible to compute nonlinear data-dependent multi-scale edge-preserving image filtering and processing at computation times which are linear in the number of image pixels.
Key Features
Avoids halo artefacts in band-independent multi-scale processing with minimal computational cost and without taking any special precautions.

Can be used to compute edge-aware interpolation schemes very efficiently, enabling real-time implementation of various applications such as image colorization

Avoids the difficulties of solving large and poorly conditioned systems of equations

Significantly accelerates various computational photography applications, achieving multi-scale data-dependent filtering at running times typical of linear translation-invariant (LTI) filtering.
The Opportunity
The software is ready for incorporation into any image processing toolkit or video processing system to provide significantly faster results at reduced cost. It has particular benefits for:

Edge-preserving smoothing of color images

Edge-aware noise removal

Dynamic-range compression

Scattered data interpolation for image colorization
Project manager
Tamir Huberman
VP Business Dev. Computer Science & IT Director
Project researchers
Raanan Fattal
HUJI, School of Computer Science and Engineering
CS - Computer Vision
Additional information (attached documents)
Related keywords
Information Processing, Information System, Workflow Management
IT and Telematics Applications
Multimedia
Computers
Computer Graphics Related
Specialised Turnkey Systems
Scanning Related
Peripherals
Computer Services
Computer Software Market
Other Computer Related
Computer Science & Engineering
Imaging / Computer Graphics
About Yissum - Research Development Company of the Hebrew University
Technology Transfer Office from Israel
Yissum - Research Development Company of the Hebrew University
Yissum Research Development Company of the Hebrew University of Jerusalem Ltd. Founded in 1964 to protect and commercialize the Hebrew University's intellectual property. Ranked among the top technology transfer companies, Yissum has registered over 8,900 patents covering 2,500 inventions; has licensed out 800 technologies and has spun-off 90 companies. Products that are based on Hebrew University technologies and were commercialized by Yissum generate today over $2 Billion in annual sales.
Technology Offers on Innoget are directly posted and managed by its members as well as evaluation of requests for information. Innoget is the trusted open innovation and science network aimed at directly connect industry needs with professionals online.