Summary of the technology
The present data provide a solid basis for the development of genetic biomarkers for the early identification of patients suffering from dementia with Lewy bodies and to classify them into specific molecular subtypes. One of the biomarkers correlates with the development of Lewy pathology in the brain and may be useful to monitor the success of possible alpha-synuclein antiaggregatory therapies.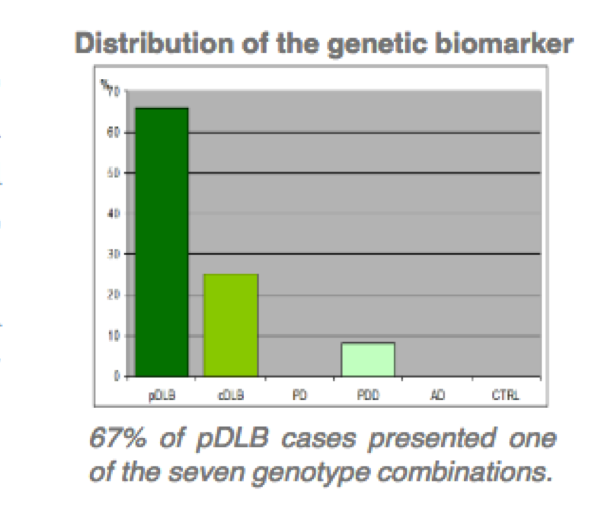 Background
Dementia with Lewy bodies (DLB) belongs together with Parkinson's disease (PD) to the group of Lewy body diseases and is after Alzheimer disease (AD) the second cause of dementia. Within this spectrum DLB shows overlapping features with both above mentioned conditions making difficult its correct diagnosis. Nevertheless, DLB is characterized by an aggressive disease course and overall elevated mortality turning an early and accurate diagnosis to a need. Similar to AD and PD, DLB is very heterogeneous and various subgroups develop disease by their own molecular mechanisms each. Therefore, it is hard to suppose that only one biomarker will identify all DLB patient. Instead, different biomarkers, one for each of the various subgroups, will be needed to identify all DLB patients. Only working strategies in this line further permit to tackle the challenges of personalized medicine.
Our results up to day
The technology provides a different in vitro methods for the diagnosis of dementia with Lewy (DBL) bodies and  DBL subgroups related with two gens. –SNCA, SNCB divided in two patent assets. 
Method for the diagnosis of pure DBL by PCR techniques, related with presence of four gene SNCB variations.

Specificity above 95%. 
Comercial use as PCR kit for companion diagnostics to treat   with distinctive medical regime DBL patients.

Method for the diagnosis of DBL, based in  two SNCA transcripts SNCAtv2 and  SNCAtv3 in     blood samples.

Sensitivity and specifity of transcripts for the diagnosis of DLB   were above 90%.
Comercial use as kit for the main biotecnological procedures:   PCR, QPCR, multiplex PCR, NASBA, LCR, RT-PCR, RNA   sequencing, Northern.
Advantages
•The use of these genetic biomarkers will permit to identify those patients with DLB that belong to subgroups with known molecular changes in the brain.
• The potential to personalize the diagnosis and possibly also treatment is becoming a promising strategy for clinical use.
• One of the biomarkers will allow to monitor the success of therapies to be applied in patients with dementia.
• The facility of standardization and relative low-cost of analysis are key characteristics for the use of the biomarker in clinics.
Intellectual property status
PCT application
Desired business relationship
• Co-development
• Licensing Out
Related keywords
Diagnostics, Diagnosis
Neurology, Brain Research
Pharmaceutical Products / Drugs
Diagnostic
Molecular diagnosis
Therapeutic
Other medical/health related (not elsewhere classified)
Alzheimer
alzheimer's disease
biomarker
early detection
Parkinson
Dementia
Genetic Biomarker
lewy
About Germans Trias i Pujol Health Sciences Research Institute
Research Institute from Spain
Germans Trias i Pujol Health Sciences Research Institute
MISSIONS
The mission of the Health Sciences Research Institute of the "Germans Trias i Pujol" Foundation (IGTP) are to generate, preserve, disseminate and increase multidisciplinary and translational knowledge, as well as echnological development in biomedical sciences, by means of a dynamic, efficient and effective organisation.

GOALS
The ultimate goal of the IGTP is to become a research centre of reference, able to transfer the generated knowledge into clinical practice and therapeutics (translationality), in order to optimise the psychophysical health and quality of life of the population.

VISION
- The IGTP, as an institution devoted to biomedical research:
- Assumes its humanitarian view, ethical principles, and solidarity, as well as the principles of sustainability in resource management and relationship with the environment.
- Its activities will be always related with the health needs of the population and the priority areas in healthcare development.
- Assumes the scientific method as its own and faces its goals by means of programs of excellence which enable the leadership in the areas of knowledge of the interest of its researchers.
- Protects the data used in, and generated by the research programmes, as well as the privacy of the patients and healthy individuals who participate in them.
Technology Offers on Innoget are directly posted and managed by its members as well as evaluation of requests for information. Innoget is the trusted open innovation and science network aimed at directly connect industry needs with professionals online.