Summary of the technology
Chemical compound (GRAS, DEET-free) to be used as spatial (non topical) mosquito repellent
Known mechanism of action

A novel spatial (non-topical) mosquito repellent, for long range based on unique chemical compound


Project ID : 8-2018-4611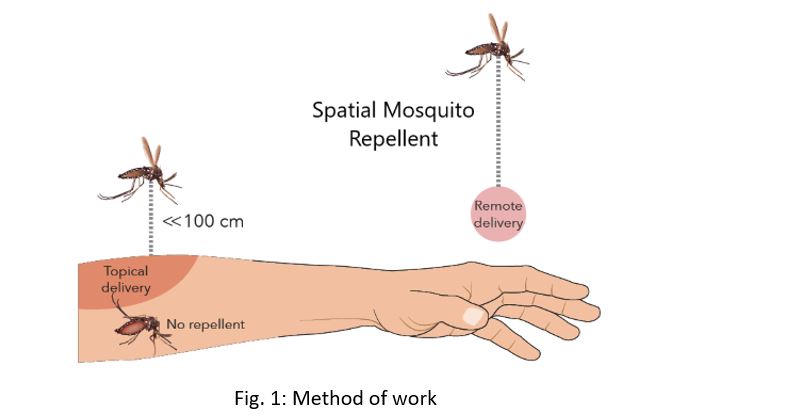 Description of the technology
Category
Chemistry & Materials , Veterinary & Animal science
Keywords
Chemical compound, mosquito Olfactory system, repellent, spatial
Current development stage
TRL4 Technology validated in lab
Collaboration Opportunity
Sponsored Research with an option to License Research Results
Application
The mosquito is the most dangerous insect on earth. No other species, including our own, is responsible for the loss of as many human lives each year as mosquitoes are. The diseases that mosquitos carry and transmit to people through bites, kill 725,000[1] annually (most from malaria).
One kiss from a female mosquito causes an unpleasant itch at best and at worst may inject into the blood stream unsavory microscopic visitors.
There are many insect repellents on the market, however, a majority of them are topical repellents, effective only for ashort range (<100 cm).
Our Innovation
A novel spatial (non-topical) mosquito repellent, for long range based on an unique chemical compound
Long range of action (one meter or longer)
High user acceptability
Long lasting once applied
Long shelf life
Technology
Thousands of olfactory receptors belonging to different gene families have been identified in various insect species. Each species exhibits between 60 to 400 receptor genes.
Using molecular methods and understanding mosquitos' peripheral olfactory system and the situational context of their behavior a spatial mosquito repellent was developed
This spatial mosquito repellent is a GRAS, DEET – free stable and safe chemical compound with a known mechanism of action.
It is also an environmentally friendly volatile solution, that can be used in large doses.
Opportunity
Personal and area protection over a long range (>100 cm)
The researcher is interested in industry sponsored research funding and/or licensing of the technology.
[1]https://www.smithsonianmag.com/smart-news/mosquitoes-kill-more-humans-human-murderers-do-180951272/
Project manager
Ilya Pittel
VP, BD AGTECH, FOODTECH, VETERINARY & ENVIRONMENT
Project researchers
Jonathan Bohbot
HUJI, Faculty of Agricultural, Food and Environmental Quality Sciences
Entomology
Related keywords
Materials Technology
Chemistry
Veterinary Medicine
Environment
Clean Production / Green Technologies
Waste Management
Animal health
Chemicals and Materials
Pollution and Recycling Related
Chemistry & Materials
formulations
mosquito repelant
About Yissum - Research Development Company of the Hebrew University
Technology Transfer Office from Israel
Yissum - Research Development Company of the Hebrew University
Yissum Research Development Company of the Hebrew University of Jerusalem Ltd. Founded in 1964 to protect and commercialize the Hebrew University's intellectual property. Ranked among the top technology transfer companies, Yissum has registered over 8,900 patents covering 2,500 inventions; has licensed out 800 technologies and has spun-off 90 companies. Products that are based on Hebrew University technologies and were commercialized by Yissum generate today over $2 Billion in annual sales.
Technology Offers on Innoget are directly posted and managed by its members as well as evaluation of requests for information. Innoget is the trusted open innovation and science network aimed at directly connect industry needs with professionals online.