Summary of the technology
Researchers from the University of Alicante have developed a control system, which allows a greater versatility in flight for UAVs (Unmanned Aerial Vehicles also colloquially called drones). With this system a vehicle can switch between different flight plans or define in real time the optimum aircraft movement depending on the environment and the information received by its sensors. Moreover, this system also includes a communication mechanism that allows a ground station to define new flight plans while the aircraft is in the air.
This system is a significant advance over existing systems, as latter ones require prior planning to take off and have a reduced flexibility when the vehicles are in flight. It is applicable to all types of aircraft using the communication protocol MAVLINK.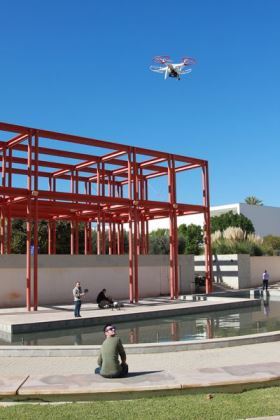 New and innovative aspects
This system allows developing dynamic flight behaviours using a high-level planning of the control board. It uses non-proprietary protocols and widespread technology, so that it can be implemented in different types of vehicles.
Therefore, the system allows the aircraft to carry out an intelligent flight. It can react to changing circumstances or dynamic objects and for example can track specific landmarks.
This aspect is highly innovative and makes work easier for users. The drone does not require constant monitoring and has the autonomy to modify its path to the ultimate goal of fulfilling its mission.
Main advantages of its use
It can perform tasks without human intervention and decide in flight time the necessary movements to complete their mission. This includes autonomous take-off and landing, hold position at a point or develop the route determined by the system board in real time
Ideal for missions in hazardous environments requiring quick decisions or distant environments where communications system can be interrupted
Incorporates a high-level flight planning method using MAVLINK protocol
It allows the aircraft to include any type of sensor or device via USB, RS232 or I2C connections
It enables stable communication protocols for the aircraft that allow interconnection with ground stations and even drones to conduct missions in cooperation (swarm system)
Specifications
The system developed by the researchers attempts to overcome the limitations of current flight control systems and propose a truly autonomous and flexible system based on its own model.
In this way, a small electronic device, that incorporates a software system developed by the researchers, was designed. This device connects to the drone by MAVLINK protocol. Specifically, the device is linked with the drone flight controller (which manages the different elements that are used to stabilize and manoeuvre) and also with sensors and communication systems, which provide information about the environment. This sensor array can be expanded by incorporating any supported sensor with USB, RS232 or I2C protocols.
The system has a number of software subsystems that allow it to interact with the outside, receive data, interpret it and execute the necessary actions.
The drone can communicate with the ground station through the communications subsystem and send data about the flight or information collected by its sensors and cameras. From the station, a person can send data to the drone, even assign new instructions or flight plans when the aircraft is flying.
In short, using the developed system, the drone can be managed properly by a human operator, either following a fixed flight plan or in a autonomously way based on a dynamic flight plan where the aircraft will define its next movement depending on its state, the circumstances detected by the sensors and the instructions received from the base.
This system also enables communication with other similar vehicles allowing a drone to establish a group of flying aircrafts, providing new features and potential applications that an individual drone cannot develop.
The flight planning method includes the following steps to control the aircraft:
Check the device status.
Connect to the flight controller.
Obtain the controller flight data flow.
Acquire signal flow and communications.
Check security status of autonomous flight.
Determine the next move of the aircraft in an autonomous way.
Send flight commands to the controller.
Store flight details
Applications
Developed technology is applicable in all types of unmanned aerial vehicles to implement flight controllers compatible with MAVLINK protocol. These aircrafts can have both civilian and military uses. It is particularly interesting for their application in the flight planning of robotic swarms.
The system facilitates the performance of specific tasks as surveillance, forests monitoring, agricultural monitoring, surveillance of animal groups, automatic transport of small goods, etc.
Intellectual property status
This technology is protected by patent application.
Title of the patent: "SISTEMA Y MÉTODO PARA LA PLANIFICACIÓN DE VUELO AUTÓNOMO"
Application number: 201431195
Application date: 5th August 2014
Current development status
There is a prototype of the technology that has been tested in standard aircraft and also conducting complex missions, with optimum results.
Desired business relationship
The group is looking for companies interested in acquiring this technology for commercial exploitation through patent licensing agreement.
In addition, the research group has extensive knowledge in flight systems, artificial intelligence and unmanned vehicles. In this way it can provide expertise to solve the technological needs of enterprises in these areas.
Related keywords
Automation, Robotics Control Systems
Embedded Systems and Real Time Systems
Artificial Intelligence (AI)
Remote Control
Aircraft
Artificial intelligence related software
Expert systems
Process control equipment and systems
Machine vision software and systems
Airfield and other transportation services
Control Systems
remote control
aerodynamic designs and artificial intelligence.
Embedded systems and real-time systems
About Universidad de Alicante
Research & Technology Organization from Spain
Universidad de Alicante
As one of the largest universities of Spain, Universidad de Alicante has a rich history of innovation. Our main objective is to transfer the technology that our research teams are developing to the industries and companies which are able to take profit from them. R & D & Innovation results and know-how are offered in the domains of Chemistry, Materials, Environment, IT, Building and other applied subjects.
Technology Offers on Innoget are directly posted and managed by its members as well as evaluation of requests for information. Innoget is the trusted open innovation and science network aimed at directly connect industry needs with professionals online.