Summary of the technology
A new Passive-Optical-Network (PON) for Fiber-To-The-Home (FTTH) services has been developed in the frame of the National Research Project TEYDE. While current FTTH networks as GPON and EPON can reach a maximum of 32-64 users, the proposed PON can serve more than 4000 users, thanks to a new device for distributing the signal among the users that intelligently recycles the noise generated by other elements of the network. Partners to further develop the device and/or to establish license agreements with technical cooperation are sought.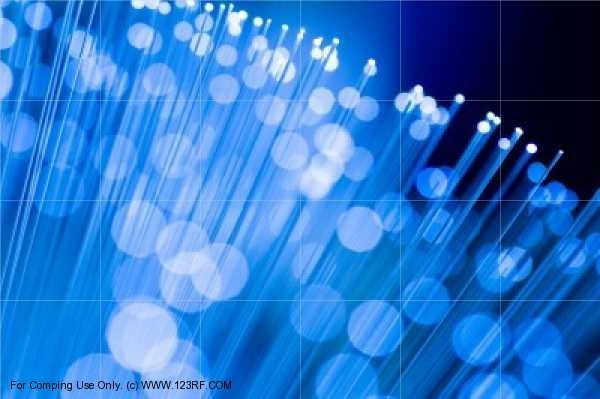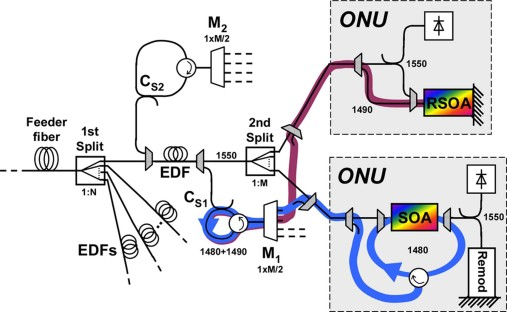 The Challenge

Access to internet is limited for many people to slow speed or a high cost. A fiber arriving to each home is proving nowadays 100Mbps in USA and Japan by GPON (Gigabit PON) and/or EPON (Ethernet PON) FTTH networks at the same prize of 6Mbps ADSL services in Europe. While ADSL provides service to one user per cooper pair cables and GPON and EPON serve to 32-64 users, this new promising technology can provide access to more than 4000 users per PON network.
The Technology

Successful current FTTH-PON networks as GPON and EPON distribute the signal among the users by splitting it. For example, if providing signal to 64 users, only about 1% of the signal power can be distributed to each home.
This technology regenerates this 1% to a 99% level, at a new design of the common passive power splitter used in GPON and EPON, by recycling the noise generated by the transmitter device of the user terminals. So that maintaining a Passive network, the PON network can be extended up to 1000 users (4000 users by FEC techniques).
Current stage of development

Tested and demonstrated at Laboratory level
Applications and Target Market

This technology is interesting for FTTH operators and FTTH equipment fabricants to develop a Next-Generation PON network.
Innovative advantages

Extension of FTTH-PON networks to 4000 users Re-utilization of noise, for a higher energy efficiency network Fibre outside plant maintained passive, by new design of the typical GPON and EPON power splitters Scalable and adaptable solution to Next-Generation PONs
Intellectual property status
Granted Patent
-
Technology available for licensing with technical cooperation Patent Status Patent priority application filed

Technology Owner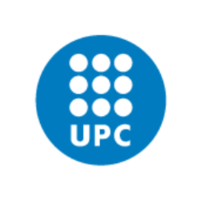 Universitat Politècnica de Catalunya - UPC
Technology Transfer Office
Related keywords
Electronics, IT and Telecomms
Internet Technologies/Communication (Wireless, Wi-Fi, Bluetooth)
Optical Networks and Systems
Optics
Network Technology, Network Security
Telecommunications, Networking
Fibre Optics
Electronics Related Market
Communications
internet
About Universitat Politècnica de Catalunya - UPC
Technology Transfer Office from Spain
Universitat Politècnica de Catalunya - UPC
The Universitat Politècnica de Catalunya - BarcelonaTech is a public institution dedicated to higher education and research in the fields of engineering, architecture and science, which contributes its knowledge and expertise in order to increase scientific output, transfer its results to society and provide a network of scientific and technical state-of-the-art facilities and technology valorization services that place us at the leading edge of innovation and economic development.

The UPC has established itself as a driver of innovation and is the technology partner of choice for companies and organizations with which it develops projects and builds partnerships. A role borne out by the numerous agreements and research projects that have been set in motion by groups, organizations and laboratories; the creation of new technology-based companies; the generation and exploitation of patents, and the scientific and technical services UPC makes available to its environment in order to generate progress and employment.

The Technology Transfer Office (SGI) is responsible of Designing, coordinating and implementing research valorisation strategies, carrying out the protection policy of the research results, marketing these results through license contracts and designing and setting up the University's enterprise creation model in order to transfer the results of the research to the market, protect and commercialize these results, promote the culture of entrepreneurship and innovation, and create technology-based companies within the UPC environment.
Technology Offers on Innoget are directly posted and managed by its members as well as evaluation of requests for information. Innoget is the trusted open innovation and science network aimed at directly connect industry needs with professionals online.