Summary of the technology
Our partner, a Hungarian company, developed a patented technology that provides a solution for transforming municipal sewage sludge into solid fuel (Solid Recovered Fuel -SRF), which also enables sewage plants to achieve significant cost savings.

The company is looking for potential licensing partners in the field of sewage plant construction and operation.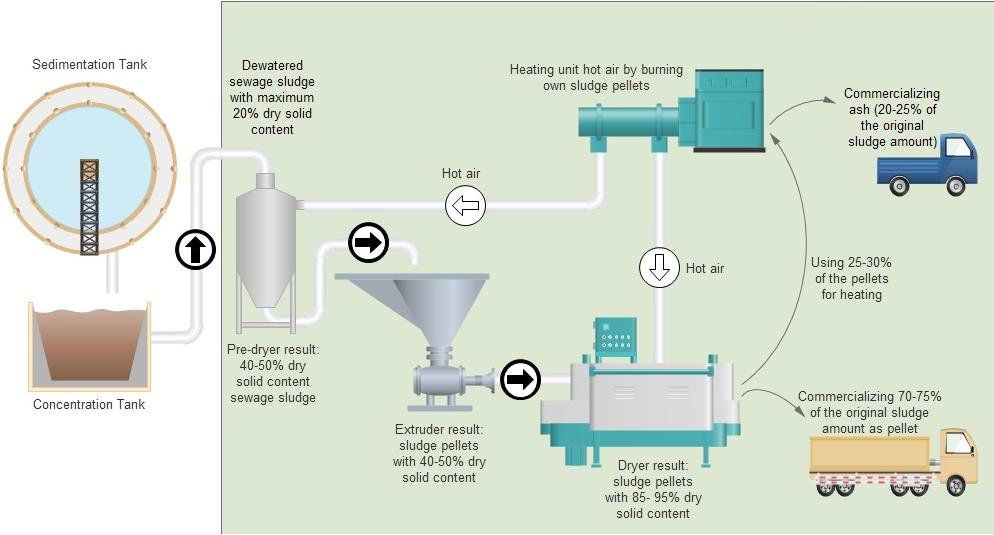 Description of the technology
Our partner, a Hungarian company, developed and launched a technology for treating communal sewage sludge that is economical in case of small scale production too. This technology is a self-supporting technology for drying and pelleting sewage sludge without external need of fossil fuel or any other additional material. Consequently, the most reasonable utilization of pellets is not retail utilization, but meeting the heating and hot water needs of properties owned or operated by municipalities that operate waste water treatment plants. The pellets generated have a heating value equivalent of the brown coal heating value. It uses a negligible external energy input by reusing 30-50% of the generated pellets in the process to run the drying unit. The technology fits into the energy from waste policy of the European Union. It enables wastewater plants to meet the strict EU environmental regulations and at the same time, reduce their sewage sludge treatment costs with 50-75. The company is looking for potential licensing partners in the field of sewage plant construction and operation.
ADVANTAGES:
Four-five year payback period which is quite impressive in the energy sector.
TÜV certified burning material pellet.
The technology is also generating 3-4 workplaces per units.
The finalised system offers an economical solution of sewage sludge treatment for wastewater companies.
Unique Dewatering: Using the end product to run the drying unit / Quick dewatering as compared to the others / Processing sewage sludge locally
Small size of units: 2t/day unit fits to 2pcs. 20 feet containers / less land demand (comparing with solar systems) / less costs of investment per unit / less transport costs
Current development status
Commercially available technologies
Desired business relationship
Technology selling
Patent licensing
Joint ventures
Technology Owner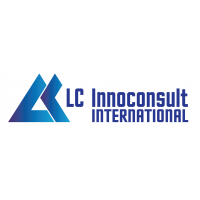 Laser Consult Ltd.
Innovation Intermediary
Related keywords
Waste incineration
Waste to energy other
Energy from wastewater
Waste Management
Waste to Energy /Resource
Industrial Water Treatment
Municipal Water Treatment
Sludge Treatment / Disposal
Wastewater Recycling
Biotreatment / Compost / Bioconversion
Incineration and Pyrolysis
Land and Sea Disposal
Recycling, Recovery
Social and Economics concerns
Smart City
Protecting Man and Environment
Environment
Ecology
Water Management
Water Resources Management
Environmental Engineering / Technology
Climate Change mitigation
Soil and Groundwater Pollution
Clean Production / Green Technologies
Life Cycle Assessment
Remediation of Contaminated Sites
Water treatment equipment and waste disposal systems
Water, sewerage, chemical and solid waste treatment plants
sewage
sludge
About Laser Consult Ltd.
Innovation Intermediary from Hungary
Laser Consult Ltd.
Laser Consult Technical, Scientific and Economic Consulting Kft. (Ltd.) was established in 1992 with the objective of accompanying its clients from the innovational idea all the way to selling the intellectual product by providing complex innovational services.

Our mission, through our services, is to promote the utilisation of intellectual products, create a business value from innovative solutions, promote the co-operation of places of research and enterprises and the development of Hungarian higher education through the professional support of innovational activities. The foundation of the successful operation of the company is our fundamental philosophy, in which we lay a significant emphasis on establishing a relationship of confidence and developing a long-term successful co-operation with our clients.
Technology Offers on Innoget are directly posted and managed by its members as well as evaluation of requests for information. Innoget is the trusted open innovation and science network aimed at directly connect industry needs with professionals online.