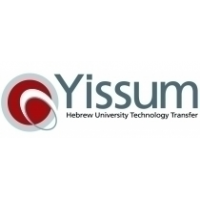 Oxidized Cellulose Used to Prevent Allergic Reaction in Asthma, Seasonal Allergies, and Atopic Dermatitis
From Israel
Responsive
Innovative Products and Technologies
Summary of the technology
A new composition of matter comprising microparticles with both oxidized cellulose and glucans. The composition includes pharmaceutically acceptable carrier and as an active ingredient oxidized cellulose. Preferable the oxidized cellulose should be formed as microparticles and the combimation can be used for the treatment of asthma and allergy.
keywords: formulation, allergy
Project ID : 7-2006-398
Details of the Technology Offer
Highlights
Prevention of IgE-mediated allergic reaction by blocking and clearing pollen allergens with oxidized cellulose via its polysaccharide binding domain.

Mode of administration: inhalation, intranasal, ocular, topical and mucosal.

Oxidized cellulose has a long safety track record as an invasive medical device.

A commercial source of GMP manufactured oxidized cellulose has been selected.

Easy 510(k) regulatory pathway for certain indications.
Our Innovation
Oxidized cellulose, effectively prevents allergies, asthma and hay fever.

This is a biodegradable and biocompatible product that has exhibited a high efficiency for binding a broad-spectrum of allergens (pollen, mites, egg and cat dander).

The low solubility level enables it to be cleared by the mucocilliary system from the airways to the gastro-intestinal track. In addition, the oxidised cellulose, bind the allergens and prevents epithelium barrier penetration thus prevents allergic reaction..

The half life of oxidized cellulose is 14 days in the lungs and 55 days in the body.

Mouse and Rat models (in vivo and in vitro) have established oxidized cellulose powder inhalation as an effective treatment in the reduction of allergic inflammation in the lungs.

In-vitro assays have been developed to demonstrate mode of action and
The opportunity
5 to 15% of the population in industrialized world have asthma. The prevalence and morbidity of asthmas has been on the rise, despite standard (steroids) and new treatments.

Asthma is the third leading cause of hospitalization among persons under the age of 18.

Allergy related symptoms such as atopic dermatitis and hay fever affect huge populations.
Development Milestones
The project is presently seeking to raise additional funding for clinical development