Summary of the technology
Alexander (Sasha) Vainstein - Pepper Genome Editing-Cas9 Stable Transformation (TTM# 13921) - The researcher has developed a protocol for successfully transforming sweet and hot pepper varieties to stably express the Cas9 endonuclease of the CRISPR gene editing tool. To date, no other research group has described Cas9 gene edited pepper plants. The researcher's Cas9-pepper lines were used for genome editing via virus-driven trans-acting guides–for all the chosen target genes/traits. This innovation will allow breeders to enhance their exhisiting pepper varieties with novel traits. Furthermore, after back-crossing the lines the breeder will be able to remove the Cas9 gene leaving behind only the gene-edited pepper varieties. These resulting lines may be considered Non-GMO in certain geographies. By combining this technology with the MemoGene TTM#1705, the breeder/researcher may screen many phenotypes when transforming a plethora of guide RNAs.

IP Position: Know-How
Yissum Online: http://www.yissum.co.il/technologies/project/13921

Project ID : 47-2020-13921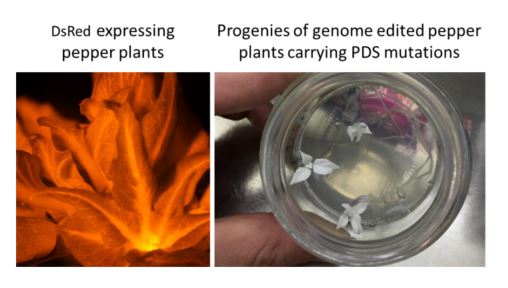 Description of the technology
Category
Agriculture , Plant Genetics
Keywords
Pepper, Hot Pepper, Sweet Pepper, Cas9, CRISPR, Non-GMO
Current development stage
General list: TRL4 Technology validated in lab
Collaboration Opportunity
Licensing of Technology
Background
CRISPR/Cas9 is a genome editing tool that allows for modification of the genome. This technique is used for both basic research and for creating innovative consumer products. To date about 24 various crops have been edited using CRISPR[1], however, no research group has described pepper plants stably expressing Cas9.
Our Innovation
Permanent site-specific genome modifications in pepper plants by transient viral vectors. The researcher has developed a procedure for successful transformation of sweet pepper & hot pepper varieties to stably express the Cas9 endonuclease of the CRISPR gene editing tool. This innovation can be used for gene editing, gene trait validation or breeding novel marketable non-GMO varieties. The advantages of this approach are:
First ever stable Cas9 pepper transformation
Targeted gene editing, trait validation and breeding tool
High throughput
Technology
The Cas9 expressing pepper lines have all the elements to allow CRISPR genome editing and the researcher has already created genome edited pepper plants. A single transgenic Cas9-pepper line can be used to test many target genes and traits so there is no need to produce new transgenic lines for each target gene. The researchers edited the genomes of these Cas9-pepper plants via virus-transformed trans-acting guide RNAs – for all the chosen target genes/traits.
This innovation will allow breeders to enhance their existing pepper varieties with novel target traits of interest. Furthermore, after back-crossing the lines the breeder will be able to remove the Cas9 gene leaving behind only the gene-edited pepper varieties. These resulting lines may be considered Non-GMO in certain geographies. By combining this technology with theMemoGene, the breeder/researcher may screen many phenotypes when transforming a plethora of guide RNAs.
Opportunity
We are looking for industry partners to license the 'know-how' for transforming and genome editing their own pepper varieties or for partners who would like our researcher to transform or cross Cas9 into their proprietary varieties and/or edit the genomes of their proprietary varieties as a service.
[1]https://www.synthego.com/blog/crispr-agriculture-foods
Project manager
Ilya Pittel
VP, BD AGTECH, FOODTECH, VETERINARY & ENVIRONMENT
Project researchers
Alexander (Sasha) Vainstein
HUJI, Faculty of Agricultural, Food and Environmental Quality Sciences
Plant Sciences and Genetics
Related keywords
Agro chemicals
Agriculture
Agrofood Industry
Technologies for the food industry
Agricultural genetic engineering applications
Agricultural chemicals
Agriculture, Forestry, Fishing, Animal Husbandry and Related Products
agriculture
About Yissum - Research Development Company of the Hebrew University
Technology Transfer Office from Israel
Yissum - Research Development Company of the Hebrew University
Yissum Research Development Company of the Hebrew University of Jerusalem Ltd. Founded in 1964 to protect and commercialize the Hebrew University's intellectual property. Ranked among the top technology transfer companies, Yissum has registered over 8,900 patents covering 2,500 inventions; has licensed out 800 technologies and has spun-off 90 companies. Products that are based on Hebrew University technologies and were commercialized by Yissum generate today over $2 Billion in annual sales.
Technology Offers on Innoget are directly posted and managed by its members as well as evaluation of requests for information. Innoget is the trusted open innovation and science network aimed at directly connect industry needs with professionals online.