Summary of the technology
A new system of seawater desalination has been developed, consisting of a solar heat collector made of a transparent film surface in a pyramidshaped tent and another dark one (to retain the maximum amount of heat) material inner truncated pyramid parallel to the former, generating a layer of heated air. Heat accumulates at the vertex, where high temperatures are achieved. This allows the evaporation of seawater injected by micronebulizers, resulting into moisture-laden air being pulled by a central axial tube leading to a 'cold spot' located underground. Here a network of galleries, filled with the stored water, provides cold temperature to dissipate heat and to condense the steam into pure water. Partners to further develop the technology and/or to establish commercial agreements along with technical cooperation are sought.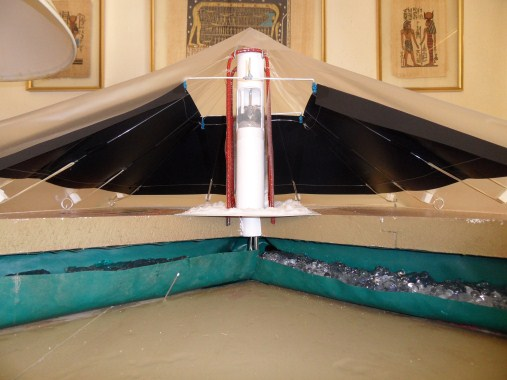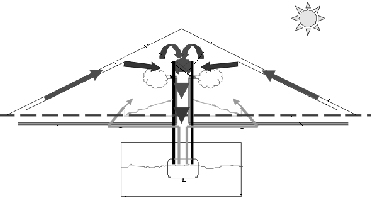 The Challenge

Desalination of seawater is a tool that can now enable the production of fresh water with no other restriction than the energy required to separate the salt contained in it. This currently takes place by reverse osmosis or other procedures that involve large economic costs for the amount of energy required and the cost of the existing plants.
Given that the places and times fresh water is most needed are also the places and times that the most sunlight is available, this system, based upon capturing the sun's heat, allows us to use sunlight to vaporize and distil sea water. An underground reservoir of cold water galleries provides the 'cold spot' where water condenses and is stored.
The Technology

Vaporization of water yielded relies on the interchange temperature between water and air where it takes place. By means of the pyramid-shaped tent an efficient concentration is achieved at its vertex. Here, micro-nebulizers provide the maximum contact surface between water and air at a high temperature. Having an extra space to reach the axial vertical condensation tube that absorbs the moist air, salt drops (which are far more dens than moist air) dry as they fall. The moisture rich air is absorbed by the distillation column where, by means of the cold sea water that feeds the system and by the cold water stored underground, a full drying out of the air is achieved. The dried air returns to the inner area of the pyramid through its own pressure.
Current stage of development

The calculations and the design of the elements of the system have been worked out. Contact with companies willing to provide the necessary elements has already taken place. Implementation would not surpass three months of time.
Applications and Target Market

This technology represents an important advancement in energy savings since the main thermodynamic work relies upon the sun's heat energy (except for a small amount of electrical energy for the overall system that can be provided by photovoltaic panels). The investment for the whole system is much less than for other existing technology.
Other elements for yield maximization are considered by means of continuous computerized self-monitoring of the device via custom software.
The system is targeted to any country where water shortage is a limitation for rural, human or touristic development, is close to sea, and has high sun radiation. This applies to more than 40 countries worldwide. The system can also be installed offshore.
Innovative advantages

· Dramatic reduction of energy costs.
Highly sustainable, almost zero CO2 emissions.
No brine production.
Low initial investment.
Inner space of the pyramid can be used for other purposes: housing, animal farming, greenhouses, schools, a sports arena, train-bus-taxi stations,...
Intellectual property status
Granted Patent
-
Technology available for licensing with technical cooperation Patent Status Patent priority application

Technology Owner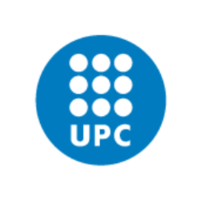 Universitat Politècnica de Catalunya - UPC
Technology Transfer Office
Related keywords
Desalination
Protecting Man and Environment
Water Management
Water Resources Management
Rain Water
Municipal Water Treatment
Industrial Technologies
Industrial Water Treatment
Water treatment equipment and waste disposal systems
brine
About Universitat Politècnica de Catalunya - UPC
Technology Transfer Office from Spain
Universitat Politècnica de Catalunya - UPC
The Universitat Politècnica de Catalunya - BarcelonaTech is a public institution dedicated to higher education and research in the fields of engineering, architecture and science, which contributes its knowledge and expertise in order to increase scientific output, transfer its results to society and provide a network of scientific and technical state-of-the-art facilities and technology valorization services that place us at the leading edge of innovation and economic development.

The UPC has established itself as a driver of innovation and is the technology partner of choice for companies and organizations with which it develops projects and builds partnerships. A role borne out by the numerous agreements and research projects that have been set in motion by groups, organizations and laboratories; the creation of new technology-based companies; the generation and exploitation of patents, and the scientific and technical services UPC makes available to its environment in order to generate progress and employment.

The Technology Transfer Office (SGI) is responsible of Designing, coordinating and implementing research valorisation strategies, carrying out the protection policy of the research results, marketing these results through license contracts and designing and setting up the University's enterprise creation model in order to transfer the results of the research to the market, protect and commercialize these results, promote the culture of entrepreneurship and innovation, and create technology-based companies within the UPC environment.
Technology Offers on Innoget are directly posted and managed by its members as well as evaluation of requests for information. Innoget is the trusted open innovation and science network aimed at directly connect industry needs with professionals online.