Summary of the technology
The MRA 1427/1426 magnetic sensor utilizes Giant magneto-resistive (GMR) technology, where highly sensitive unshielded GMR elements are configured in a form of single Wheatstone bridge. The Wheatstone bridge generates a differential output voltage with respect to magnetic field gradient along the sensor's sensitive direction. Each resistor has 45 kΩ nominal resistance and output of the bridge is purely ratiometric with the power supply voltage. Due to our unique technology and design, MRA 1427 is highly sensitive and has the ability to detect signals at the wide air gap. The excellent thermal and voltage stability makes it suitable for challenging environments.

The MRA 1427 GMR sensor available in 8T-DFN package with dimensions 3 mm x 3 mm x 0.75 mm.

Salient Technical Features
Chip type: 8T DFN package
Sensing element configuration: Wheatstone bridge confgiruation
Bridge resistance: 6.4±5% kΩ
Input voltage: 1-30 V
Field Range: 5-100 G, unipolar
Saturation of GMR Sensor Elements: ±300 G
Single Resistor Sensitivity: 0.033%/G
Temperature Coefficient of Resistance: 0.033Ω/oC
Temperature dependence of GMR: 0.03%/oC
Operating Temperature Range: 70 to 130 oC
Application / Uses
Gear tooth speed sensing
Direction and motion sensing
Linear and rotary speed sensing
Linear and rotary position sensing
Major Plant Equipment and Machinery Required
Class 1000 clean room, Industrial sputtering system for sensor deposition, Photolithography equipments and Mask aligner.
Major Raw Materials to be Utilized
High purity targets of CoFe and Cu, Si wafers, gases, photolithography chemicals.
Available in Market
Available with Jayashree Electron Pvt. Ltd. For automobile applications
Commercialization and Type of License (exclusive or non-exclusive):
Ready for commercialization
Level/Scale of Development:
TRL-8, scaled to 4inch Si wafer
Techno-Economics:
As per the market analysis , the overall magnetic revolution sensor market revenue would be 279 million US$ with a corresponding volume of 1347 million units by the year 2016.
Year of Development:
2010-2016
IPR Status:
Patent filed in India, 3689/DEL; 1221/DEL; 449/DEL
Technology Owner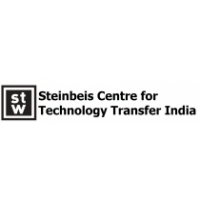 Steinbeis Centre for Technology Transfer India
Technology Transfer Office
Additional information (attached documents)
Related keywords
Sensor Technology related to measurements
sensor
automobile
speed sensor
magnetic sensor
About Steinbeis Centre for Technology Transfer India
Technology Transfer Office from India
Steinbeis Centre for Technology Transfer India
The Steinbeis-Stiftung für Wirtschaftsförderung (StW) is the umbrella organization of the Steinbeis Transfer Network. The non-profit foundation and the Steinbeis GmbH & Co. KG für Technologietransfer (StC), responsible for all commercial activities involved in knowledge and technology transfer, are headquartered in Stuttgart, Germany. Steinbeis Enterprises are located in 16 countries all over the world, having a network of global experts with project partners in a further 42 countries with total 900 technology centres .

Steinbeis India accelerates and supports the specific transfer of knowledge and technology with accomplished technology and management experts.

Services -\
Technology Consulting, Scouting / Development, Evaluation & Transfer
Renewable Energy Technologies (Solar, Wind, Micro Hydel, Geothermal, Waste to Energy etc.)
Precision & Ultra-Precision Machines & Machine-Design
Auto Electronics and Advanced Materials for Automotive Technologies
Life-Sciences Technologies

Technical Consulting
ODMs and OEMs on Product Designs, System De-sign and Engineering and to meet global product / system compliance requirement
Roof Top and Solar Park Projects – EPC Contracts and Turn Key Projects (with Project Partners)
Financing PV Solar Power Plants
Energy Efficiency Projects

Training & Advanced Education
Short Trainings on Solar PV Technology including Design, Engineering & Installation of Solar PV Power Plants
Weekend Course on Renewable Energy
In-Company & Institutional Trainings on Automotive Technologies in India and in Europe
In-Company & Institutional Trainings on Machine Design - in India and in Germany
Vocational Trainings in Solar, Automotive & Machine-Tool sectors

Industry Interfacing for Engineering Colleges & Business Associations by establishing Steinbeis Technology Centre, based on the unique Steinbeis Model

Edifice Assessment & Certification System for Training Programs
Technology Offers on Innoget are directly posted and managed by its members as well as evaluation of requests for information. Innoget is the trusted open innovation and science network aimed at directly connect industry needs with professionals online.