Summary of the technology
New method for the pretreatment of human urine sam-ples, comprising the simultaneous extraction, concentration and purification of the prostate-specific antigen (PSA), a prostate cancer biomarker.
In this technology, aqueous biphasic systems composed of ionic liquids and salts are used. These systems allow the selective extraction of PSA and to obtain high con-centration/enrichment factors, enabling the quantification of PSA using less sophisticated, cheaper and more affordable equipment.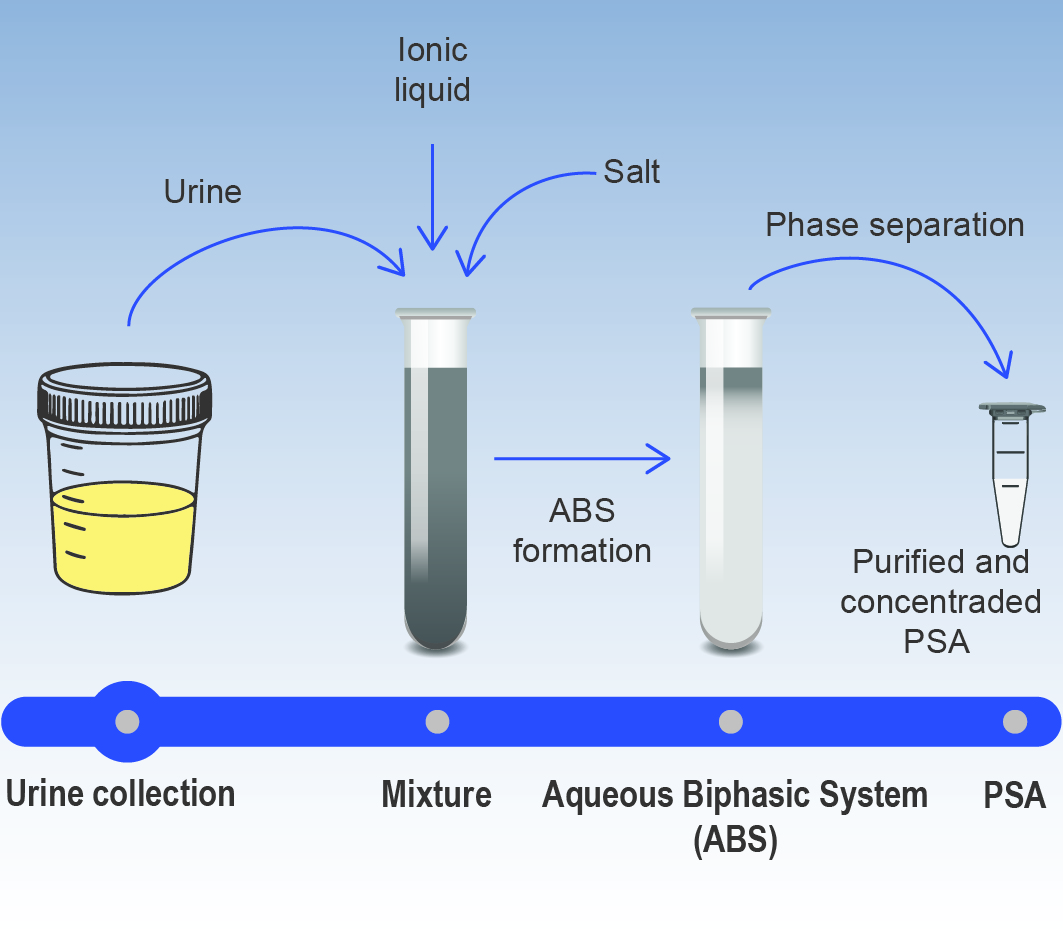 CONTEXT
The PSA (tumor biomarker) quantification in serum is currently used for the early stage diagnosis of prostate cancer (PCa). However, most of the available techniques for PSA quantification require extensive sample processing and expensive analysis (e.g. ELISA) that are mostly unavailable in low-income countries in which the mortality associated to PCa is higher. Furthermore, blood is an invasive matrix that requires certified personnel for collection. PSA is also present and can be detected in urine, a less invasive matrix. However, the current methods for its quantification in urine are highly expensive and cumbersome.
The developed cost-effective technology allows the simultaneous specific extraction, concentration and purification of PSA from urine samples using aqueous biphasic systems (ABS) composed of ionic liquids and salts. This technology allows a lossless and contaminant-free extraction and high concentrated factors in a single-step.
APPLICATIONS
QUANTIFICATION OF PSA AND ITS ISOFORMS IN URINE
EARLY STAGE DIAGNISTICS AND ASSESSMENT OF PROSTATE CANCER TREATMENT EVOLUTION AND EFFICIENCY
BENEFITS
NON-INVASIVE: this technology allows the use of urine as sample for PSA quantification.
SELECTIVE AND EFFECTIVE EXTRACTION, PURIFICATION AND CONCENTRATION OF PSA AND ITS ISOFORMS, allowing the use of urine for primary or complementary prostate cancer diagnosis and evaluation.
CHEAPER AND SIMPLER ANALYTIC TECHNIQUES: as high concentration factors are obtained, it is possible to quantify PSA with simpler analytical techniques, and requiring less laborious pre-treatment techniques.
POTENTIALLY HIGHER PREDICTIVE VALUE thanks to PSA and respective isoforms specific extraction.
IP RIGHTS
Provisional patent application filed in Portugal (priority date: 29-10-2018).
DEVELOPMENT STAGE
TRL 4: small-scale laboratory prototype.
The method was tested in real urine samples from healthy individuals, to which PSA was added into known concentrations. A study with samples from patients in different prostate cancer stages, with known blood PSA levels is ongoing. The required minimum urine sample volume is 25mL.
It is expectable that with the appropriate support from partners, 10 months will be sufficient to scale-up and to introduce de technology in the market.
KEYWORDS
Prostate specific antigen (PSA)
Ionic liquids
Aqueous biphasic systems (ABS)
Pretreatment
Urine

DEVELOPED BY
Researchers from Aveiro Institute of Materials (CICECO) from the University of Aveiro.
BUSINESS OPPORTUNITY
Licensing agreement.
PARTNERSHIP
The University of Aveiro seeks industrial partners within health area, with interest in the development and/or commercialization of new diagnostic/prognostic tests or of clinical analysis.
Technology #CI18012
Intellectual property status
Patent already applied for
115115
Portugal

Technology Owner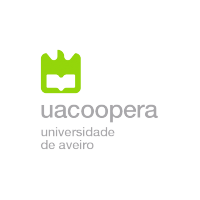 uacoopera
Technology Transfer Office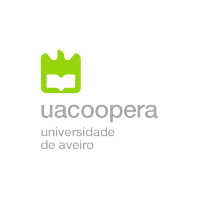 UACOOPERA University of Aveiro
Technology Transfer Office at uacoopera
Additional information (attached documents)
Related keywords
Physical Sciences and Exact Sciences
Chemistry
Organic Chemistry
Separation Technologies
Extraction
Biological Sciences
Medicine, Human Health
Cytology, Cancerology, Oncology
Diagnostics, Diagnosis
Medical Technology / Biomedical Engineering
Biology / Biotechnology
Genetic Engineering / Molecular Biology
Biochemistry / Biophysics Market
Medical Health related
Diagnostic
Diagnostic services
Other ( Diagnostic related )
Other diagnostic
Molecular diagnosis
Differential diagnosis
Clinical Medicine
Oncology
Medical equipment
Diagnostic equipment
About uacoopera
Technology Transfer Office from Portugal
uacoopera
The University of Aveiro is a young and innovative university, which fosters entrepreneurship and technology and knowledge transfer, with expertise in a wide range of knowledge areas namely IT, Life Sciences (Biology, Chemistry, Biochemistry, Health, Environmental Sciences), Nanotechnology and Materials Science, Mechanics, Physics, Mathematics, Building, Design and Management. uacoopera is the Technology Transfer Office of University of Aveiro. This office engages in value adding activities such as start-up and spin-off creation, support to university-industry cooperation (sponsored research and consultancy services), IP protection and prosecution, licensing, marketing, among others. It covers four main interrelated functional areas – Intellectual Property Management, Licensing, Entrepreneurship, and Industry Liaison.
Technology Offers on Innoget are directly posted and managed by its members as well as evaluation of requests for information. Innoget is the trusted open innovation and science network aimed at directly connect industry needs with professionals online.