Summary of the technology
Cystic Echinococcosis, also known as hydatid disease (Hydatidosis), is a parasitic disease caused by the tapeworms of genus Echinococcus. Hydatidosis is globally distributed and found in every continent except Antarctica. Endemic areas are parts of Argentina, Peru, East Africa, Central Asia and China.
The infection to humans occur through the ingestion of parasite eggs in contaminated water, food, soil or through direct contact with animal hosts such as dogs and sheep. Human infection with E. granulosus leads to the development of one or more hydatid cysts located most often in the liver and lungs, and less frequently in the bones, kidneys, spleen, muscles, central nervous system and eyes.
The asymptomatic incubation period of the disease can last many years until hydatid cysts grow to an extent that triggers clinical signs. The diagnosis is done through ultrasonography imaging, which is usually complemented or validated by computed tomography and/or magnetic resonance imaging scans. Cysts can be incidentally discovered by radiography. Specific antibodies are detected by different serological tests and can support the diagnosis. Biopsies and ultrasound-guided punctures may also be performed for differential diagnosis of cysts from tumours and abscesses.
In this invention, a new system for non-invasive, early, fast and easy to use diagnosis test for Hydatidosis from exhaled breath analysis has been developed.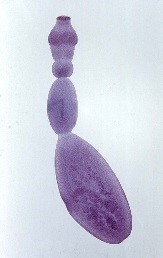 Description of the technology
The test developed is easy to use for Hydatidosis disease diagnosis from exhaled breath analysis. The test is suitable for use even in non-specialist setting (e.g., by the own patient).
The patient needs to exhale through a homologated breath sampler device. The breath sample is measured with an electronic nose system that comprised an array of chemical gas sensors and a pattern recognition algorithm. The chemical gas sensors have as sensing materials monolayers of metallic nanoparticles (Au, Cu or Pt) functionalised with different organic ligands.
The pattern recognition algorithm employed to make the discriminative model between for Hydatidosis is Discriminant Factor Analysis (DFA). Sensors signals are acquired, analysed and project over the DFA discriminative model, which provides a diagnostic result (either Hydatidosis or Not Hydatidosis). The sensivity and specificity of this new system for detecting Hydatidosis is 100% in all the analysed samples.
Specifications
Current development status
Working prototypes
Applications
This invention can be used for the early and fast diagnosis of Hydatidosis. It is easy to use and can be performed in both specialist and non-specialists settings, including by the own patient. It is non-invasive and the results can be visualised conveniently on a display or a computer screen. It is very suitable for mass screening and it would be of great help for the medical doctors as (pre)diagnosis.
Desired business relationship
Patent licensing
Intellectual property status
Patent already applied for
ES201830378
Spain

Technology Owner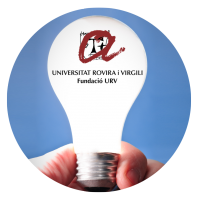 Unitat de Valorització de la URV
Licensing Manager at Fundació URV
Related keywords
Industrial Technologies
Chemical Technology and Engineering
Biological Sciences
Medicine, Human Health
Diagnostics, Diagnosis
Genetic Engineering / Molecular Biology
Medical Health related
Diagnostic
Diagnostic services
helminths
About Fundació URV
Technology Transfer Office from Spain
Fundació URV
The Technology Transfer and Innovation Center (CTTi) meets from the University environment the technological needs and services generated by the productive sectors and administration, through the management of Transfer of Technology and Knowledge, the Intellectual and Intellectual Property management, Technology Watch, Entrepreneurship, and Technology Infrastructures Offer (business incubator).
Technology Offers on Innoget are directly posted and managed by its members as well as evaluation of requests for information. Innoget is the trusted open innovation and science network aimed at directly connect industry needs with professionals online.