Summary of the technology
Gallic Acid is a naturally occurring phenolic compound that is widely distributed throughout the plant kingdom. Different studies have demonstrated the strong antioxidant, anti-inflammatory, anti-mutagenic and anticancer properties of GA, and daily intake may reduce the risk of diseases and bring health benefits. More recently, Gallic Acid has also been studied for its beneficial effects on cardiovascular diseases. It inhibits dyslipidemia, hepatosteatosis and oxidative stress in high-fat diet fed rats, protects the myocardium against isoproterenol-induced oxidative stress in rats, ameliorates the heart-function defects of myocardial dysfunction associated with streptozotocin-induced type-1 diabetic rats and exhibits anti-hyperglycemic and lipid-lowering properties in high-fat diet mice.
Gallic Acid is commonly used as antioxidant by the food industry. However, until now, it is not known that the gallic acid could block the renin-angiotensin-aldosterone system (RAAS), which is the innovative aspect discover for the Nutrigenomic Group for the Gallic Acid. The inhibition of the RAAS by Gallic Acid is considered to be of special relevance because RAAS overactivity is currently associated with not only hypertension but also vascular inflammation, the development of atherosclerosis, left ventricular hypertrophy, nephrosclerosis and cardiovascular events. This discovery has a big importance because it opens a wide field of use for this compound in the food, nutraceutical or pharmaceutical industry.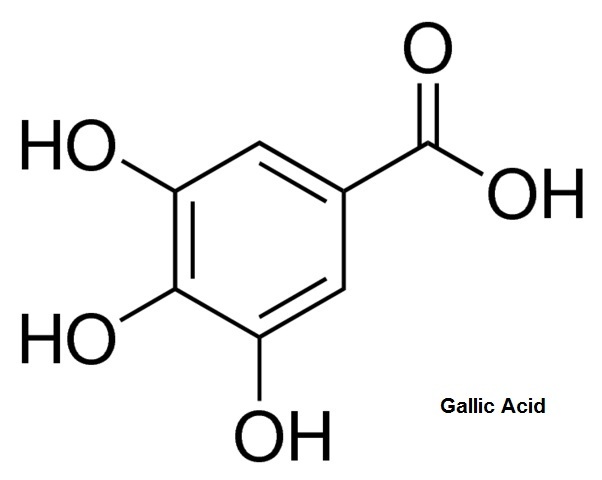 Description of the technology
A new function for the Gallic Acid and its pharmaceutically acceptable salts has been reported by the Nutrigenomics Research Group at the Biochemistry and Biotechnology Department of the Rovira i Virgili University. This new function is that the gallic acid blocks the renin-angiotensin-aldosterone system. For this reason, these compounds can be used in the preparation of a medicament for the treatment of diseases produced by hyperactivation of the renin-angiotensin-aldosterone system, such as,cardiovascular diseases, cerebrovascular diseases, kidney diseases or diabetes. The invention also relates to their use in the pharmaceutical, dietetic and food industry.
Specifications
Gallic Acid is a water soluble phenolic acid also known as 3,4,5-trihydroxybenzoic acid. It is present in gallnuts, sumac, witch hazel, tea leaves, oak bark, and other plants. This acid is found both free and as part of hydrolysable tannins. Gallic Acid esters, such as tannins, catechin gallates and aliphatic gallates are potent antioxidants in vitro. However, gallic acid itself also appears to have antioxidant, anticarcinogenic and antiangiogenic activity in vitro. However, the use of gallic acid and its salts to block the renin-angiotensin-aldosterone system has never been reported. Nutrigenomic research group has reported that Gallic Acid decreased blood pressure in hypertensive rats.
Main advantages of its use
• New function for Gallic Acid as a renin-angiotensin-aldosterone system blocking. • Antihypertensive effect on hypertensive animals. • Use of Gallic Acid as a medication for a pathology produced by a hyperactivation of the renin angiotensin aldosterone system. • Use of Gallic Acid in the treatment or prevention of cardiovascular disesases, cerebrovascular diseases, renal diseases and diabetes. • Use of Gallic Acid as a functional ingredient in the food industry. • New use of Gallic Acid in industrial sectors as food industry, nutraceutical industry and pharmaceutical industry.
Applications
This technology is oriented to food industry. Companies that develop functional or nutraceuticals ingredients may be interested in this technology. The Gallic Acid effect in the renin-angiotensin-aldosterone system could be applied to design new functional food or new functional ingredients to the food industry. Other industrial sectors where this effect of Gallic Acid could be applied are the nutraceutical and the pharmaceutical industry.
Related keywords
Agriculture and Marine Resources
Agrofood Industry
Biology / Biotechnology
Medical Health related
Consumer related
Food and Beverages
Health food
Foodstuffs Intended For Special Nutritional Uses
Renin-angiotensin-aldosterone system
Gallic Acid
Salts of Gallic Acid.
About Fundació URV
Technology Transfer Office from Spain
Fundació URV
The Technology Transfer and Innovation Center (CTTi) meets from the University environment the technological needs and services generated by the productive sectors and administration, through the management of Transfer of Technology and Knowledge, the Intellectual and Intellectual Property management, Technology Watch, Entrepreneurship, and Technology Infrastructures Offer (business incubator).
Technology Offers on Innoget are directly posted and managed by its members as well as evaluation of requests for information. Innoget is the trusted open innovation and science network aimed at directly connect industry needs with professionals online.