Summary of the technology
A 'Smart Dust' is a battery-free, Energy Harvesting 'Sense-it-All' with Integrated Pre-Quantum Superposition Processor and AI that Communicates Wirelessly to the Cloud (RF-Free & Zero Power).
A horizontal technology, it can also empower other industries

Looking for partnership or research opportunity?

Smart Dust with an integrated capillary system and markers will be a powerful tool in combating viruses & detecting pathogens.
Description of the technology
In light of the recent outbreak of Covid-19, it is urgent to find a solution for quick and efficient pathogen detection and elimination. Rapid point-of-need diagnostic tests and monitoring devices are urgently required in order to provide testing and care to those infected. Currently, testing is performed at centralized facilities using specialized equipment for molecular-based pathogen detection. Real-time PCR is the current method for detection, but it has a slow response time due to clinical lab capacity and sample shipping time.
In an effort to rapidly examine cells and microorganisms, we are developing an embedded sensor for lab-on-a-chip platforms with connected micro-tubes and a container for markers and the specimen. The sensor has built-in energy-harvesting and bidirectional communication units to create a contactless platform and analytical support for lab-on-a-chip technology. The proposed sensor, attached to a microfluidic capillary carrier or lateral flow-based assay, facilitates rapid analysis and detection of harmful pathogens, drugs or other types of molecules or biomarkers. It could also be used as a low-cost point-of-care patient monitoring device.
Technology Owner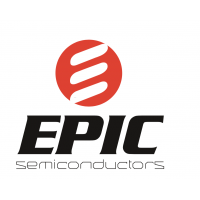 EPIC Semiconductors
Research & Technology Organization
Related keywords
Artificial Intelligence (AI)
Biosensor
Sensors & Wireless products
Sensor Technology related to measurements
Social and Economics concerns
Protecting Man and Environment
Environment
Outoor Air Pollution/Treatment
Natural Disasters
Air pollution control for cars and transport
Indoor Air Pollution/Treatment
Laboratory equipment
Covid-19
Air filters and air purification and monitoring equipment
labonchip
About EPIC Semiconductors
Research & Technology Organization from Canada
EPIC Semiconductors
EPIC has developed a microscopic AI sensor chip (Smart Dust) featuring energy harvesting (this eliminates the use of toxic batteries) and bidirectional non-magnetic (RF-free) communication. Its small size allows it to be easily embedded into everyday objects, sensing "human actions, physical forces, chemical reactions and bio-effects".
Technology Offers on Innoget are directly posted and managed by its members as well as evaluation of requests for information. Innoget is the trusted open innovation and science network aimed at directly connect industry needs with professionals online.