Summary of the technology
Photo-thermoelectric cell for the conversion of thermal energy into electricity
The Instituto de Ciencias de Materiales de Madrid (ICMM-CSIC) has developed a photo-thermoelectric
cell with spectral selectivity to visible and infrared lights. If the cell is part of a thermoelectric
generator, the device allows the conversion of the heat produced by incident radiation into electrical
energy, due to the temperature difference established in the cell. This technology can also be used to
take advantage of the residual heat of machines or electrical circuits.
Industrial partners from the energy industry are being sought to collaborate through a patent license
agreement.
An offer for Patent Licensing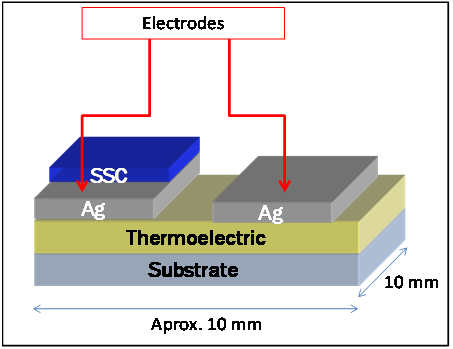 A novel approach of electricity producing cell

Scheme of the prototype produced. It consists on an insulating substrate of yttrium-stabilized zirconium oxide, a thermoelectric layer of calcium-cobalt oxide, and silver electrodes which are alternatively coated with a spectrally selective coating (SSC) to visible and infrared light, patented by CSIC.
The photo-thermal thin-film cell presented is similar to photovoltaic cells but, due to the nature of its materials, its manufacturing can be accomplished with much simpler technologies. The cell consists on a thermoelectric material, which can produce electricity when it is subjected to a temperature difference. To enhance this process, a spectrally selective coating (SSC) is applied in different areas; this SSC allows to increase the temperature of the material covered area and generate electric current.
The correct election of the different layer thicknesses, combined with an appropriate substrate and coating, allows producing better architectures than those currently proposed for some applications: the present photo- thermal cell shows the same properties, it has higher efficiency, and it can lead to lower production costs.

Main innovations and advantages

· The photo-thermoelectric cell is produced by a deposition process of the different layers, which can be adapted to the required design.
· The cell layers can be prepared following a large-scale economic process · In addition, the presence of defects on the thermoelectric material does not hinder the correct operation of the cell.
· The simplest design showed values of 0.5 V on cell.
· During experimental tests, efficiency values around 0.11% were achieved.
 The main application of this technology is the conversion of thermal energy into electrical energy, either being part of a thermoelectric generator, or take advantage of the residual heat of other machines or electrical circuits.

Intellectual property status
Granted Patent
-
Spanish patent application filed

Technology Owner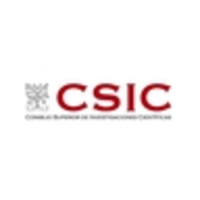 Consejo Superior de Investigaciones Científicas
Public Agency
Related keywords
Electronic circuits, components and equipment
Hybrid and Electric Vehicles
Energy Technology
Transmission of electricity
Energy production, transmission and conversion
Solar / Thermal Energy Technology
Energy efficiency
Energy Market
Alternative Energy
photo-thermoelectric
About Consejo Superior de Investigaciones Científicas
Public Agency from Spain
Consejo Superior de Investigaciones Científicas
The Spanish National Research Council (in Spanish 'Consejo Superior de Investigaciones Científicas (CSIC)') is a government agency for basic and applied scientific research.

It is the largest public research organization in Spain, with presence in all the Autonomous Communities through 126 centers and 145 associated units.
Technology Offers on Innoget are directly posted and managed by its members as well as evaluation of requests for information. Innoget is the trusted open innovation and science network aimed at directly connect industry needs with professionals online.