Summary of the technology
R R
α α
2 2

o o
v v
e e
r r
e e
x x
p p
r r
e e
s s
s s
i i
o o
n n


CSIC has developed a peptide capable of inhibiting the signaling of IL-13 mediated by IL13Rα2. This
peptide alone or within a nanoparticle or virus-like particles can be used in a pharmaceutical
composition for the treatment of pathologies in which IL13Rα2 is overexpressed. This composition
would be useful in the treatment and control of metastasis of colon cancer and other tumors (i.e
glioblastoma), as well as in other pathologies such as asthma, atopic dermatitis or fibrosis.

Industrial partners are being sought to develop and commercialized the products through a patent
licence agreement.

An offer for Patent Licensing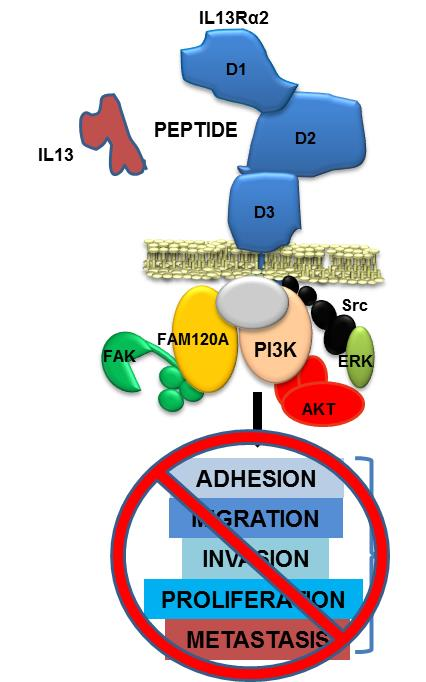 Control of cancer

Recent studies have identified a pro-metastatic role for human interleukin 13 (IL-13) in colorectal cancer mediated through the interleukin 13 receptor α2 (IL13Rα2). The binding of IL-13 to IL13Rα2 triggers different cellular pathways to promote migration, invasion and survival of the metastatic cells. In addition, IL13Rα2 is overexpressed in a variety of human tumor types such as glioblastoma, renal cell carcinoma, pancreatic, melanoma, head and neck, mesothelioma and ovarian, where it has been proposed as biomarker and potential therapeutic target.
There is a need for improved strategies for treating tumors and other diseases where IL13Rα2 is expressed, like glioblastoma and metastatic colorectal cancer.
The authors have found a peptide that is capable of inhibiting IL13/IL13Rα2 signaling. They have also developed a fusion protein with the peptide and at least a heterologous polypeptide. Both can be introduced in a nanoparticle or virus-like particle to be included in a pharmaceutical composition to be used in cancer and metastasis control when IL13Rα2 is overexpressed.
Besides this composition can be applied to other pathologies related with IL13Rα2 such as asthma, atopic dermatitis or fibrosis.

Main innovations and advantages

· A new strategy for the treatment of cancer is presented related to IL13/ IL13Rα2 and the derived metastases.
· Peptides and derivative pharmaceutical compositions can be applied toother pathologies of high incidence.
Intellectual property status
Granted Patent
-
Priority patent application filed

Technology Owner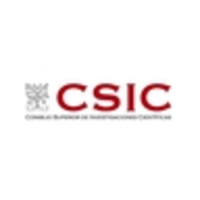 Consejo Superior de Investigaciones Científicas
Public Agency
Related keywords
Pharmaceutics
Medicine, Human Health
Cytology, Cancerology, Oncology
Medical Research
Pharmaceutical Products / Drugs
Virus, Virology / Antibiotics / Bacteriology
Protein Engineering
Medical/health
Enzymology/Protein Engineering/Fermentation
Medical Health related
Pharmaceuticals/fine chemicals
Oncology
cancer
metastasis
skin
peptides
fibrosis
cancer control
colon cancer
athma
atopic dermatitis
treatment of cancer
About Consejo Superior de Investigaciones Científicas
Public Agency from Spain
Consejo Superior de Investigaciones Científicas
The Spanish National Research Council (in Spanish 'Consejo Superior de Investigaciones Científicas (CSIC)') is a government agency for basic and applied scientific research.

It is the largest public research organization in Spain, with presence in all the Autonomous Communities through 126 centers and 145 associated units.
Technology Offers on Innoget are directly posted and managed by its members as well as evaluation of requests for information. Innoget is the trusted open innovation and science network aimed at directly connect industry needs with professionals online.