Summary of the technology
A Spanish research Group from Analytical Chemistry, Physical Chemistry and Chemical Engineering Departments at University of Alcala (Spain) has designed and developed a metabolic rare disease sensor to diagnose and monitoring tyrosinemia in different biological fluidics (blood, plasma and urine) using very few amounts of the sample without any pretreatment. This device uses a non-invasive approach for and in situ monitoring of the disease, even by the own patient at home.
The group is looking for companies to manufacturing a prototype, reaching licensing agreements or collaboration.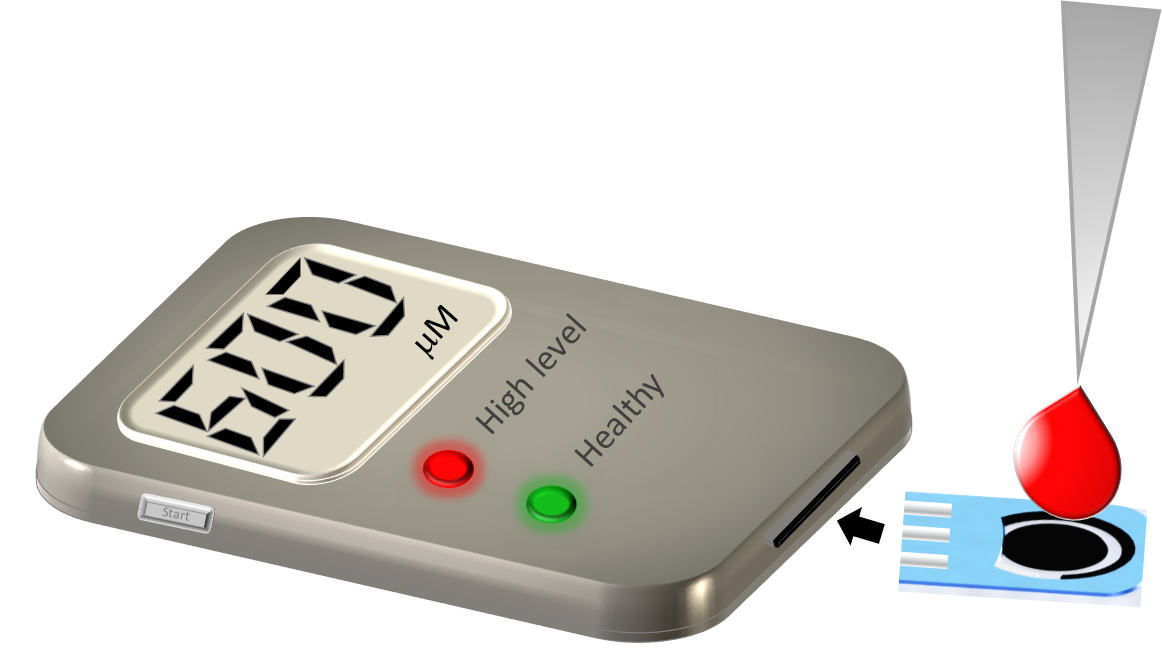 Description of the technology
DESCRIPTION AND SPECIAL FEATURES 

The fast diagnosis and monitoring of tyrosinemia are essential to avoid the serious complications of this disease such as hepatic damage, mental retardation or even death in the first days of life without a diagnosis. Additionally, there is no and efficient treatment yet so patients have to control their disease during the whole life to avoid serious damages.  
This invention consists on a fully integrate and portable device for in situ and fast tyrosinemia sensing composed by: (i) disposable electrodes based on filtered nanomaterials and (ii) an electronic device what includes a miniaturized potentiostat for the electrochemical measurements coupled to a software to become the electrochemical current into a digital signal (number or lights) and a simple hardware for an easy interpretation by a non-specialized user. The hardware would be composed by a miniaturized potentiostat, on/off and start/stop buttons, a screen and lights for signal interpretation by the user and a hole to insert the disposable electrode; all integrated into a single portable device. 
ADVANTAGES AND INNOVATIONS 
 
Due to the grave effects of tyrosinemia and its associated problems, a fast diagnosis and strict control during the whole life has to be carried out. However, current control of tyrosinemia involves a tedious process in specialized laboratories as well as expensive and very timeconsuming methods which provoke a delay in diagnosis and monitoring, which is very dangerous for patient's survival and to their quality of life later on. 

Thus, this invention is a portable and easy-to-use device, use very few amounts of sample (50 µl) and perform fast analysis (1 minute), which become it into a very valuable approach for tyrosinemia diagnosis and monitoring by the non-specialized user. So, the present invention is an ideal alternative for fast diagnosis and monitoring since there is not any commercial availability of portable devices for tyrosinemia yet, so it would be the first device commercially available to this aim. 
KEYWORDS 

Diagnosis, monitoring, tyrosinemia, portable device, electrochemical detection, disposable electrodes, filtered carbon nanotubes as exclusive transducer, clinical samples.
COMMENTS 
- Possible use for other diseases related to tyrosinemia and uric acid as a biomarker. 
- Simple and fast technology (1-minute-long analysis and 50 µl of the sample) using one single device coupled with disposable electrodes that can be exploited commercially. 
- It does not need any sophisticated equipment for their use. 
TYPE AND ROLE OF PARTNER SOUGHT 

The group seeks to achieve trade, manufacturing or license agreements with industries of Pharmaceuticals and Cosmetics, Industrial Engineer and Sensors Companies as well as Diagnosis Industry. The task to be performed by the partner would be to manufacturing the device for its commercial availability. 
Technology Owner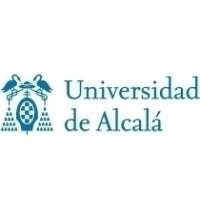 Universidad de Alcalá-OTRI
Research & Technology Organization
Related keywords
Electronics, IT and Telecomms
Applications for Health
Measurement devices
Medicine, Human Health
Clinical Research, Trials
Diagnostics, Diagnosis
Gene - DNA Therapy
Remote diagnostics
Measurements and Standards
Analyses / Test Facilities and Methods
Protecting Man and Environment
Diagnostic
Diagnostic services
Other ( Diagnostic related )
Computer-aided diagnosis and therapy
Clinical Medicine
Diagnostic equipment
electrodes
electrochemical detection
diagnosis, monitoring, tyrosinemia
portable device
metabollism
clinical smaples
rare disease
About Universidad de Alcalá-OTRI
Research & Technology Organization from Spain
Universidad de Alcalá-OTRI
The Technology Transfer Office at Alcalá University serves as a liaison between the University and its socioeconomic environment in terms of research and innovation. It encorages collaboration between research groups from universities and companies/institutions, with the objective to promote and commercialize research results and scientific capabilities.

Some of the services offered by this office are specified in the following list:

- Promotion of R & D and improvement of the relationships with companies.
- Promote the participation in R & D projects applicants to public calls (regional, national and European).
- Advising, processing and monitoring of patents and other forms of industrial protection.
- Support in the negotiation of contracts and agreements for R&D&i
Technology Offers on Innoget are directly posted and managed by its members as well as evaluation of requests for information. Innoget is the trusted open innovation and science network aimed at directly connect industry needs with professionals online.