Summary of the technology
Our developed technology relates to the use of vegetable oil, a sustainable and green material, for the extraction and production in large scale of specific and highly useful alkaloid drugs as Active Pharmaceutical Ingredients (API), from biomass.
Description of the technology
Thefresh or dried plant material containing the targeted active pharmaceutical ingredient (API), is mixed with edible or non-edible vegetable oil. The oil selectively extracts lipophilic alkaloids from the biomass, excluding hydrophilic, unwanted impurities. The resulting crude alkaloid extract is thus easier to purify or to use as such in a drug formulation with oil.
The process uses exclusively fully sustainable solvents such as vegetable oil and it is infinitely scalable.
The process is running at room temperature or under heating below 100°C. No special security measures for solvent handling is required as the solvent used for extraction is vegetable oil.
Main advantages of its use
Extraction performance

Universability for lipophilic alkaloids

Process security

Sustainable solvent use

Zero emission

Accessibility to high value pharmaceuticals at low cost
The process has been WO patented.
Applications
The extraction technology using vegetable oil as extracting solvent is considered as a platform as it applies for a large number of alkaloid drugs to extract, namely but, not exclusively to scopolamine, hyoscyamine, galanthamine, colchicine, nicotine, quinine, quinidine, ajmaline, cephalotaxine, thebaine, tabersonine and reserpine.
Desired business relationship
Joint ventures
Technology development
Adaptation of technology to other markets
Current development status
Working prototypes
Small pilot scale extraction
Technology Owner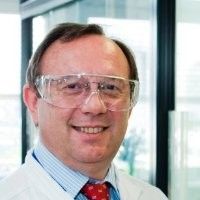 Dr. Thomas Kallimopoulos
CEO at Extranthis UG
Related keywords
Biological Sciences
Medicine, Human Health
Pharmaceutical Products / Drugs
Medical Biomaterials
Agriculture and Marine Resources
Ecology
Biomass and Biofuels
Industrial Products
Chemicals and Materials
solvent
circular economy
About Extranthis UG
Small and Medium Enterprise from Germany
Extranthis UG
Elaboration of platform technologies for sustainable production of active pharmaceutical ingredients (API) from biomass and using sustainable ressources, respectful to the environment and clima change.
Development of natural products as drugs against addiction and pain management.
Technology Offers on Innoget are directly posted and managed by its members as well as evaluation of requests for information. Innoget is the trusted open innovation and science network aimed at directly connect industry needs with professionals online.