Summary of the technology
Phased array antennas are suitable for massive MIMO wireless communications, of which 5G and satellite communications are paradigmatic examples. These 2 patent families propose a photonic beamforming system that is able to process a large number of RF signals with a very broad bandwidth, something that cannot be done with digital processors. The proposed photonic beamformer is thus a key enabler for broadband massive MIMO wireless communications.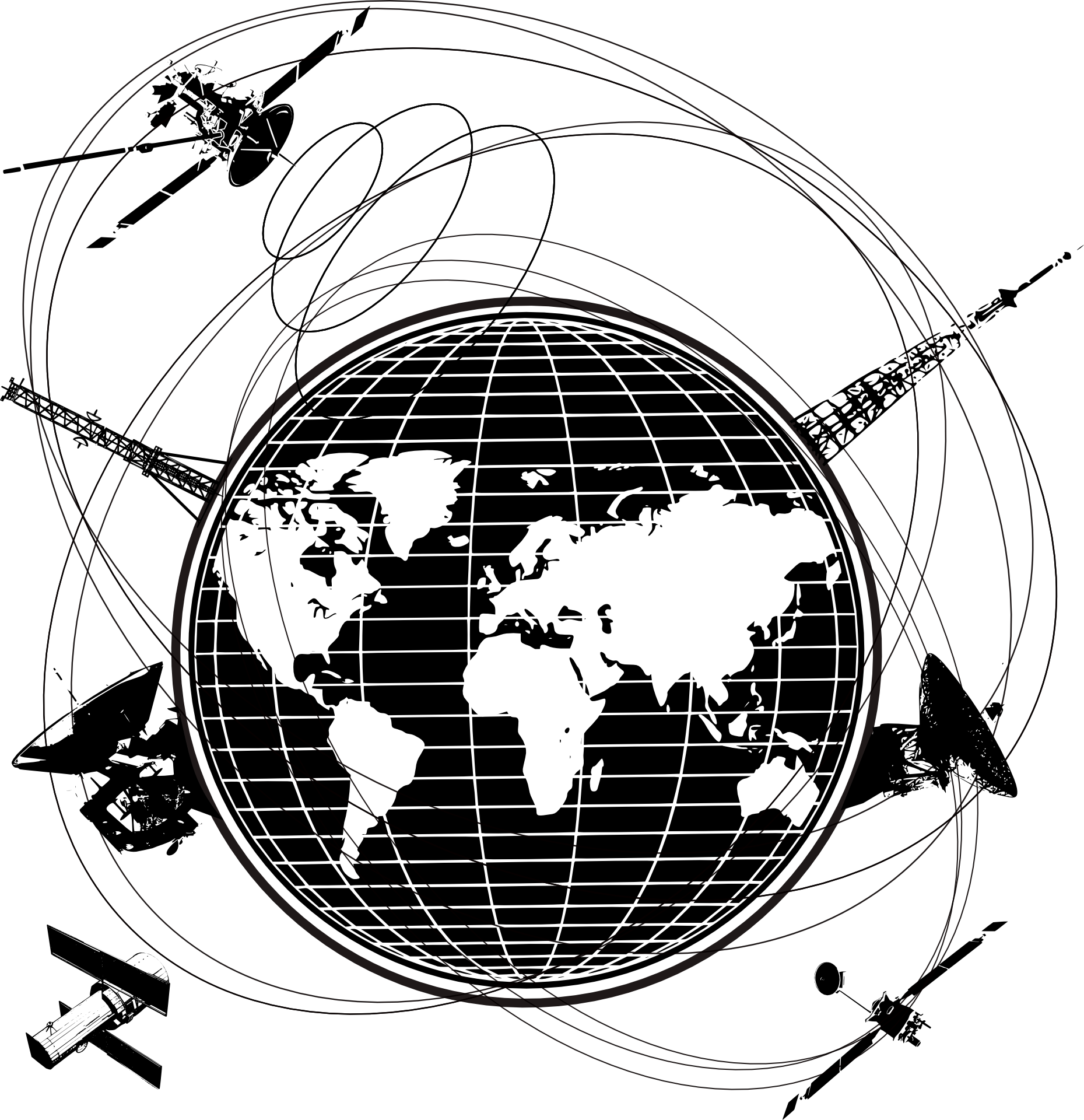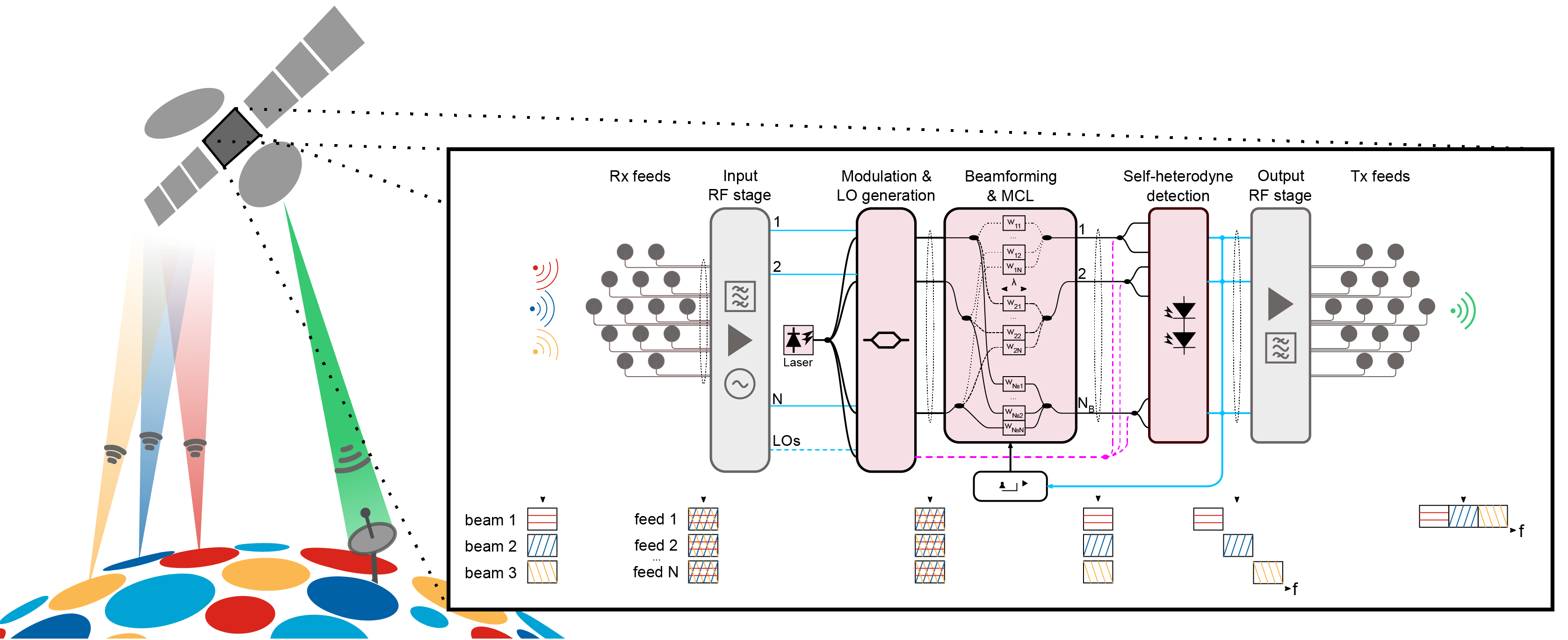 CONTEXT
Digital beamforming for massive MIMO involves signal processing rates of Tb/s toPb/s, which is extremely challenging. Today's most powerful digitalbeamformer chipset,Satixfy's PRIME, is limited to aninstantaneous bandwidth of 1 GHz, meaning that it can output a 1GHz-wide signal from up to 32 antenna elements.
Here we propose two innovative techniques which have been widely investigated in the context of the FP7 project BEACON (www.space-beacon.eu), resulting in the first-ever real-time demonstration of a photonic processor handling 1Gb/s QPSK signals at 28 GHz, and a demonstration of two beams, totaling 2 Gb/s. Such demonstration was published inNature Communications. As a result, the proposed system is currently the state-of-the-art technology in photonic beamforming.
The first patent family (PCT/PT2010/000061) targets photonic beamforming for a phased array antenna transmitter and features many important techniques, such as wavelength division multiplexing (WDM) and true-time delay (TTD) beamforming.
The second patent family (PCT/IB2016/052206) complements the first as it targets photonic beamforming for a phased array antenna receiver. It features new significant techniques, such as self-coherent (self-heterodyne) detection, hybrid optical/RF signal combining, WDM and TTD beamforming with a shared delay time.
This technology was awarded with the Altice Innovation Award in Academia, 2018 aswell asthe Fraunhofer PortugalChallenge 2019 for PhD.
APPLICATIONS
The proposed photonicbeamformer is suitable for handling the heavy burden of processing RF signals of phased array antennas for:
VERY HIGH THROUGHTPUT SATELLITES (VHTSs)

ON-GOUND SATELLITE COMMUNICATIONS

5G COMMUNICATIONS
BENEFITS
PROCESSING OF A LARGE NUMBER OF RF SIGNALS:large bandwidth, low latency, low power consumption and reduced size, due to RF signals being converted to light.
BASED SOLELY IN COTS DEVICES, and well-known technologies, such as WDM.
MODULAR AND SCALABLE
COMPATIBLE WITH HYBRID BEAMFORMING:optical/digital
DEVELOPMENT STAGE
TRL 4
Technology built over one decade of R&D efforts, which started in 2010.
The technology continues to be developed currently targeting thousands of antenna elements and tens of output signals.
COMMERCIAL OFFERING
Licensing agreement

Testing new applications

Joint further developments

Services provision
TARGET MARKET
Instituto deTelecomunicações seeks industrial partners within the fields of satellite communications, satellite manufacturing, 5G communications, wireless, etc.
INTELLECTUAL PROPERTY
Three patent families exclusively owned byInstituto deTelecomunicações:
Two

families (

PCT/PT2010/000061 and PCT/IB2016/052206

), both with granted and active patents in the major

markets

: United States

,

China

,

Germany

,

France

,

United Kingdom

,

Italy

One new patent family filed in December 2019
TECHNOLOGY ID
PI-0104
PI-0105
PI-1001
#MassiveMIMO
#PhasedArrayAntenna
#Beamforming
#PhotonicBeamforming
#CommercialOff TheShelfDevices
#COTS
Intellectual property status
Technology Owner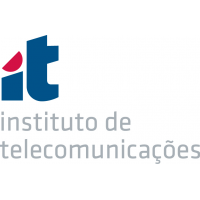 Instituto de Telecomunicações
Research Institute
Additional information (attached documents)
Related keywords
Electronics, IT and Telecomms
Information Processing, Information System, Workflow Management
Internet of Things
Cloud Technologies
Telecommunications, Networking
Broadband Technologies
Mobile Communications
SatelliteTechnology/Systems/Positioning/Communication in GPS - Global Positioning System
Communications
Satellite Microwave Communications
Satellite ground (and others) equipment
Microwave and satellite components (including antennae and amplifiers)
Other satellite/microwave
5g
About Instituto de Telecomunicações
Research Institute from Portugal
Instituto de Telecomunicações
Instituto de Telecomunicações (IT) is a private, not-for-profit organization, of public interest, a partnership of nine institutions with research and development in the field of Telecommunications

IT mission is to create and disseminate scientific knowledge in the field of telecommunications.

IT is actively involved in fundamental and applied research both at national and international levels. Simultaneously it is committed to foster higher education and training, by hosting and tutoring graduate and postgraduate students. it also plays its role towards public society with public awareness initiatives, knowledge transfer to industry, and by providing consulting services on a non-competing basis.
Technology Offers on Innoget are directly posted and managed by its members as well as evaluation of requests for information. Innoget is the trusted open innovation and science network aimed at directly connect industry needs with professionals online.