Summary of the technology
Smart device focused on real-time water management. Applicable both drinking water and industrial and waste waters, monitored parameters include cations (Fe (III), Hg (II), Al (III), etc.), oxidants (Cl, nitrites, peroxide, etc.), biogenic amines, trinitrotoluene, pH, turbidity, conductivity, etc.
This developed technology, composed by a series of sensors, small biochips, which experiment a change of colour when contacting the analyte of interest. This change is captured by a digital camera and is sent via Wifi to a database, where it is analysed and registered. It is also possible to issue a report and/or inform clients in real-time.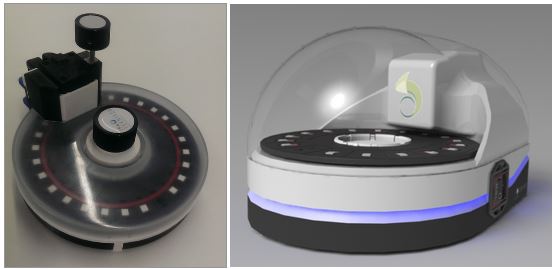 New and innovative aspects
Biochips used in this device, compared with other related patents, do not require the use of chemical reagents and are less complex, which allows designing and developing a-la-carte sensors for specific demands.
In addition, by providing real-time results, it allows a quickly answer in case of the detection of pollutants harmful to health and/or the environment.
Main advantages of its use
Ease of installation and maintenance of both the device and the biochips.
Smart connectivity
Multi-analytical approach for analytes of interest.
Qualitative and quantitative analysis "on-site".
Usable by non-specialized personnel under any weather conditions and does not require IPE (Individual Protection Equipment).
Calibration is not needed and chemical reagents are not required.
Online database
Specifications
COLORS device is a solution developed within the framework of the Internet of Things (IoT), integrating some technologies with the aim of obtaining a product capable of giving an integral response to quality control in water and other aqueous media.
Biochips, which can be developed in 8 mm diameter discs or 5 mm side squares, have a thickness of between 100 and 200 microns. These sensors are placed on a stand, a disc or a cartridge, that are low cost consumables. Cartridge, unlike the disc, has no limitations in terms of the number of biochips to be incorporated. It is also possible to combine different biochips to monitor several species.
Applications
Water quality management laboratories.
Wastewater and drinking water treatment plants.
Agri-food industries.
Extractive industries.
Environmental management of wastes and pollutants.
Current development status
Protected by patent P201830631
Desired business relationship
Commercial agreement, License agreement, Technical cooperation: further development, Technical Cooperation: testing of new applications; Technical cooperation: adaptation to specific neds.
Related keywords
Device, monitoring, water, detection, pollutant, iron, mercury, aluminium, management, residual, wastes, metals, pH, biogenic amines, turbidity, chlorine, nitrites, conductivity.
Intellectual property status
Additional information (attached documents)
Related keywords
Electronics, IT and Telecomms
IT and Telematics Applications
Measurement devices
Agriculture and Marine Resources
Agrofood Industry
Measurements and Standards
Protecting Man and Environment
Water Management
Drinking Water
Flood Management
Hydrology
Industrial Water Treatment
Marine Environment
Municipal Water Treatment
Rain Water
Underground infrastructure
Wastewater Recycling
Water in Buildings
Water Resources Management
Communications
Medical Health related
Monitoring equipment
Industrial Products
Other
automatic devices
water control
About UNIVERSIDAD DE BURGOS
Technology Transfer Office from Spain
UNIVERSIDAD DE BURGOS
The aim of the The Technology Transfer Office (TTO) of the Univesidad de Burgos is to promote Innovation technology through the reseach results transfer and the conexions between the University and the new needs and requirements of the society - we are the link between the University and the Industry. Contact person: José Manuel López (jmllopez@ubu.es)

Technology Offers on Innoget are directly posted and managed by its members as well as evaluation of requests for information. Innoget is the trusted open innovation and science network aimed at directly connect industry needs with professionals online.