Summary of the technology
The Instituto de la Grasa of CSIC and University of Seville have
developed a fast and simple procedure
to evaluate the tolerance to dietary fats (triglycerides) in humans. A novel emulsified composition, easy
to take and digest, is supplied to patients, and then the peak of triglycerides in blood and their
clearance are determine in a short period of 4 hours.

Companies interested in exploiting this technology under a patent license are sought.
An offer for patent licensing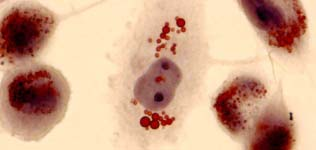 Fatty foods

Macrophages incubated with triglyceride rich lipoproteins isolated during postprandial phase.
Quick test for oral fat overload Fat intolerance is associated to high postprandial plasma triglyceride concentrations, which is considered a cardiovascular risk factor. The present technology is proposed to asses that cardiovascular risk.
The proposed procedure involves the use of an emulsified composition of saturated fat in water, which is orally administered according to the patient body surface. This composition shows a monomodal behavior (the droplets of the disperse phase have a uniform size) and is stable over the time.
The use of the emulsified composition described above makes possible to achieve the peak of triglycerides in blood within two hours and an effective triglyceride clearance during four hours. These time values are much lower than those provided by the methods used so far.

Main innovations and advantages

· The proposed procedure is useful to evaluate the oral tolerance totriglyceride in a quick and easy way.
· It can be used to identify anomalies in the acute metabolism oftriglyceride-rich lipoproteins in response to a high-fat challenge, whichmay be associated with cardiovascular pathologies.
· The emulsified composition used in the procedure has a monomodalbehavior, is stable over the time and provides an easy and comfortableingestion, even in people with difficulties in swallowing.
· Using this procedure it is possible to halve the time to reach the peak oftriglycerides in blood after ingestion of the emulsion. Likewise the fatclearance time can be halved.
Intellectual property status
Granted Patent
-
Spanish patent granted

Granted Patent
-
Spanish patent granted

Technology Owner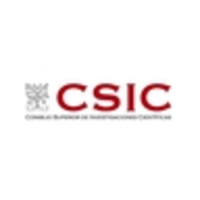 Consejo Superior de Investigaciones Científicas
Public Agency
Related keywords
Biological Sciences
Medicine, Human Health
Agrofood Industry
Food quality and safety
Safe production methods
Genetic Engineering / Molecular Biology
Medical Health related
About Consejo Superior de Investigaciones Científicas
Public Agency from Spain
Consejo Superior de Investigaciones Científicas
The Spanish National Research Council (in Spanish 'Consejo Superior de Investigaciones Científicas (CSIC)') is a government agency for basic and applied scientific research.

It is the largest public research organization in Spain, with presence in all the Autonomous Communities through 126 centers and 145 associated units.
Technology Offers on Innoget are directly posted and managed by its members as well as evaluation of requests for information. Innoget is the trusted open innovation and science network aimed at directly connect industry needs with professionals online.