Summary of the technology
The technology offer relates to hydrophilically coated meshes and their use for separating mixtures of water and a hydrophobic liquid such as oil. The meshes allow water to pass through while the hydrophobic liquid is held back, effectively separating the two phases.

These meshes are lightweight, mobile, flexible, resistant to fouling and offer versatile application possibilities (horizontally, vertically, in cascades, different geometries etc.). Mesh and separated liquids can be recycled (benefit to e.g. oil sorption materials). No chemicals such as de-oilers are needed or used.

Potential application fields:
Industrial waste/process water, crude oil production, oil-spill accidents.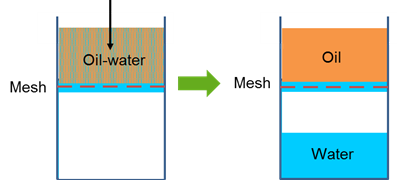 Description of the technology
The meshes for oil-water separation are weaves with < 100 µm pore size and defined geometries. The meshes can be e.g. made of metal such as steel, stainless steel, bronze, brass, or aluminum. The mesh surface is coated with a thin hydrophilic film  such as hydrated aluminum oxide (Boehmite). The robust coating can be applied from the gas phase or from solution in a roll-to roll suitable process.
The coated mesh surface shows super hydrophilic characteristics with a contact angle for water of less than 10°.
Fast and efficient separation of oil-water mixtures is possible: < 5 ppm residual oil in the water phase can be achieved.
Current development status
Laboratory prototypes are available. TRL-4
Desired business relationship
Technology selling
Patent licensing
Intellectual property status
Patent already applied for
WO2018/108700

Granted Patent
WO2015/180872

Technology Owner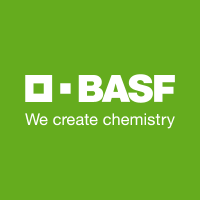 Related keywords
Mixing (powder, etc.), separation (sorting, filtering)
Separation Technologies
Filtration and Membrane Processes
Protecting Man and Environment
Water Management
Industrial Water Treatment
Chemicals and materials related to Oil and Gas
Oil and Gas Drilling, Exploration and Extraction Equipment
Water treatment equipment and waste disposal systems
Water, sewerage, chemical and solid waste treatment plants
About BASF SE
Large Enterprise from Germany
BASF SE
We create chemistry – Innovations for the future

A growing need for food, energy and clean water for a booming world population, limited resources and protecting the climate – reconciling all these factors is the greatest challenge of our time. Innovations based on chemistry play a key role here, as they contribute decisively to new solutions.

BASF is one of the world's most innovative companies. Innovations are our wellspring and our driving force.
Our "We create chemistry" strategy is also geared towards innovation: we at BASF are continuously introducing solutions onto the market which significantly contribute to improving quality of life and conserving resources such as water and energy.

For BASF, Innovation is the key to successfully standing out from the crowd in a challenging market environment. Our innovative strength is based on our global team of highly qualified employees with various specializations.

We pursue bold ideas. Partnerships, Collaboration and Open Innovation play an important role in these activities. In a highly diversified, global and international network, new ideas are generated and new impulses are given to research. This is why we involve external partners in our innovation processes and maintain numerous contacts and connections with science and business.

We pursue Open Innovation: together with other innovative organizations, we bundle different competences, develop best practices and work on sustainable products and solutions.

We create chemistry for a sustainable future. Chemistry as a cross-sectional technology plays a key role in addressing future challenges because innovations in the field of chemistry provide answers to exactly those questions that will concern humanity in the future: raw materials, environment and climate, food and nutrition, and quality of life.
Technology Offers on Innoget are directly posted and managed by its members as well as evaluation of requests for information. Innoget is the trusted open innovation and science network aimed at directly connect industry needs with professionals online.