Summary of the technology
The CSIC and IRYCIS (Ramón y Cajal Institute for Health Research) have developed a group of
compounds. These compounds have the ability to regulate the number of synapses that are formed
between neurons, as well as the probability that neurotransmitters are released from these, because
they have the capability of modulate the interactions that take place between the regulatory proteins
NCS-1 and Ric8a that regulate these two independent processes. Due to these neuromodulatory
properties, these compounds are useful for the treatment of neurological diseases as Alzheimer's
disease, Huntington or Parkinson's diseases among others.

Industrial partners from the ophthalmic or pharmaceutical industry are being sought to collaborate
through a patent license agreement.
An offer for Patent Licensing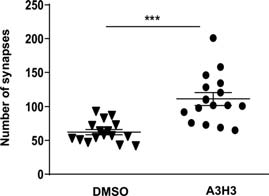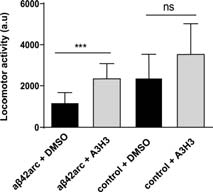 Fighting the effects of neurological diseases using chemical
compounds that increase the numbers of synapsis Figure 1. The pathological reduction in the number of synapses was significantly reduced in the Drosophilas fed with A3H3 The proteins NCS-1 and Ric8a interact forming protein complexes that are fundamental for the formation of synapses and the release of neurotransmitters from these ones. Our chemical compounds, which have a structural nucleus of acylhydrazone, facilitate and stabilize the formation of this protein complex with dual function. It has been tested in different neurodegenerative models of Alzheimer in Drosophila, that the supply of these compounds in the diet, restore the number of synapses (see Figure 1) and the motor activity is fully recovered (Figure 2). Due to the very high conservation of the mechanisms and regulatory proteins of these processes between Drosophila and mammals, very promising results are expected in the treatment of neurological diseases in humans such as Alzheimer, Huntington or Parkinson with these compounds, where there is a drastic reduction in the number of synapses and in the release of neurotransmitters.

Main innovations and advantages
Figure 2. The locomotor deficit was complete-ly eliminated by feeding with A3H3 the flies.
· No other compounds have been described that increase the number ofsynapses through the NC1 / Ric8a complex.
· The regulation of the NC1 / Ris8a complex is fundamental due to itsdual role on the number of synapses and the release ofneurotransmitters, which very significantly increases the potential ofthese compounds as a therapeutic agent in long-term treatments ofneurological diseases.
· There are high expectations that these compounds will serve aspharmacological agents for the treatment of neurological diseasesproduce by the reduction in the number of synapses andneurotransmitters released.
Intellectual property status
Granted Patent
-
Priority patent application filed

Technology Owner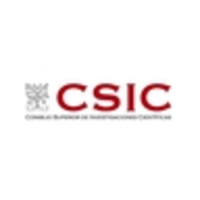 Consejo Superior de Investigaciones Científicas
Public Agency
Related keywords
Chemical Technology and Engineering
Biological Sciences
Medicine, Human Health
Clinical Research, Trials
Medical Research
Medical Technology / Biomedical Engineering
Neurology, Brain Research
Medical Biomaterials
Protein Engineering
Biobased chemical building blocks
Medical/health
Enzymology/Protein Engineering/Fermentation
Medical Health related
Pharmaceuticals/fine chemicals
compounds
neurological diseases
parkinson
alzheimer
regulatory compounds
About Consejo Superior de Investigaciones Científicas
Public Agency from Spain
Consejo Superior de Investigaciones Científicas
The Spanish National Research Council (in Spanish 'Consejo Superior de Investigaciones Científicas (CSIC)') is a government agency for basic and applied scientific research.

It is the largest public research organization in Spain, with presence in all the Autonomous Communities through 126 centers and 145 associated units.
Technology Offers on Innoget are directly posted and managed by its members as well as evaluation of requests for information. Innoget is the trusted open innovation and science network aimed at directly connect industry needs with professionals online.