Summary of the technology
This is a Lumbar spine support with a difference. It can give you instant relief (from most back pains) and can actually "prevent" backpains. Springback can further offer you lasting value, well over 15 to 20 years of actual use.

"Springback" has been endorsed by over 75 Orthopaedic Surgeons, Doctors, Gynaecologists, & Physicians. It has been manufactured in India, by Delta Foams Engg Co situated at Pune. Some of the testimonials have been reproduced there. Springback is a lumbar support with a difference. It is the only product in the world, I find that works at the "preventive" level of the ailment.

The minute you sit against it, you will feel enormous relief and this spine support now makes you sit up, chest out, thus releasing enormous stress from your spine. This postural correction makes you breathe deeper, fuller, and thus enables more Oxygen-rich blood to reach your brain, thus keeping you alert, and prevents you from getting drowsy. This thus results in more attention span at and during work routines, in the office, or driving, or watching TV or meditation etc. Thus improving your concentration more than 50 % easily. This is huge as a productivity booster and actually reduces absenteeism at work for silly back pain related issues.

Back pain is easily the number one ache nowadays. More than 80 % of any workforce suffers from this and there is no end in sight.

Springback suits both men and women, esp pregnant mothers to be, where doctors cannot prescribe pain killers to alleviate pregnancy-related backpains, due to it being a risk for the fetus, and prescribe complete res, rest against Springback, the no-sweat way to overcome backpains.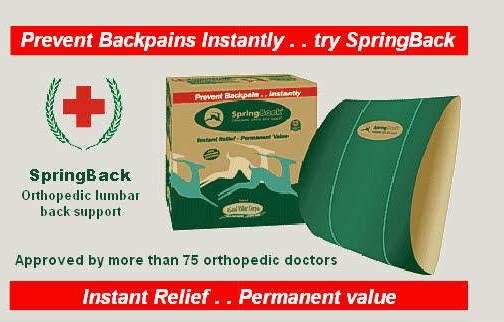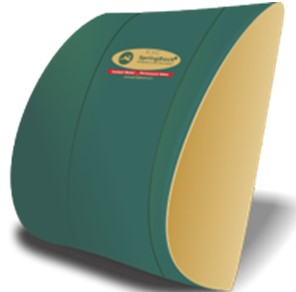 Description of the technology
Springback is an orthopaedic lumbar back support designed and manufactured with the lumbar spine in consideration.
Finding that most seatings are devoid of any support whatsoever for the lumbar region of the spine, Delta Foams went around surveying the market, and confirmed that indeed there was a gap, and an ergonomically designed support from foams would suit, and so went about designing, and developing a suitable foam molded product with qualities of the foam fine-tuned to suit most average body shapes, (as found in India) and manufactured them in one size only to try the market. (Surprisingly it found similar products existing in the markets abroad, but none seemed to offer any assurances of worth, nor warranties, nor any promise of any relief, nor any real value).
Springback it turns out was the only product offering "instant relief" and "permanent value" and assurance of worth. Further, a lifetime warranty caps it all.
We have managed to hold our quality norms, and standards for over 25 years now, since 1992. We sense that the world is our market, and are putting this note out in hoping to engage Individuals or companies who would like to take this effort further and address global markets for mutually rewarding terms.
I have no patents nor IPRs registered and am open to mutually negotiated terms for the transfer of know how.
Technology Owner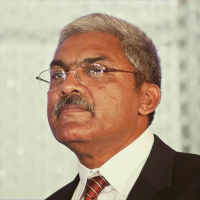 Ranjit Guru
Chief Technology Officer at Delta Foams Radical Technology Solutions
Related keywords
Protecting Man and Environment
Safety
Physiotherapy, Orthopaedic Technology
Applications for Health
Medicine, Human Health
Computer related
Medical Health related
Consumer related
Orthopaedics
Leisure and Recreational Products and Services
Consumer Products
Other consumer products
Consumer Services
Other Medical/Health Related
About Delta Foams Radical Technology Solutions
Small and Medium Enterprise from India
Delta Foams Radical Technology Solutions
My Company Delta Foams Engg Co came into existence in the year 1982. Being primarily a technocrat . . . and a GREEN WARRIOR . . . I have conceptualized, designed, developed, and manufactured several products and systems that are phenomenally energy efficient, and have the potential to save literally TONNES of FOSSIL FUELS, and COAL.. This may be timely as our planet is reeling under a CLIMATE CRISIS . . . and I BELIEVE THAT SOME OF MY DEVELOPED SYSTEMS AND PRODUCTS can play a KEY ROLE in helping stall and actually reverse this trend. We can certainly help.

We are a team of five people at my works at Kharadi, Pune, India . . . and all the products have been conceptualized by myself primarily. As I share an intimate relationship with the Foams, and Composites, ( I eat, drink, and breathe Foams ) All my products have an EXCEPTIONAL EXISTENCE, and SINGULAR LIFETIME WARRANTIED PERFORMANCE. This is UNUSUAL in the face of similar products and technologies existent in the WORLD today. Their PERFORMANCE PURELY SETS THEM APART.

Most of my plant and time has been dedicated to developmental activities, and has been personally overlooked by me only. All systems designed, developed and manufactured are by my team, and me alone under my own roof, and with little dependence on any outside sources. We have systems for SPRAY FOAMS, CASTING FOAMS, INJECTING FOAMS, RIGID AND FLEXIBLE FOAM SYSTEMS. We also blend, and prepare our own systems as batch works for small test runs, if needed.

We have designed, developed, and manufactured product runs in order to PROVE THE CONCEPT, and in order to make observations, and establish results. These can be positively scaled up to a point of AUTOMATION too.

RESULTS in almost ALL CASES are literally like BELIEVE IT OR NOT . . . and can have AMAZING REPERCUSSIONS on our CLIMATE CRISIS, and can positively affect any attempts to stem the crisis.

After nearly 35 years I am opening these products and technologies to the WORLD in the hope that I may connect with like minded individuals and / or Companies that share my values, and have a heart to DO SOMETHING IN THIS DIRECTION . . . MAKE A DIFFERENCE in the process and possibly go down in history. AT LEAST I THINK I CAN.. . . . LOOKING OUT FOR STRATEGIC PARTNERS WHO THINK . . . ' YES TOGETHER WE CAN '

www.deltafoams.com
www.springback.co.in
linkedin : Ranjit Guru
Technology Offers on Innoget are directly posted and managed by its members as well as evaluation of requests for information. Innoget is the trusted open innovation and science network aimed at directly connect industry needs with professionals online.