Summary of the technology
Advanced immunosensing for determination of Legionella in water scenarios. Friendly packaging. Validated and certified technique. Proven technology with available successful cases on both preventative and outbreak situations, supported by scientific and technical papers.

Immuno-Magnetic Separation (IMS) requires the sample to be prepared according to the concentration step from ISO 11731:2017. There is an environmental test kit available for the detection of Legionella spp. which attaches microscopic magnets to live bacteria in order to enable detection.

The result can be crudely measured by a colour change, or more accurately with the use of a photometer. This method can be advantageous in field laboratories which do not have the facilities to handle the growth and disposal of hazardous micro-organisms.
Description of the technology
Laboratories can be accredited for the use of this rapid test. Up to 20 assays per batch in just 1 hour. Training courses are available and ongoing technical support. Useful to enable the deployment of preventative functionality in Legionella control strategies and programmes.
Intellectual property status
Granted Patent
Patent number :
Where : USA, Japan and Europe
Current development status
Commercially available technologies
Technology Owner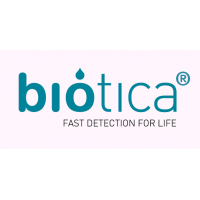 Biótica, Bioquímica Analítica,S.L.
Small and Medium Enterprise
Additional information (attached documents)
Related keywords
Biological Sciences
Biology / Biotechnology
Microbiology Technology
Protecting Man and Environment
Safety
Hazardous Materials
Environment
Water Management
Environmental and Biometrics Sensors, Actuators
Medicine, Human Health
Micro- and Nanotechnology related to Biological sciences
Micro- and Nanotechnology
Measurements and Standards
Measurement Tools
Measurement devices
Analytical Chemistry
Analyses / Test Facilities and Methods
Protection against intoxication
Assessment of Environmental Risk and Impact
Environmental Engineering / Technology
Water Transport
Drinking Water
Water in Buildings
Municipal Water Treatment
Water Resources Management
Industrial Water Treatment
Rain Water
Diagnostics, Diagnosis
Water treatment equipment and waste disposal systems
Water, sewerage, chemical and solid waste treatment plants
Industrial Products
Laboratory equipment
Medical Health related
Diagnostic
About Biótica, Bioquímica Analítica,S.L.
Small and Medium Enterprise from Spain
Biótica, Bioquímica Analítica,S.L.
Biótica´s mission is to enhance client´s ability to timely assess the microbiological risk and to optimize its prevention strategy thanks to fast, reliable, simple and low-cost microbial determination. Established in September 2005, Biótica has in its years of existence successfully transitioned from the status of a start-up to that of a SME. Biótica is the first biotechnological company located at Science and Technology Park of Jaume I University, since 2009. The company focused on the development of fast microbial detection techniques combining immunomagnetic capture and enzyme immunoassay (C.E.I.A.). Biótica developed the first and only fast test certified by AOAC RI, in 2011, to detect Legionella in water, named Legipid® Legionella Fast Detection. Recently, new automated devices have also been developed, based on this technology., as a result of a european project SME Instrument Phase II - H2020.

The market of this test and related automated devices comprises the following areas: Industries Commercial/Private Labs, Physician Offices, Public Health Labs, Hospitals, Hotels, spas, jacuzzis, swimming-pools, Recreational areas, sport areas (golf,etc), Companies providing testing and analysis of environmental water samples for Legionella

Companies providing monitoring critical points with simple interpretation of results, Companies providing cleaning & disinfecting water services, Companies providing Legionella managing plan and risk assessment, Providers of integrated water treatment and process improvement services, chemicals and equipment programmes for industrial and institutional applications, Manufacturers of tools for microbiology laboratories.
Technology Offers on Innoget are directly posted and managed by its members as well as evaluation of requests for information. Innoget is the trusted open innovation and science network aimed at directly connect industry needs with professionals online.