Summary of the technology
Vulcanaer is a novel regenerative hybrid engine system for diesel transport systems, particularly urban busses and delivery trucks. It converts a vehicle engine into an air pump during decelerations. It harvests the braking energy and stores it as compressed air for subsequent use to restart the engine in stop/start operation, saving battery and starter motor life. It also saves fuel as the compressed air also assists the normal engine-driven air compressor. Furthermore it can enhance the turbo thus reducing black smoke during acceleration from stationary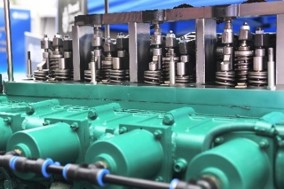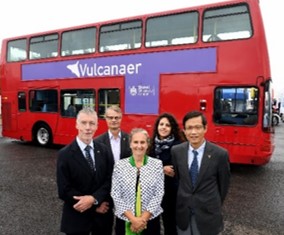 Description of the technology
Background
While the all-electric transport revolution is awaited Vulcanaer will enable existing bus and truck diesel vehicle fleets to meet emerging civic requirements for cleaner air in cities - and provide cost savings at the same time. 
In urban transport systems there is a significant waste of energy due to frequent acceleration and deceleration. There is an opportunity to modify existing diesel engines to harvest the energy 'wasted' through deceleration thereby reducing CO2 and NOx emissions and saving on fuel costs.
In busy urban areas, where there is a requirement for buses to turn off their engines when stopped to reduce emissions from idling, there are issues with the need to then restart the engine. This uses the battery and an electrical starter both of which wear out quickly resulting in broken down buses requiring expensive replacements. Vulcanaer provides a solution to this problem with the added benefits of additional cost savings on fuel.
Technology Overview
Vulcanaer is a novel regenerative hybrid engine system that converts the vehicle engine into an air pump during decelerations. It harvests the braking energy and stores it as compressed air for subsequent use to restart the engine in stop/start operation, saving battery and starter motor life. It also saves fuel as the compressed air also assists the normal engine-driven air compressor. Furthermore it can enhance the turbo thus reducing black smoke during acceleration from stationary.
First generation system trials on a Yuchai bus in China showed fuel savings of 5% to 9% on an urban bus operating cycle. A second generation retrofit system has been demonstrated to be feasible on a 9.6L bus engine in the UK with no adverse effect on driveability. 
Vulcanaer is protected by a family of patents with granted cases in multiple countries.
Benefits
The technology enables both reduction in CO2 and NOx emissions and fuel savings.
The mechanical system is simple and fail‑safe.
Suitable for retrofit with conversion taking less than a day without the need to remove the engine.
Low cost (typically £4k) providing fleet operators with payback in less than 2 years.
Also suitable for original equipment manufacturers. 
Current development status
Working prototypes
Working prototypes
Intellectual property status
Granted Patent
Patent number : US8584644, EP2245281, CN101970827
Where : US, EP, CN
Granted Patent
Patent number : CN100545425
Where : China
Granted Patent
Patent number : EP2616652, US9032912, CN103201479
Where : Europe, US, China
Desired business relationship
Technology selling
Patent licensing
Joint ventures
Technology development
Technology Owner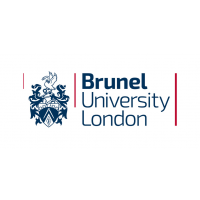 Brunel University London
Technology Transfer Office
Related keywords
Industrial manufacturing, Material and Transport Technologies
Transport and Shipping Technologies
Hybrid and Electric Vehicles
Road Vehicles
Automotive engineering
Industrial Technologies
Clean Industrial Technologies
Apparatus Engineering
Energy Technology
Energy Storage and Transport
Protecting Man and Environment
Environment
Environmental Engineering / Technology
Clean Production / Green Technologies
Outoor Air Pollution/Treatment
Smart City
Energy for Transport
Motor vehicles, transportation equipment and parts
urban
About Brunel University London
Technology Transfer Office from United Kingdom
Brunel University London
Our world-leading research focuses on those areas in which we can integrate academic rigour with the needs of governments, industry and the not-for-profit sector, delivering creative solutions to global challenges and bringing economic, social and cultural benefit.

Our Research Institutes and Research Centres pioneer world-leading research inspired by an ambition to address society's most pressing challenges, in collaboration with partners from across the globe.

Brunel's three Research Institutes: Institute of Environment, Health and Societies, Institute of Energy Futures and Institute of Materials and Manufacturing, bring together academics from most of our research areas to collaboratively tackle very specific challenges to the world's economy and society.

Brunel's Research Centres focus on Digital Science & Technology, Automotive Technology, Culture & Evolution, Cognitive Neuroscience, Human Performance & Exercise & Rehabilitation, Entrepreneurship & Sustainability, Global Lives.
Technology Offers on Innoget are directly posted and managed by its members as well as evaluation of requests for information. Innoget is the trusted open innovation and science network aimed at directly connect industry needs with professionals online.