Summary of the technology
Unique proprietary technology to produce high purity mixture of fatty acids and tocopherol enriched fractions. Process suitably uses feedstock like soyabean, sunflower and cotton seed DOD. Higher Tocopherol recovery. Payback 2.5-3.0 years.
Intellectual property status
Granted Patent
Patent number :
2174/MUM/2013 (Process for preparation of Sterols & Tocopherols
3116/MUM/2015 (Process for preparation of Tocopherols)
4215/MUM/2015 (Process for preaparation of tocopherols using esterification)
Where : India
Desired business relationship
Other : Technoloy, plant and machinery (EPC)
Technology Owner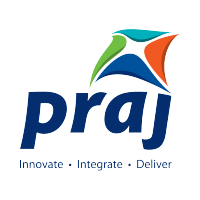 Praj Industries Limited
Large Enterprise
Related keywords
Industrial Technologies
Medicine, Human Health
Medical Health related
Plant and animal health
Consumer related
Food and Beverages
About Praj Industries Limited
Large Enterprise from India
Praj Industries Limited
PRAJ MATRIX R & D Center (80,000 sq. ft) has Analytical facility (16 labs) certified with ISO 9001:2008. It is recognized by Department of Science & Industrial Research, India. It is equipped with bench scale and pilot scale facility for fermentation, distillation, evaporation, crystallization, molecular distillation. 1 TPD Cellulose to Ethanol Plant. Total research associated are about 95 with Ph. D's & Chemical Engineers.
PRAJ MATRIX has developed several technologies in Renewable biofuels, Health & Wellness, Industrial Biotechnology, Oil Industry etc.

PRAJ MATRIX also caters contract research, technology development, analytical services, laboratory set up.

Renewable Biochemicals Technologies (fermentation and catalysis based) available for liscencing

1. Cellulosic Sugars
2. Ethanol from Sugary feedstock like sugarcane/sugarbeet/sweer sorghum
3. Ethanol from Starchy feedstock like grains (corn, rice, sorghum, wheat, millet, rye, triticale, barley, oats, tubers (potato, tapioca)
4. Xylitol (sweetener) from C5 sugars derived from cellulosic feedstock
5. Erythritol (Sweetener) from C6 sugars derived from starch and sugar cane mollases
6.Ethyl/methyl levulinate from sugars
7. Biodiesel from oils, used cooking oils
8. Sodium Pyruvate
9. Lactic Acid from molasses
10. n-Butanol
11. Isobutanol from sugary feedstock (jimolasses
12. Tocopherol/ Vitamin E from Soya oil distillate
13. Omega 3 from fish oil
14. Fish proteins
15. Proteins from DWGS
16. Nisin from Sugars
17. Cosmetic grade Bacteriocins
18. Hyaluronic Acid from glucose
19. Refined Rice Bran Wax/Carnauba wax
20. Oryzanol from Rice Bran Oil
Technology Offers on Innoget are directly posted and managed by its members as well as evaluation of requests for information. Innoget is the trusted open innovation and science network aimed at directly connect industry needs with professionals online.