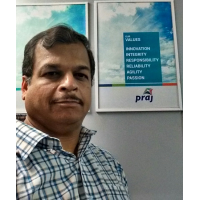 Mahesh Kulkarni
Business Development Manager at Praj Industries Limited
India · Pune
1

followers

0

following

1

recommendations
View Mahesh's full profile. It's free!
Contact Mahesh, connect with your colleagues and find business opportunities worldwide.
View Mahesh's Full Profile
Summary
PRAJ MATRIX R & D Center (80,000 sq. ft) has Analytical facility (16 labs) certified with ISO 9001:2008. It is recognized by Department of Science & Industrial Research, India. It is equipped with bench scale and pilot scale facility for fermentation, distillation, evaporation, crystallization, molecular distillation. 1 TPD Cellulose to Ethanol Plant. Total research associated are about 95 with Ph. D's & Chemical Engineers.
PRAJ MATRIX has developed several technologies in Renewable biofuels, Health & Wellness, Industrial Biotechnology, Oil Industry etc.
PRAJ MATRIX also caters contract research, technology development, analytical services, laboratory set up.