Summary of the technology
New device for direct "in situ" detection of ascorbic acid in different types of liquid samples, for example biological samples or food products.
The equipment consists of an electrode system formed by three disposable electrodes, obtained by silkscreen printing.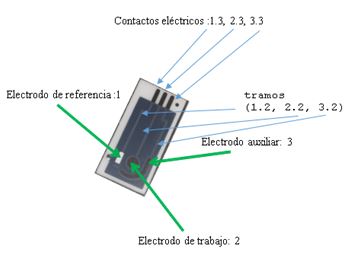 Description of the technology
New and innovative aspects
Commonly employed methods present some disadvantages such as a poor selectivity and a progressive deterioration of the sensitivity of the electrode when used in complex matrices.
This new device solves these disadvantages by employing disposable electrodes that allow the determination of ascorbic acid with greater sensitivity in different types of samples, for example in biological and food samples.
Main advantages of its use
This low cost electrochemical method, applied to chemical analysis, simplifies the commonly applied techniques, can be performed by non-qualified personnel, with a short analysis time, allowing "in situ" detection of the analyte.
Specifications
The analysis is based on the oxidation of ascorbic acid into dehydroascorbic acid.
The device developed is of an electrode nature, characterized by comprising three disposable electrodes: one working electrode, one auxiliary or counter electrode, and one reference electrode. Each one includes a contact or terminal, a section and an active area. All electrodes have been manufactured by silkscreen printing with conductive material ink on a plastic polyester (PET) sheet. Each electrode has a specific shape, to be adapted easily to their respective functions.
The terminals and sections have been printed with an Ag-based ink. The active surfaces of the counter electrode and working electrode have been printed with a conductive ink of C, and the active surface of the reference electrode has been printed with an Ag/AgCl ink. At the same time, the active area of ​​the working electrode is modified with gold nanoparticles.
Applications
It presents a high responsiveness in sectors such as health, food and beverages.
Intellectual property status
Protected by patent P201631238.
Current development status
Currently, the device is in prototype phase, validated in laboratory
Desired business relationship
Commercial agreement; License agreement; Technical cooperation: further development; Technical cooperation: testing new applications; Technical cooperation: adaptation to specific needs
Additional information (attached documents)
Related keywords
Electronics, IT and Telecomms
Biological Sciences
Agrofood Industry
Measurements and Standards
Medical Health related
Consumer related
Industrial Products
Other
detection
disposable
analysis
electrochemistry
electrode
Vitamin C
Ascorbic acid
screen-printed
About UNIVERSIDAD DE BURGOS
Technology Transfer Office from Spain
UNIVERSIDAD DE BURGOS
The aim of the The Technology Transfer Office (TTO) of the Univesidad de Burgos is to promote Innovation technology through the reseach results transfer and the conexions between the University and the new needs and requirements of the society - we are the link between the University and the Industry. Contact person: José Manuel López (jmllopez@ubu.es)

Technology Offers on Innoget are directly posted and managed by its members as well as evaluation of requests for information. Innoget is the trusted open innovation and science network aimed at directly connect industry needs with professionals online.