Summary of the technology
Laboratory techniques:
Experimental analysis of processes affecting transport of contaminants through the vadose zone and the aquifer are necessary to interpret field data, especially when the recognition at field level is hampered by the complexity of the environmental system.
Batch and column experiments, specifically designed to simulate field conditions as reliably as possible, provide valuable information on interaction between contaminants and vadose zone and/or aquifer materials.
These laboratory techniques are also useful to assess the response in terms of contaminant removal during water reuse and water treatment activities.
Experimental study should always be coupled with numerical modelling to quantify contaminant transport parameters, with the aim of finding the nexus between field and laboratory research.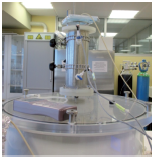 Description of the technology
IMDEA-WATER SOLUTIONS
Batch and column experiments are carried out at the IMDEA Water laboratories to simulate field conditions and obtain transport parameters describing the movement of contaminants through different kinds of porous materials.
By means of these laboratory techniques combined with numerical modelling, IMDEA Water can act as a consultant to assist in the design of water reuse activities (wastewater irrigation in land application systems, reactive barrier operations), water treatments (e.g. sand filtration) and decontamination strategies (e.g. in situ air sparging) by predicting the response in terms of contaminant removal.
In the case of already ongoing activities, IMDEA Water can provide consulting services to test possible improvements in the reduction of contaminant leachate (e.g. vegetable carbon and nitrogen sources) by specifically designed laboratory experiments.
Contaminants routinely investigated by the working group of IMDEA Water include inorganic contaminantsand organic substances such as emerging compounds (e.g. pharmaceuticals, personal care products, life-style compounds).
IMPLEMENTATION SECTOR
Water Companies
Any company or public body interested in the development of water reuse activities
Environmental consulting firms
Related keywords
Remediation of Contaminated Sites
Laboratory equipment
contaminant
remediation assessment
laboratory experiments
About IMDEA Water Institute
Research & Technology Organization from Spain
IMDEA Water Institute
IMDEA Water, a research Institute focused on water management issues, is directed towards optimizing public and private decision-making processes, emphasizing on the link between water, public services, the economy and institutions. The scientific program of the Institute is based on the development of strategic lines for the integrated water management: management of sustainable bodies of water, quality pollution, water treatment and reuse and economic and institutional analysis.
The institute is equipped with high-level up-to-date specialized laboratories as: water, soils, geomatic, ecotoxicology and water biology labs, and pilot plants (mesocosms, microbial electrochemical technologies, land application systems and membranes technologies) for conducting the research activities.
Technology Offers on Innoget are directly posted and managed by its members as well as evaluation of requests for information. Innoget is the trusted open innovation and science network aimed at directly connect industry needs with professionals online.