Summary of the technology
Polymorphs characterization and quantification via magic-angle spinning solid-state NMR and different probes suitable for a large variety of frequencies and experimental conditions.
Project ID : 12-2011-223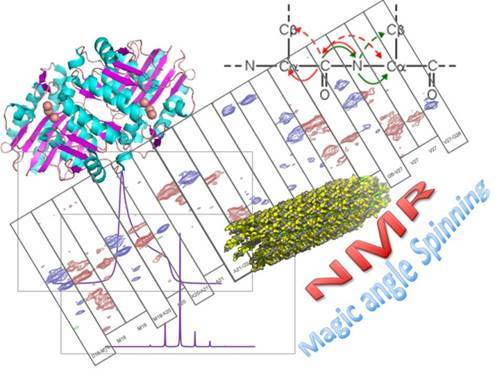 Description of the technology
Magic-angle spinning solid-state NMR (MAS SSNMR) is a well-established technique for the characterization of crystalline, non-crystalline and non-soluble materials including simple molecules, drug formulations, glass, ceramics, powders, nanocrystals and biological samples. There are numerous applications of solid-state NMR covering a large range of scientific disciplines. In our laboratory at the school of chemistry we have a high-field Avance III Bruker spectrometer consisting of a wide-bore superconducting magnet operating at a magnetic field of 14.1 Tesla (or the equivalent of a 600MHz proton Larmor frequency), and several different probes suitable for measuring a large variety of atoms and experimental conditions. Examples are spectra of 13C, 29Si, 27Al, 23Na, 31P, 15N, 11B etc.
Industrial Research Services:

We offer services for the characterization of a variety of organic and inorganic solid materials. With ssNMR we can
·
Acquire routine NMR spectra of solid materials in powder or gel forms of a variety of atoms as indicated above.
·Determine the existence or inexistence of a new polymorphs.
·Identify mixtures of polymorphs and quantify them.
·Identify impurities

Potential industries
Pharmaceutical industries and other industries developing generic materials, such as TEVA (pharmaceuticals), MACHTESHIM-AGAN (pesticides), and others
The principal investigator heading the lab is Dr. Amir Goldbourt, with close to 20 years of experience in the field and ~40 publications in peer-reviewed journals. The design, application and analysis of experimental result, as well as consulting in the field can all be offered at the highest professional levels.
CONTACT:
Dr. Amir Goldbourt
Faculty of Exact Sciences,
Department of Chemistry
Tel Aviv University
Email:amirgo@post.tau.ac.il
Tel: +972 (0)3 6408437
Fax: +972 (0)3 6409293
Lab Webpage:
http://kuwari.tau.ac.il/Home.html