Summary of the technology
Robesafe group from Alcalá University is developing an assistance navigation system for blind people to guide them in structured indoor environments (such as corridors, distributors, rooms ...) and outdoor environments as well, using the merger between a GPS sensor and artificial vision. The system will show the path to follow to get to a destination, using acoustic information obtained by a synthesizer voice, similar to how the current GPS navigators do it.
The group is interested in reaching commercial agreements with technical assistance with companies dedicated to the designing of mobility assistance systems for blind people.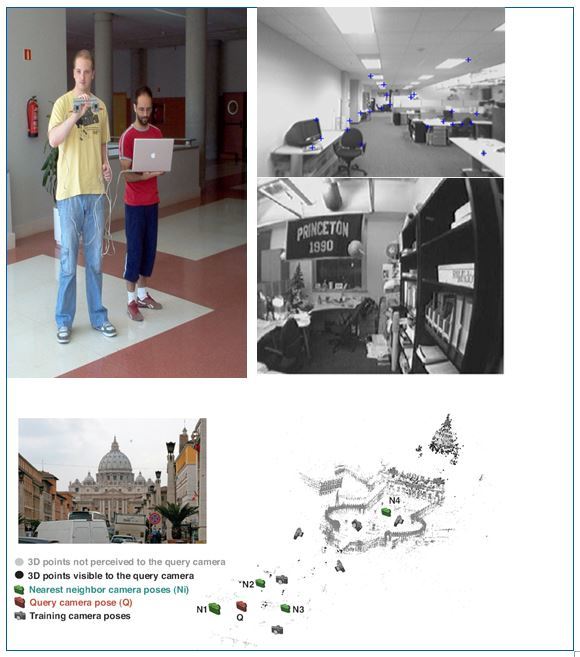 New and innovative aspects
It is the first system worldwide that presents the use of visual maps obtained by a stereo camera for navigation assistance to blind people, using visual information. It is an evolution of the SWAN Project (System for Wearable Audio Navigation) developed by the Georgia Institute of Technology, Atlanta, United States.
Main advantages of its use
In the near future the system is likely to be commercially exploited by institutions and companies in a variety of fields such as: assistance to the blind navigation, augmented reality, video games, humanoid robots, etc.
The system has been successfully tested in the navigation assistance and humanoid robots in a basic version with real blind people in the center of Madrid and Alcala de Henares.
Specifications
The main objective of their research is to develop a navigational system for blind people sufficiently robust and simple to use that lets obtain an accurate location of the user in a known or unknown environment, both indoors and outdoors location. In this way the system will indicate the path that a person must follow to get to a destination, using acoustic information obtained by a voice synthesizer, similar to how the current GPS navigators do it. To this end, a method of locating and learning will be used, inspired in how human beings use visual capacity.
The location and environment mapping are two dependent processes that are calculated while the user navigates through it. The techniques are called SLAM (Simultaneous Localization and Mapping) and in recent years they have extended their application in the field of robotics and other emerging fields such as locating for blind people or surgery minimally invasive.
As a result of the great advances in research on object recognition using artificial vision, computers are able to recognize places such as monuments, or identify different objects in an image, such as faces or people, just by analyzing a single image. More and more, computers can develop similar tasks to the human vision.
The system has the following main features:
- System based on artificial vision: A stereo vision system will be used for mapping the environment. However, once it has obtained a 3D map of the environment, the location can be performed using a single camera in black and white, with the associated reduction of the costs. In addition to these cameras, the user carries in a backpack a small processor and the cables for the connection. The information of the current location or the route to follow is sent to the user through headphones. It is planned to merge the vision system with a GPS sensor that can be use in outdoor environments.
- Mapping phase: During the phase of mapping the blind user, with or without any expert, or only the expert himself, will make a particular route, mapping certain parts of a city or a building. Once an optimized 3D map is obtained, this map can be used by users to locate themselves on it.
- Location phase: During the location phase, the user, using only one camera (which might even be any mobile phone camera) can walk through an environment, while his/her current location on the map is provided on real time.
- Simultaneous localization and mapped phase: It can happen that in certain circumstances users walk through areas not previously registered on the map. In such cases, a relative location can be provide to the user and add this new information extending the mapping environment.
- Navigation phase: In this phase, you can plan some routes to be taken by the user, during which the system reports the actions to take.
- Perception phase: During the phase of perception, some artificial vision applications can be performed, such as detecting obstacles like pedestrians, trees, walls ... or other applications that may be of interest to the community of blind users.
Applications
Application for blind people sufficiently robust and simple to use that lets obtain an accurate location of the user in a known or unknown environment, both indoors and outdoors location. 
Application for Designing of assisted navigation systems, augmented reality, video games and humanoids robots.
Intellectual property status
Patent granted
Current development status
Development phase
Desired business relationship
The group is looking for license agreements with companies dedicated to the designing of systems to assist navigation of blind users, augmented reality, video games or humanoid robots.
Related keywords
Applications for Health
Visualisation, Virtual Reality
SatelliteTechnology/Systems/Positioning/Communication in GPS - Global Positioning System
Smart Appliances
Imaging, Image Processing, Pattern Recognition
Computer Games
Simulation
Automation, Robotics Control Systems
Safety & systems
Robotics
Machine vision software and systems
Patient rehabilitation & training
Handicap aids
Artificial Vision
location
mapping
navigation of blind people
visual maps
GPS
About Universidad de Alcalá-OTRI
Research & Technology Organization from Spain
Universidad de Alcalá-OTRI
The Technology Transfer Office at Alcalá University serves as a liaison between the University and its socioeconomic environment in terms of research and innovation. It encorages collaboration between research groups from universities and companies/institutions, with the objective to promote and commercialize research results and scientific capabilities.

Some of the services offered by this office are specified in the following list:

- Promotion of R & D and improvement of the relationships with companies.
- Promote the participation in R & D projects applicants to public calls (regional, national and European).
- Advising, processing and monitoring of patents and other forms of industrial protection.
- Support in the negotiation of contracts and agreements for R&D&i
Technology Offers on Innoget are directly posted and managed by its members as well as evaluation of requests for information. Innoget is the trusted open innovation and science network aimed at directly connect industry needs with professionals online.