Summary of the technology
Innoventions' proprietary novel Emboli Capturing and Removal Double-Filtering System, integrated to TAVI/TAVR delivery system is for total double-filtration and collection of the embolic particles during the procedure and removing them from the body a the end of the procedure. Differing from the current emboli deflection devices which deflect the embolic particles for preventing cerebrovascular embolic complications, our device prevents dispersion of the embolic material and prevents them reaching all body organs. As such, with our device we are bringing a much more secure and effective solution than the currently used devices.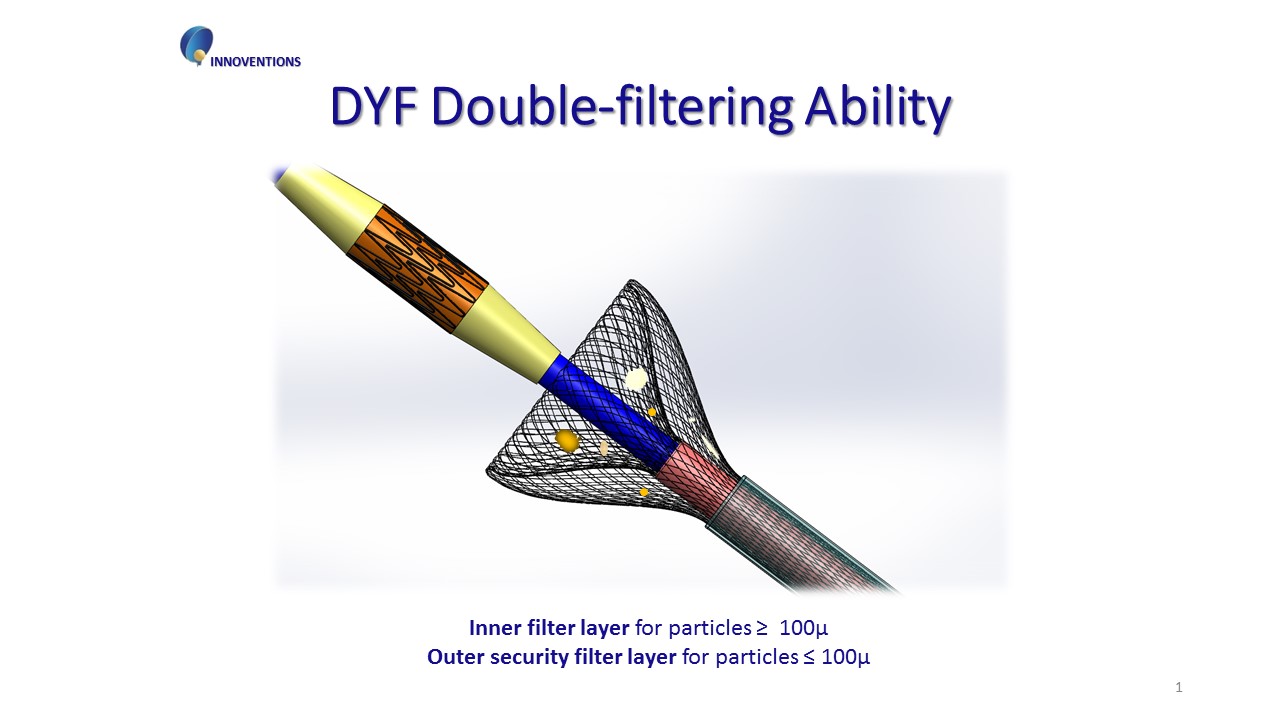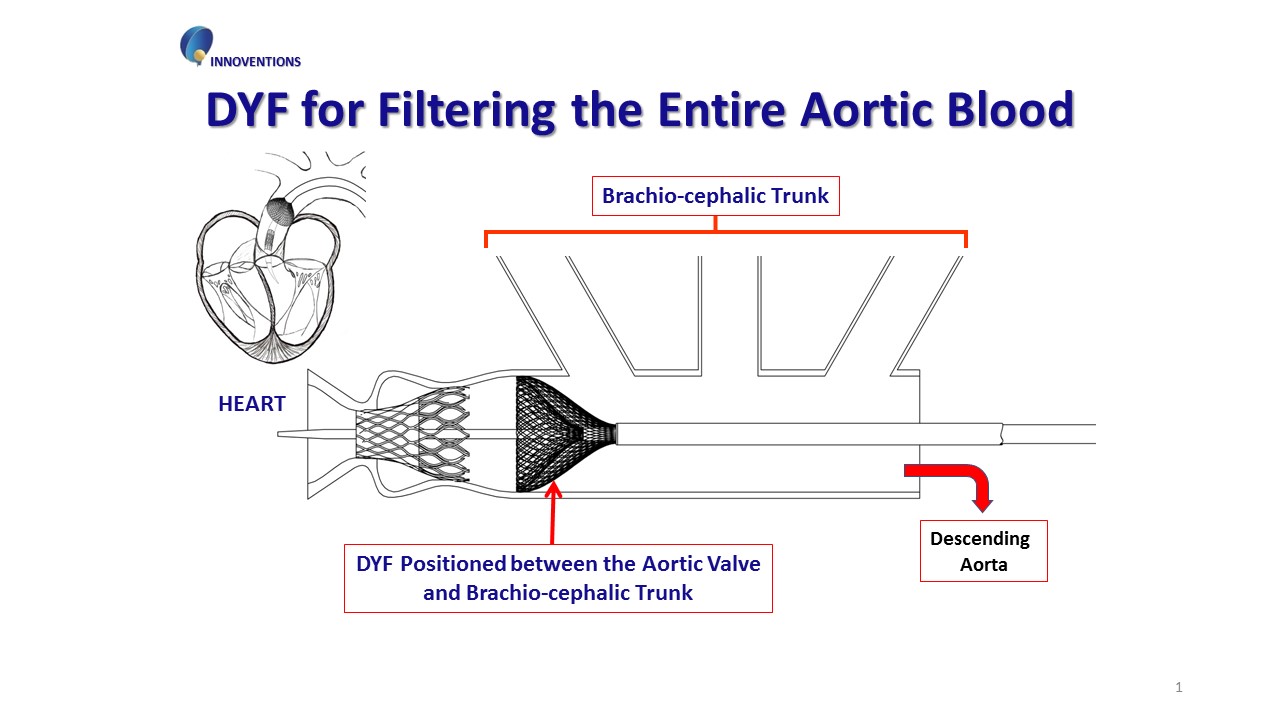 Description of the technology
The Problem, The Need & Description of the Technology
Transcatheter Aortic Valve Implantation / Replacement (TAVI/TAVR), is the replacement of the aortic valve of the heart through major peripheral arteries. This procedure first started to replace surgical valve replacement especially in frail patients and it is gradually expanding to almost all valve replacements. The very large majority of these patients have atherosclerotic depositions in their arteries. Any manipulation through the arteries may cause dislodgement of these depositions and create embolic complications. Such embolic neurovascular complications caused by migrating embolic debris can cause stroke which is a serious and life-threatening problem. In some cases, the complications can be silent and the migrating embolic material towards the brain, can create quality-of-life changing neuro-cognitive problems such as dementia, delirium and cognitive decline. In some cases dislodgement of atheromatous material can migrate to other organs such as the kidneys and intestines and cause other kinds of "silent complications".
Although in well selected patients treated by experienced physicians the rates of embolic complications are low. However, TAVI/TAVR related vascular complications rate in the general population are in the range of ~10%-15%. A 30-day follow up in nonagenarians after TAVI/TAVR procedures showed that the rate of "all cause" mortality was 27.3%, cardiovascular mortality 9.1%, major stroke 9.1%, pulmonary embolisms 18.2%, myocardial infarction 18.2%."
With the expanding use of TAVI/TAVR, the awareness among physicians about the "silent complications" of this procedure is increasing.
What is available ?
For preventing migration of embolic debris to the brain during insertion and manipulation of the TAVI/TAVR delivery system, filtering and particle deflecting devices were developed for this purpose. These filters are mostly for deflecting the embolic debris that may enter the cerebral atreries. Currently used embolic filters are mainly cerebral protection devices to prevent embolic brain lesions. These devices are inserted before insertion of the TAVI/TAVR delivery system. The 100-250 μm pores of these devices allow proper blood flow to the brain but deflect larger particles to flow to other parts of the body. The few devices for entrapping and removing the embolic debris are too complicated to apply.
Currently available filters do not protect other organs connected to the descending aorta to prevent renal, peripheral vascular, gastrointestinal complications, i.e. post TAVI/TAVR acute and chronic renal failures. It is now known that the renal complications see after this procedure are not only caused by the contrast material injected during the procedure but also by particles entering the renal arteries and causing embolic renal damage.
The use of currently available cerebral emboli protection devices as an accessory largely depends on the additional costs and the ease of use of these devices, and the preference of the physician performing the procedure.
Our Vision
The vision of our Project is to significantly improve the safety of TAVI/TAVR. Integrating or adding-on an active double-filtering, emboli capturing, collecting and removal component to the TAVI/TAVR delivery system procedure is a breakthrough.
We think that by avoiding the procedure for inserting the deflection device, and by adding better filtering (double layer filtering), entrapping and removing embolic material as with our device, not only the "visible or silent strokes" but other "silent vascular complications" in other organs also can be prevented.
Our Approach
The best way to "deal" with embolic complications is to PREVENT embolic debris dispersion near their source and also prevent their dispersion to reach distant organs receiving their blood supply from the descending aorta.
When developing our device, our approach was not only to prevent cerebro-vascular complications by deflecting the atheromatous debris, but also to prebent the other embolic complications in every other body organ, i.e. the kidneys.
Differing from the currently used "deflective anti-embolic devices" for preventing cerebral embolic complications, with our approach we are bringing a better solution by "capturing and removing the embolic debris" at their source and preventing their uncontrolled dispersion to the entire body organs of the patient. By this approach we believe that it is possible to prevent or minimize all intra- and post-procedural embolic complications developing during and after TAVI/TAVR procedures.
Description of the technology
The basic device of our technology has a central lumen for the TAVI/TAVR delivery system. When entering the abdominal aorta the dynamically activated filter is partly expanded and its activation is started to capture and collect the atheromatous debris all along the way. During filter activation the inner filter end is pulled inward and simulataneously the outer surface is pushed forward to keep the expanded filter ring static. The double layer filter is egineered such that inner filter layer captures particles ≥ 100μm and the outer security filter layer captures the escaped particles of 100μm, all without disturbing blood flow. When reaching the target, the filter is fully expanded and the procedure of valve release is performed.
Key Features
Innoventions integrated double-filtering system will :
Improve the ease-of-performing the TAVI/TAVR procedures
Be a single device for valve positioning and blood filtering
Capture, collect and remove entrapped embolic particles in a secure way and prevent their escaping back into the blood-stream
Improve the procedural outcome
Expand the use of TAVI/TAVR procedures to younger and more fit patients
Possible Device Versions
In addition to its being built as an integral part of the TAVI/TAVR delivery devices, there are 2 additional possibilities to adapt the basic technology to create a device which will be independently used beside any one of the TAVI/TAVR devices.
1- As an add-on to existing delivery systems (generic – to fit all delivery systems)
2- As an independent system, inserted contra-laterally and act as a filter beside the TAVI/TAVR delivery system
Conclusions
Innoventions new double-filtering active device will be able to:
• improve the ease-of-use and safety of TAVI/TAVR procedures and improve the procedural outcome
• filter all aortic blood during the entire procedure and securely remove the embolic particles
• capture, collect and remove entrapped debris particles in a secure way and prevent their dispersing into the blood-stream
• expand the use of TAVI/TAVR to younger and more fit patients and significantly increase the number of TAVI/TAVR procedures that are significantly less invasive than the surgical approach.
Intellectual property status
Granted Patent
Patent number : Granted US Patent : 10,327,883 (June 25, 2019
Where : USA
Granted Patent
Patent number : Granted US Patent : 10,327,883 (June 25, 2019
Where : usa
Current development status
Laboratory prototypes
Laboratory prototypes
Desired business relationship
Technology selling
Patent licensing
Technology Owner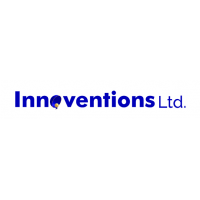 Related keywords
Medical Health related
Clinical Medicine
Cardiology
Medical equipment
biofilm
urology
catheters
uro-gynecology
women wellnes
• water carrying pipes, tankers
• water reservoirs
About Innoventions Ltd.
Startup from Israel
Innoventions Ltd.
Founded in 1998, Innoventions Ltd. (www.innoventions-med.com) is an Israeli privately held Medical Device development company which functions as a technology accelerator/incubator dedicated to the development of Prof. Daniel Yachia and his team's medical device ideas and inventions.

Innoventions is building proprietary platforms as well as dedicated technologies, to address critical unmet medical needs covering a variety of fields and indications. In our Incubator we develop novel diagnostic and therapeutic medical device technologies, patient care, women wellness methods in the area of Urology/Uro-Gynecology, particularly for urinary incontinence (UI) and other bladder pathologies. The company recently expanded its portfolio into additional medical fields such as tissue regeneration, Gastroenterology, Gerontology, Vascular, Cardiology.

As a by-product of one of our medical technologies for preventing biofilm formation on and in medical catheters, Innoventions developed a technology for preventing bio-corrosion of drinking water pipes, tanks or industrial facilities for providing clean and safe water supply which is crucial in assuring public health.
Technology Offers on Innoget are directly posted and managed by its members as well as evaluation of requests for information. Innoget is the trusted open innovation and science network aimed at directly connect industry needs with professionals online.