Summary of the technology
The formulation has been repeatedly tested in a laboratory, yielding an absorption capacity of > 80 g H2S/100 g product (using ASTM D6646). I am looking to find a company in the gas/air phase treatment industry that is keen on taking this product to the market. Given its superior absorption capacity, the operational costs are significantly lower than its competitors. Please contact me to further discuss.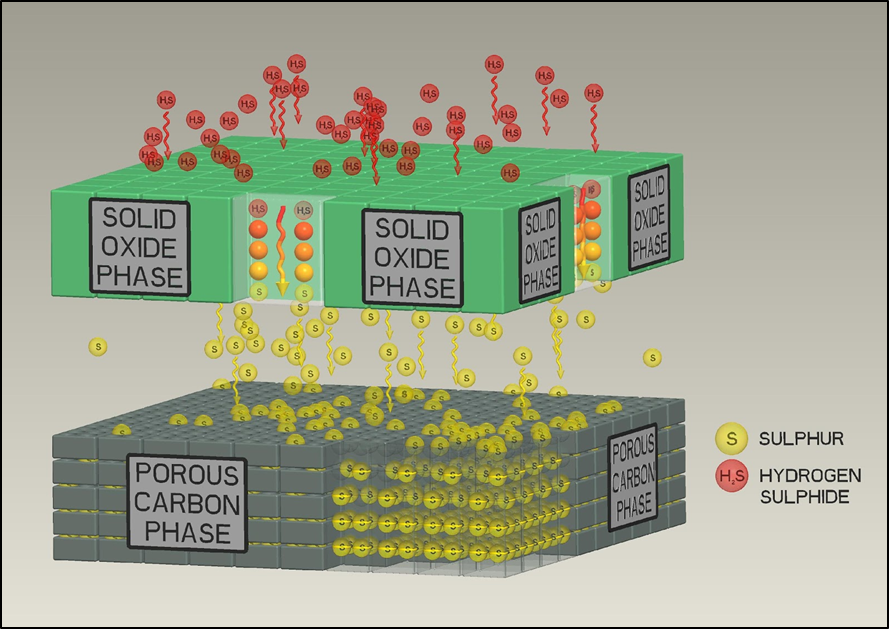 H2S Dry Scrubber – Odor Control
Technical Description of the Product
The absorbent combines premium quality activated carbon together with a blend of catalytically active inorganic phases
Mechanism: H2S is catalytically oxidized to sulfur (S) in the active sites on metal oxides. Next, sulfur migrates and builds up in the micropores of the activated carbon phase. Thus, the metal oxides are available again to oxidize new H2S molecules
H2S is not converted to sulfuric acid which may lead to equipment corrosion problems
Added Benefits
High H2S removal efficiency (> 99%) upon variable inlet conditions
Sulfur loading is not affected in the presence of high CO2 levels
Does not require frequent change outs or time consuming regenerating processes
Safe to handle and use
The high ignition temperature (420 ºC) minimizes the risk of bed fire
Low pressure drop, due to the nominal pellet diameter (4 mm)
Does not need to undergo long term conditioning prior to being put into operation
Applications
Any use that requires control of H2S gas, such as:
Wastewater treatment plants
Pumping stations
Wet wells
Lift stations
Sludge holding tanks
Refineries
Pulp and paper mills
Composting
Technology Owner Eduard Hernandez Balada
Freelancer at Bioconservacion
Additional information (attached documents)
Related keywords
Chemical Technology and Engineering
Energy Technology
Bio-refineries for energy
Pulp Technology
Protecting Man and Environment
Environment
Outoor Air Pollution/Treatment
Indoor Air Pollution/Treatment
Waste Management
Biotreatment / Compost / Bioconversion
Water Management
Industrial Water Treatment
Municipal Water Treatment
Sludge Treatment / Disposal
Wastewater Recycling
Water Resources Management
Energy Market
Oil and Gas Exploration and Production
Oil and Gas Drilling, Exploration and Extraction Equipment
Industrial Products
Industrial chemicals
Air filters and air purification and monitoring equipment
Water treatment equipment and waste disposal systems
Water, sewerage, chemical and solid waste treatment plants
refineries
pumping stations
composting
wet wells
lift stations
sludge holding tanks
pulp and paper mills
About Bioconservacion
Small and Medium Enterprise from Spain
Bioconservacion
Founded in 1996, BIOCONSERVACION is Europe's most renowned and reliable manufacturers of air filtration and gas purification solutions. Serving a network of Partners Distributors in different territories and global leading groups in the air filtration industry.
Technology Offers on Innoget are directly posted and managed by its members as well as evaluation of requests for information. Innoget is the trusted open innovation and science network aimed at directly connect industry needs with professionals online.