Summary of the technology
A new strategy for the preparation of precursors of linear acenes has been developed. The developed acene precursors are hydrogenated acenes and are stable upon storage. They can be prepared in several synthetic steps using two catalytic key preparation steps. The precursors can be deposited onto surfaces and submitted to annealing to generate the linear acene. This strategy afforded the first-ever preparation of undecacene.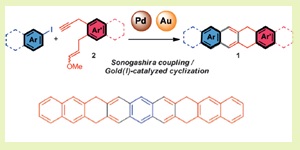 Description of the technology
Current development status
Experimental technologies (technology has been laboratory tested). We have expertise in the synthesis. We are now seeking industrial partners to jointly develop commercial applications of the prepared precursors.
Applications
semi-conducting materials
electronic components
OFETs
OLEDs
OPVs
Desired business relationship
Patent licensing
Technology development
New technology applications
testing by third party under MTA
Intellectual property status
Patent already applied for
US16/320,691
United States of America

Additional information (attached documents)
Related keywords
Electronics, IT and Telecomms
Electronics, Microelectronics
Electronic circuits, components and equipment
Electronic engineering
Magnetic and superconductory materials/devices
Nanotechnologies related to electronics & microelectronics
Materials Technology
Conductive materials
Industrial Technologies
Chemical Technology and Engineering
Chemistry
Organic Chemistry
Chemical material testing
Electronic Components
Other semiconductors
Chemicals and Materials
Semiconductor materials (eg silicon wafers)
Electronic chemicals
About Institut Català d'Investigació Química (ICIQ)
Technology Transfer Office from Spain
Institut Català d'Investigació Química (ICIQ)
ICIQ is a leading R&D institute based in Tarragona (Spain) dedicated to the development of excellent research in the fields of chemistry and catalysis.
Technology Offers on Innoget are directly posted and managed by its members as well as evaluation of requests for information. Innoget is the trusted open innovation and science network aimed at directly connect industry needs with professionals online.